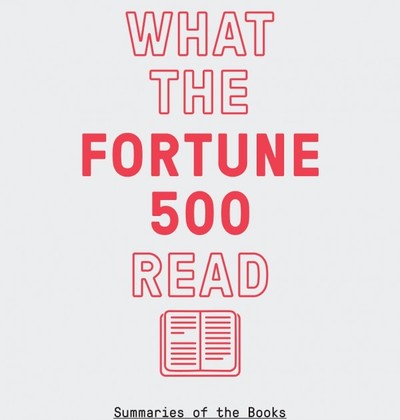 As the holiday season was approaching, I received a surprise gift in my email that supported my ongoing activity blogging about how the humanities can support an education in management and my work at the University of San Francisco. Two enterprising recent graduates of Wheaton College, Julia Wittrock and Grant Hensel, had sent me a copy of a book they had written together and distributed to faculty in schools of business and management whom they matched with their interest in leadership studies. What the Fortune 500 Read, was the collation and redaction of advice Julia and Grant solicited by writing to every Fortune 500 CEO. 150 CEOs responded and over the course of several months the pair read and summarized the top 50 titles they deemed most useful. Their motive was to extend their learning beyond the completion of their formal education and to create a repository of wisdom that could be valuable to maturing managers.
As I read through the book, Julia and Grant assembled with such care, my literary critical instincts kicked in and my mind turned to a New Yorker essay from earlier in 2015, an adaptation of the speech Andrew Solomon gave at the Whiting Writer's Awards. Solomon's essay, "The Middle of Things: Advice for Young Writers," offers sound suggestions, many derived from Rilke's classic Letters to a Young Poet, that are as helpful to managers as they are to writers. With this in mind, I came to appreciate much of the value of Julia's and Grant's effort lay not in the evidentiary outcome -- what knowledge each CEO-chosen book imparted -- but in the process they engaged in and the approach that motivated their project. In this sense the skills they most articulately engaged were not those conventionally assigned to managers but to writers.
For example, for Solomon the first caveat and most important position a writer can take is to be humble. "The worst mistake anyone can make is to perceive anyone else lesser. The deeper you look into other souls -- and writing is primarily an exercise in doing just that -- the clearer people's inherent dignity becomes." The approach that Julia and Grant took to their project was as Solomon describes. They positioned themselves in humility but risked asking others to not only look deep into their souls -- a product of reading, not just a product of writing -- to identify their core values. By beginning from a humble position of listening, they heard the wisdom of their elders, also a point important to Solomon in the development of writers. "Age and experience," Solomon reminds us, matter in the advancement of business ideas and the development of our character but the young don't always appreciate them. "While all old people have been young, no young people have been old, and this troubling fact engenders the frustration of all parents and elders, which is that while you can describe your experience, you cannot confer it."
Understanding that experience can only be described not conferred, Julia and Grant applied the faculty Solomon advises for writers but that is available to everyone: imagination. "To exploit the imagination's curiosities," in order to understand one's world is the task of the writer and the challenge these young author's took up. They imagined a way to acquire the wisdom they sought; they dived into the suggested readings and applied their best analytical skills to interpreting the texts; and they produced a text of their own that advanced their belief that "we have a responsibility to guide and mentor the next generation," underscoring a responsibility Solomon is adamant is shared by writers: "Writing has a moral purpose... you can make the world a better place."
Grant and Julia accepted upon graduation their responsibility as they entered the business world and approached their professional development with humility, seeking to learn from others how they could develop their leadership and managerial skills in conscious and ethical ways. But they also applied standard tools of research, critical thinking, and effective communication in achieving their goal. While they seldom filter or question the knowledge received from the books they read, their "appreciative inquiry" approach recognizes their position in life as young but eager to aspire to maturity in thoughtful and principled ways. Moreover, they did so not motivated by their own aggrandizement but out of a practical curiosity and moral sense of how best to have an impact in actual, not theoretical settings. Indeed, the young authors have taken the time to organize their book in a thematic arrangement that lends itself to easy reference and also chose to include action steps readers can take to apply what they learned. With 52 entries or chapters, this means a book a week, a task a week for a year, a measured and productive approach to career development.
Julia and Grant expressed these and more observations when we shared about an hour-long conversation. They concluded with a note of gratitude not only for the content and tools they acquired along the way but also for how the encouragement they experienced gave them confidence in current leaders who took the time to answer questions posed by those who will follow them. The process of redaction and synthesis engaged Julia and Grant more deeply in the material than they might have achieved without the goal of the book in mind, illustrating a good example for any reader or problem-solver.
As they mature in their professional lives, Julia and Grant will develop as writers develop by Solomon's standards. They will learn to "trust what is difficult" -- like recognizing the absence of women and people of color from their list of CEOs asked for advice and the books they recommended -- but understand encountering difficulty as part of the goal not just for writers and managers but for all humans. What these encounters teach is necessary for writers and managers and is better understood by those of us who have enjoyed more decades on the planet. Of the many differences "between having lived more and done more and being newly energized and fresh to the race," is "patience." Patience is the skill that supports the condition of humility, where we all begin as writers or as CEOs who recognize, as Rilke did, that "eternity lay before us," as we read, write, and manage our way through the world.
Calling all HuffPost superfans!
Sign up for membership to become a founding member and help shape HuffPost's next chapter