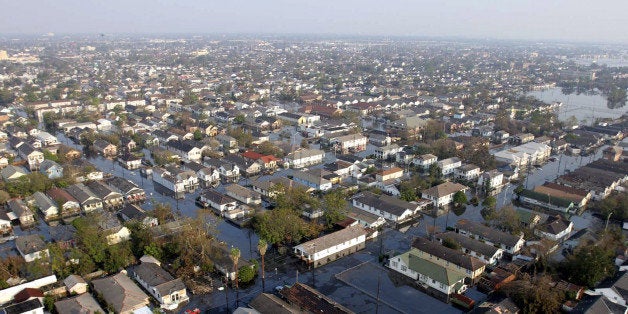 The hurricane that hit the Gulf Coast ten years ago was one of the most destructive natural disasters in U.S. history. Hurricane Katrina displaced over one million people, caused over $100 billion in damage, and killed more than 1,800. In doing so, it also pulled the curtain back on racial and economic inequality that too often goes unseen. America saw that the disaster's victims were disproportionately black and poor.
Less visible, however, was the devastation experienced in the justice system.
Six months after the storm, I spent a week in Gulfport, Mississippi, observing eviction proceedings in Justice Court as part of a program run by the civil legal aid organization Mississippi Center for Justice(MCJ). After Katrina, MCJ recruited hundreds of law students to document the continuing struggles of the area's residents for several months.
The first morning, I watched as a landlord chatted casually with the judge while several families accused of failing to pay rent shifted anxiously in their seats, waiting for court to begin. When the judge finally took the bench, he tersely asked the first tenant, "Do you owe these monies?" The man acknowledged that he did, and the judge quickly entered an order of eviction. A woman and her two children stepped forward and the same thing happened. Then a third tenant, a fourth, and so on. The judge never asked why people hadn't paid. When a tenant tried to explain, the judge was cordial but returned to the only question that seemed to matter: "Do you owe these monies?" Each time, he ordered eviction within minutes.
When I spoke with the tenants after their hearings, many had defenses: One hadn't paid because the water had been cut off for weeks. Another told me about a gaping hole Katrina had left in her kitchen floor, and a leaky roof she had been forced to fix herself. All had suffered losses when the hurricane hit. And yet none of this came out in Justice Court.
The principal problem was the lack of legal representation. My first-year classmates and I were the closest thing to lawyers in court that week. Seldom did we see a tenant prevail in advocating for herself.
The problem of inadequate legal representation persists today. And it is not confined to one state or region. One in five Americans qualifies for free legal assistance from a civil legal aid organization, but more than half of those who seek help are turned away due to lack of resources. People contesting an eviction or foreclosure, seeking a restraining order, or fighting unfair debt collection practices are often left to navigate the complex legal system on their own. The situation is equally stark on the criminal side. Public defender systems across the country are strained beyond their capacities, struggling with understaffing and unreasonably high caseloads.
My experience in Mississippi almost ten years ago contributed to my decision to join the Justice Department, which is committed to ensuring fairness in the administration of justice. The Civil Rights Division (CRT) has been particularly active in protecting the right to counsel in criminal cases. For example, along with the Department's Office for Access to Justice, CRT filed a brief last year in a New York case on how to assess claims that public defenders are too overworked to satisfy their Sixth Amendment duty to poor defendants. Currently, the Division is suing Lauderdale County, Mississippi, to ensure children are appointed attorneys in juvenile court.
The Civil Rights Division also seeks to ensure that people aren't jailed simply for lack of money. In February, CRT argued in an Alabama case that any bail scheme that mandates payment of predetermined amounts to secure pretrial release, regardless of ability to pay, violates the Fourteenth Amendment. In March, the Division documented abusive municipal court practices in Ferguson, Missouri, where people were repeatedly arrested on warrants for failure to pay fines they could not afford. And just this month, CRT argued in Idaho that making it a crime to sleep in public, when there is insufficient shelter space in a city, unfairly targets people who are homeless in violation of the Eighth Amendment.
Ten years after people were left to fend for themselves post-Katrina, we should all agree that inability to pay cannot mean inability to secure justice. Agreement on this principle, however, is not enough. And while the Justice Department has a role to play, the federal government is only part of the answer. To see broad-based change, communities across the country must support increased resources for civil legal aid and indigent criminal defense. We must all insist on a justice system that treats people fairly regardless of their financial situation.
Chiraag Bains is Senior Counsel to the Assistant Attorney General in the Civil Rights Division, Department of Justice. These views are his own and do not necessarily reflect those of the Department.
Popular in the Community