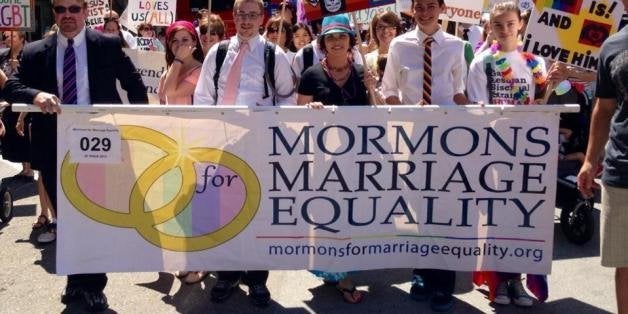 A few years ago the idea of Mormon families marching in a Pride parade was pretty unbelievable. But Mormon contingents in Pride parades are starting to become a tradition in many areas, including here in San Francisco. In fact, this year marks the third year in a row that Mormons are making history by participating in Pride parades throughout the country. The idea to march started in 2012, when Mormons for Equality, a group of traditional Mormons who lobby for LGBT equality in the public policy arena, decided to march in a handful of parades on the West Coast. The idea spread like wildfire, and within a few weeks we'd organized Mormon contingents in over 20 cities around the world -- including Santiago, Chile.
The contingents themselves are a sight to behold: Mormon moms pushing baby strollers and holding signs that read, "Mormon Mom for Gay Marriage"; dads with toddlers on their shoulders waving banners that say, "Sorry We're Late!"; and LGBT Mormons marching right alongside them, carrying posters reminding us that "Jesus Said Love Every One."
When we marched in San Francisco that first year, we were joined by a non-Mormon friend of mine visiting from New York. Afterward we had dinner, and she confided in me that marching in the Mormon contingent -- and witnessing the hugs, the forgiveness, the thanks, and the tears -- made this among the most deeply spiritual experiences she'd ever had. And she speaks for pretty much every Mormon who marches each year. Pride has become one of our most deeply spiritual occasions, for we know we're not only making history; we're also doing what our Savior would do: extending a hand of inclusion to a group of people we have historically labeled as "the least of these."
It's pretty remarkable to watch Mormons on social media as Pride season approaches now. There's excitement, anticipation, and a decidedly celebratory mood in the chat rooms and on the blogs and Facebook pages across the Web. As the leader of the San Francisco contingent, watching this buzz made me wonder: What is it about Pride that makes Mormons so excited?
So I decided to ask my Mormon fellows that very question. I think you'll enjoy their responses as much as I did. After all, nothing I could compose could compare to the heartfelt messages I received in response to my question.
I walk because it is a profound, moving, spiritual event and my soul is lightened and my heart is overwhelmed with compassion and Christ-like love. I have had only a few spiritual experiences that were this soul-changing.
I walk because it is important for people who have been hurt by the Church's involvement in Prop 8 to know that not all Mormons agree with our position -- and that some are fighting for marriage equality, in spite of what the repercussions might be for us personally inside our congregations.
I march because I made a baptismal covenant to love all unconditionally, as we are loved by God.
As a gay Mormon woman, I march because I belong in both communities -- and this helps solidify my identity as a lesbian Mormon.
I march because Jesus said, "A new commandment I give unto you: that ye love one another. As I have loved you, that ye also love one another" (John 13:34). There are no exceptions, no qualifiers in that statement. He whose name is writ large on the side of every Latter-day Saint meeting house said this. That's good enough for me.
I march because spiritually, this helps with my own personal healing. For awhile, I avoided my Church because of the way we responded to the LBGT community. As a straight Mormon, our position hurt me, too. Pride provides a physical opportunity to heal the wounds on both sides -- and I need my LGBT brothers and sisters to know that they are loved!
I marched next to an elderly gentleman who could only walk with the use of a cane. He said his love for Jesus Christ wouldn't allow him to do anything else!
I have long supported marriage equality, but the first time I marched in pride it was scary. I knew many inside the Church wouldn't approve. I march to say that Jesus' message about loving people is the most important thing -- and I will follow that, even if it's sometimes difficult.
I march because I feel my Savior there.
There you have it, some of the responses from my Mormon fellows that help you understand what motivates them to put on their Sunday best and, instead of attending church, choose to march in our Pride celebrations. So as those of us from the LGBT community watch the parade this year and see the Mormon contingents pass by, let's give them a warm welcome and reach out and grasp the hand of friendship and reconciliation that's being offered.
True, the policy of the Church of Jesus Christ of Latter-day Saints hasn't changed, and not all Mormons are as enthusiastic about LGBT inclusiveness as the ones who march in Pride. But for the approximately 30 percent of Mormons who think differently about the LGBT issue, this cultural evolution inside the faith is moving swiftly -- and growing.
"Sorry We're Late!" Yes, that Pride sign is right: We are late. But as one of my Mormon friends humorously observed, "when it comes to cultural change, Mormons are never the first girl at the dance. But we do eventually get there."
As an openly gay, active Mormon, I'm pretty happy that we've begun to arrive at the dance. I suspect our Savior is pretty happy about it too. After all, He's commanded us to love everyone unconditionally, and as Mormons, we've made a covenant that we will follow that commandment and do as He would do.
The best part is that when we get that covenant right, we create a world where not a single one of us is left sitting on the sidelines, waiting to be asked to dance.