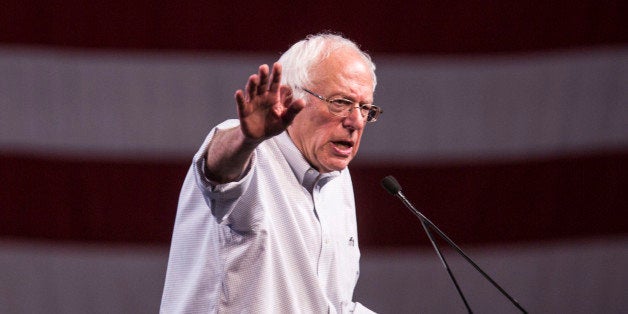 I have never heard anyone refer to Bernie Sanders' "handlers," like they have referred to Hillary Clinton's handlers here, here and here, because unlike Hillary Clinton whose every step seems deliberate, Bernie Sanders appears raw, honest and real as evidenced by his trademark unkempt hair and his vigorously delivered, unscripted rhetoric. Unlike his key Democratic opponent whom he refuses to bash, Sanders appears both honest and trustworthy. Although some perceive his style as unconventional as he delivers his message without the drab, planned and rehearsed monotony of his rival, this may be the very quality attracting mass grass root support for the populist candidate.
Sanders, the longest serving Independent senator, was propelled to the forefront of American politics railing against campaign finance reform, the Koch Brothers and the demise of democracy. He took the Senate floor by a storm when he spoke up against the rise of "an oligarchy form of society" as a result of Citizens United and the perils of income inequality. In his raspy Brooklyn accent, he conveyed passion and energy.
Since then, Bernie Sanders has announced his bid for the Democrat nomination and built his platform on the issues that matter most to millennials -- making public universities free, raising the minimum wage and ending the war on drugs -- with the same vigor and vitality that he approached his fight against Citizens United on the Senate floor.
Sanders has reached millennials through the channels they monitor most. He's a social media pro amassing more than five times the number of Facebook likes as Jeb Bush and holding Q&A sessions on Reddit. He has celebrity endorsements from actor Marc Ruffalo who called him "the one," actress Susan Sarandon and Mia Farrow as well as rapper Lil B who was once a Hillary supporter, but switched teams when he tweeted his supported for Sanders this week. When he appeared as a guest on Late Night with Seth Meyers, his segment went viral online. He was funny and couth as he laughed off his racy 1972 essay about gender roles and explained his 1987 folk album released when he was mayor of Burlington. "Big mistake," Sanders said of the folk album. "As you will hear if you play it." The audience laughed.
His humor, energy and message have drawn thousands of supporters to rallies around the country. Last week, Sanders made headlines when he attracted 27,500 supporters at a rally in Los Angeles, showing he has more grassroots support than President Obama had at this point in his campaign. After an introduction from comedian Sarah Silverman, Sanders told the crowd, "the reason we're doing so well in this campaign is we're telling the truth."
Perhaps, he's right. In a race dominated by members of elite political families, Sanders is a fresh face without a mass mechanism of political strategists controlling his every move. He appears natural and easy going, the very qualities Clinton has been accused of lacking. But, will the"truth" be enough to catapult him to the White House?
Popular in the Community