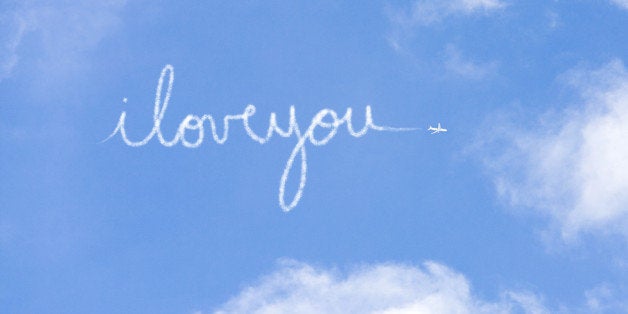 How many times has he told you he loved you, but then the outcome doesn't reflect the true love he continues to profess? There are two scenarios in which this happens:
1) You are actually in love with him and hoping for love in return.
2) You are falling out of love with him, but because he "loves" you, you feel guilty and stay in the relationship.
Before I dive deep to explain, the lesson is pretty simple: He's not good enough for YOU.
In the first scenario, I hear it from clients all the time: "He says he loves me, but then he doesn't call," or "He says he loves me but then he is so inconsistent with how he shows it to me." Or they may say, "He says he loves me, but then he's abusive, or passive aggressive, or condescending."
If you ever have to say, "He says he loves me, but _____ (fill in the blank)," that means you aren't getting your needs met. Period.
I once had a very wise friend tell me, "Just because he loves you, it doesn't mean that's how YOU want to be loved." That was like a smack in the face, my Ah-ha moment, and the first time I realized that I get to choose how I want to be loved. Not him. We spend too much time thinking about how we are loving him, and not enough time evaluating the love he gives to us.
In the second scenario, my clients may say, "I don't really love him anymore, but he really loves me, and I feel really bad," or, "How can I end the relationship when he loves me so much, I don't want to hurt him." Again, if he loved you the way you needed to be loved, then you wouldn't have fallen out of love with him. Just because he loves you, doesn't mean you have to love him back.
Now wait, before you think that sounds harsh, just hear me out.
Love comes in multiple forms and we all define it differently. In fact, there is a great book called the 5 Love Languages by Gary Chapman that talks about how we all feel love differently based on the actions and words of our partner. If your love language isn't being spoken, you may want to discover what that language is and communicate it with your partner. And if that still isn't working, then you may want to consider ending the relationship. But for Pete's sake, don't ever stay in a relationship just because you feel guilty. You actually aren't serving him, respecting him, or giving the love HE deserves.
If you find yourself in either scenario, allow yourself some time to think about how you want to be loved (not how much you love him, or what you do for him, or how much he loves you and what he does for you.) If you aren't getting the love you want, write down what that exactly is.
When I was first dating and falling for someone, I had to check in with my gut to see if I felt safe and loved back. My dating love language was "consistency" -- if he didn't make me guess where he was or why he wasn't texting me back, for example, then I knew I had a keeper.
Now that I am married, my love language is "words of affirmation" -- I like to hear from my husband that he appreciates my cooking, or that I look good in that outfit, or get a compliment here or there. Him just saying, "I love you," without those other things, just isn't good enough.
Whether you are with someone who makes you guess how much he loves you, or if you are falling out of love with him and he still loves you back, remember, you deserve your kind of love. Don't settle. There is a man out there just waiting to give you the kind of love you want and need.
(gender note: my readers and clients are always women, but this article applies to men as well. Just replace "he" with "she" as you read along.)
Lindsey Ellison is a divorce and break-up coach and founder of The Inspired Divorce, a coaching practice designed to guide women through the pain and confusion from a divorce or break-up. For more on her, go to LindseyEllison.com
Support HuffPost
A No-B.S. Guide To Life
Related
Popular in the Community