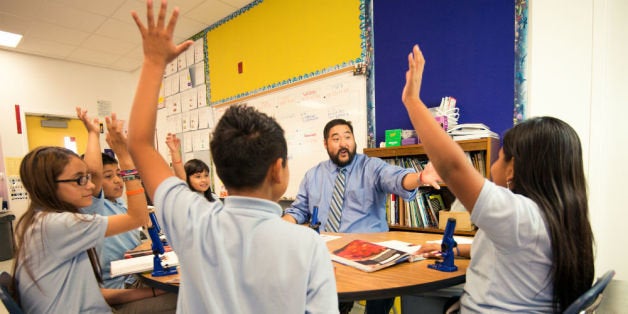 I have always believed that education is the foundation upon which all things are built. It translates passion into potential, and transforms today's students into tomorrow's leaders. When given access to the teachers and tools to unleash their potential, intellectually curious minds can achieve what was once considered impossible. Generation after generation have proven this to be true.
FDR once said, "we cannot always build the future for our youth, but we can build our youth for the future." To fulfill our responsibility to the next generation, I believe we have a responsibility to invest in our schools and the hard-working educators dedicated to unleashing the next generation's full potential.
Growing up in a small town in West Virginia, I was the beneficiary of a community and a school system that was dedicated to preparing its youth for the future. My second grade teacher in particular, Mrs. Judy Scott Gray, quite honestly changed my life. She had a way of making every student feel special. Every day she taught us to be the best version of ourselves, and not to try to be anyone else. Every day since, I've gotten out of bed and tried to be the best version of myself that I can possibly be. I carried this outlook with me from elementary school through college and beyond, and my passion for education only grew.
West Virginia is full of incredibly dedicated and passionate teachers like Mrs. Gray, and unbelievably curious children with big dreams. But like many school systems and states across the nation, budget challenges often lead to tough trade-offs and cut-backs that require teachers to improvise. The creativity of great teachers never ceases to amaze me. I remember being a student in my high school astronomy class, heading out to the football field, and laying on our backs with home-made cardboard telescopes to map the stars because we couldn't afford the real thing. Teachers are often dipping into their own personal funds to supplement their classroom budgets, which breaks my heart and inspires me at the same time.
A few years back, a friend introduced me to DonorsChoose.org. Living in California, I was excited to learn that I had the ability to choose a teacher and classroom project from my home state, and could help a West Virginia teacher get what they needed for their classroom. It gave me the chance to "pay it forward" and assist that teacher in providing the tools to help the next generations' dream come true. So when I was offered this opportunity to participate in this campaign, Alys (my wife) and I knew immediately that we were all in.
This opportunity connects our passion for education with my deep gratitude and love for my home state of West Virginia, allowing us to fulfill the dreams of some very deserving teachers and students.
In honor of awesome teachers everywhere, Alys and I are honored and proud to fund 100% of the DonorsChoose school project across my home state of West Virginia. We want all of the teachers to know how much we appreciate what they do each and every day to prepare students for the future, and for the next generation to understand that anything is possible with a great education.
This post is part of #BestSchoolDay, a national fundraising movement to ensure students have the supplies and opportunities they need to succeed. Visit here to see a map of all the classroom projects being funded and join more than 50 actors, athletes, entrepreneurs and philanthropists in supporting classrooms across America. To join the conversation on Twitter, use the hashtag #BestSchoolDay.
Calling all HuffPost superfans!
Sign up for membership to become a founding member and help shape HuffPost's next chapter