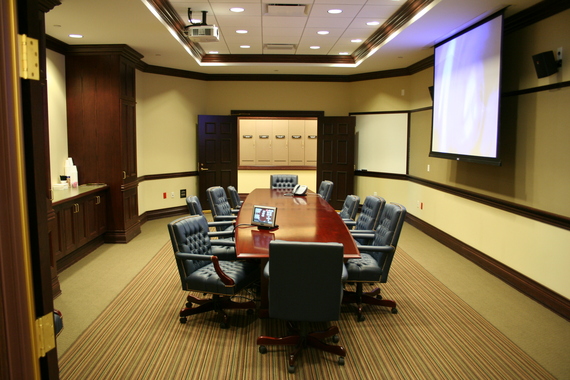 During a bitter campaign season and especially in its aftermath, workplaces become susceptible to some of the same tensions familiar to gatherings of extended families around the holidays.
Looking around a crowded conference table or a living room packed with out-of-town relatives, most people don't exactly find themselves among a carefully selected, likeminded, partisan tribe. Nonetheless, groups of coworkers as well as groups of aunts, uncles, cousins, and in-laws have good reason to look for ways to regularly coexist--and to find ways to do so peaceably.
The recent presidential election, like no other in recent memory, has strained our ability to smile and look past one another's differences. It has deepened chasms we have long been basically happy to reach across, and in many cases, sharpened a jagged edge along our divisions.
Evidence for the negative effects of this divisiveness in workplaces isn't only anecdotal. A recent report from the American Psychological Association found that, in a survey conducted this August, 1 in 4 U.S. employees had been adversely affected by politics talk at work, and were reporting difficulty finishing their work, admitting to lower-quality work effort, and noticing diminished productivity. They also admitted that heated political discussions at work were leading to a feeling of isolation from their colleagues and new feelings of hostility.
Managers, especially, should read these results with sirens blaring in their heads: this is a serious problem that can affect every level and process within a workplace, and the responsibility to root out the problem and address it falls to workplace leaders. This level of discord affects any setting where people are expected to collaborate and trust one another to produce results. As a manager, it's your job to watch out for discord and know how to look out for the employees who might be affected by it.
Easier said than done, you say? It certainly is. I do have a few suggestions, however, to get you started in rooting out harmful hostility, mending fences where necessary, and getting on with a productive workday.
Sure, it would be great if managers had put a plan in place before November 8th to deal with expected fall-out from the election. After all, preparation is a key part of effective leadership. However, all is not lost if this didn't happen; the lack of a prior plan simply means that one needs to be established immediately.
Find a way to be proactive in working out the impact of post-election disappointment and disagreements among your employees. The plan should involve speaking to members of your team on an individual basis, and in groups as necessary. Even once a solid plan is in place, remember that it's important to remain flexible in managing an acute situation.
2. Emphasize employees' sense of purpose (But don't make it all about work)
Make sure everyone in your workplace knows that, in no uncertain terms, they are an important part of the organization. In some cases, it could be helpful to give some employees a new task to focus on. You might consider explicitly explaining that while many people are experiencing genuine fear, the need to stay (reasonably) clear-headed at work is still strong.
In these discussions in which you're reminding workers of their purpose, and why it's crucial to the whole. As a professor of management, I'd recommend you consider widening the conversation beyond the workplace, too. You could share resources with employees so they understand how they might become responsibly informed, and active, on the issues that are making them anxious.
3. Establish an infrastructure within which to learn, talk, and try to understand
Don't squelch the opportunity in your office to have generative discussions about hard topics. That said, I'd highly recommend you try to make sure these conversations happen within a pre-ordained framework that you have thought about. These are likely to be charged conversations, and you don't want them to devolve into chaotic, angry, or generally counterproductive situations.
Remember to remain innovative. You can bring in a facilitator who is trained to make sure discussions stay on topic and remain productive, or you might hire a speaker for an afternoon educational session on an important issue. Some situations might benefit from the work of a mediator to resolve entrenched disagreements, or from a counselor who has experience with groups.
As a manager, it's up to you to get these efforts going and become a business leader of tomorrow. As tempting as it may be to dismiss November discord as a post-election flash of anger that's sure to fizzle, doing so would risk the onset of entrenched hostilities in your workplace. Ignoring the current tension would also be a missed opportunity when you have a chance to deepen understanding among Americans with different experiences and understandings of what is at stake right now. As a leader, it's your job to take the hard step, especially when it's one that comes with the potential for manifold benefits down the line.