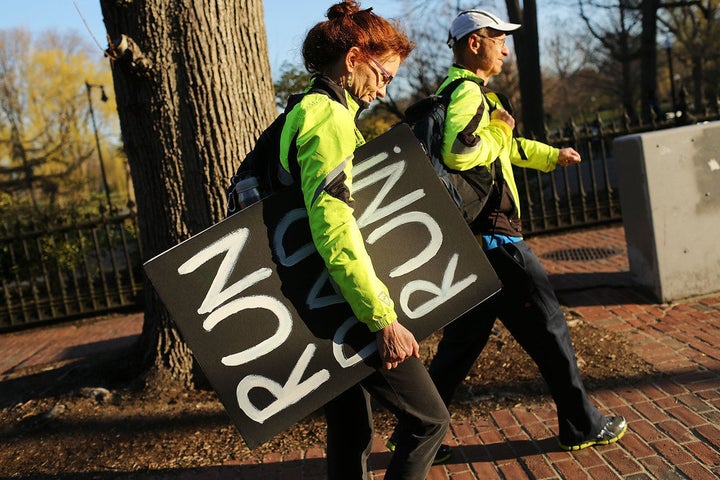 An incident of national and international significance tainted by the brutal murder of innocent spectators and officials in Boston yesterday afternoon. Multiple crude explosions for maximum casualties and media exposure. Terror at its most visceral and calculated.
The event may not be over as the official press conference alerted the public. Not knowing if family and friends have survived as well as if the event is over adds to the personal experience of terror. Physical wounds may heal, but the emotional and spiritual scars may last forever.
This is what we know based upon the dark litany of Birmingham, Waco, Oklahoma City, Madrid, London et al.
1. First needs for participants, loved ones, and public are accurate information and reassurance. Is the event over? Are my loved ones OK? My pets? My co-workers and friends?
2. Appropriate emotional and spiritual intervention after physical assessment and first aid is delivered with necessary triage.
Who can drink coffee or water or eat something knowing loved ones are not accounted for and connections made. Those interventions may include companioning folks who have been directly impacted after removed from possible harm's way. "I will stay with you" are extremely powerful words and "Let me help you make contact with your loved ones."
3. Anyone who is in the general vicinity of the explosions is automatically a "first responder." They can assist in rescue and recovery but not get in the way of trained emergency personnel who will be there in seconds, if not minutes. There are instant contingency plans for attacks and human-caused disasters like this. Police and Fire and Medical personnel train almost daily for events of this nature. These are anticipated events and part of the "new normal" of life in perpetual wartime and the cost of maintaining peace. This clinical detachment saves lives and minimize trauma.
4. Rituals will be developed to mourn the dead and celebrate the response and allow those in future Boston marathons to run the race for those who were not permitted to finish. Terrorists can never win. The human spirit and condition that designed an event with men and women from over a hundred countries from around the world running the race together can not be permanently damaged or diminished and after the normal shock subsides, honoring the memory of those who perished as well as those who ran is imperative and essential. I write this as the number of casualties continues to increase by media sources.
I have run more than 40 marathons and the New York Marathon memorably in 2001 after the attacks on America. Of the 33,000 runners accepted and anticipated, only 23,000 showed up to run. I remember the shroud-draped police and first stations that we passed. And the highly visible Police and Fire Boats and Coast Guard cutters protecting us under the bridges and along the routes. We were safe. One could still see the smoke in Lower Manhattan from the Staten Island ferry as we traveled to the starting line at Ft. Wadsworth there.
Did that mean that 10,000 persons stayed away because of fear?
In days ahead, someone will claim responsibility for the bombing and the dead will be buried. Staying away from the scene and supporting medical personnel is what we can do now. However, do not watch and re-watch media coverage of the bombing. It will further traumatize the vulnerable and create more victims through repeated exposure of the event. It may kill or spirits and crush our souls, but one must not let the terrorists claim more victims.
Runners carry their desire and goals, dreams and achievements. Each carries his family and loved ones, her support system and inspirations, for some faith and nationality, and, for others, running for those who could not. They run for their teams or communities. They run to celebrate physical, emotional and spiritual achievements. These are peak achievements that hold few parallels and give membership in an elite group for all time.
Many spiritual leaders run marathons and clergy see running as a form of prayer -- meditations in motion. Let us all remember Boston and grieve for those fallen and lost, and be there next year along the route to celebrate the triumph of health and physical achievement and that we are not afraid. That is something for all persons of faith and those who will not let terrorism abide. The Boston Marathon reflects our world. United we run.
Related
Popular in the Community