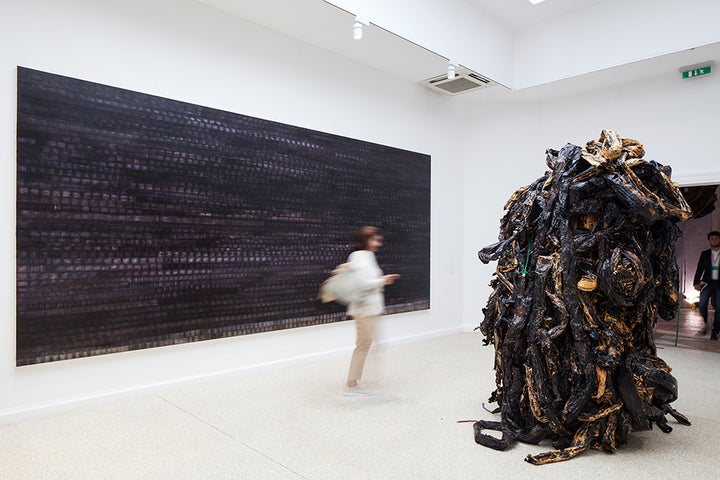 Mark Bradford is having one hell of a year—over the last few years, actually. With records broken at auction, major museum exhibitions, participation in international biennials, and huge commercial gallery shows, Bradford's star is reaching ever-greater heights. His market is what Amy Cappellazzo, the former head of postwar-art sales at Christie's, has called "white-hot at all levels." And his pavilion at the Venice Biennale has cemented his stature as one of the most significant U.S. artists of our time, leading one critic to gush, "you could even say that Bradford is our Jackson Pollock." Or, maybe, you could say he is our Mark Bradford.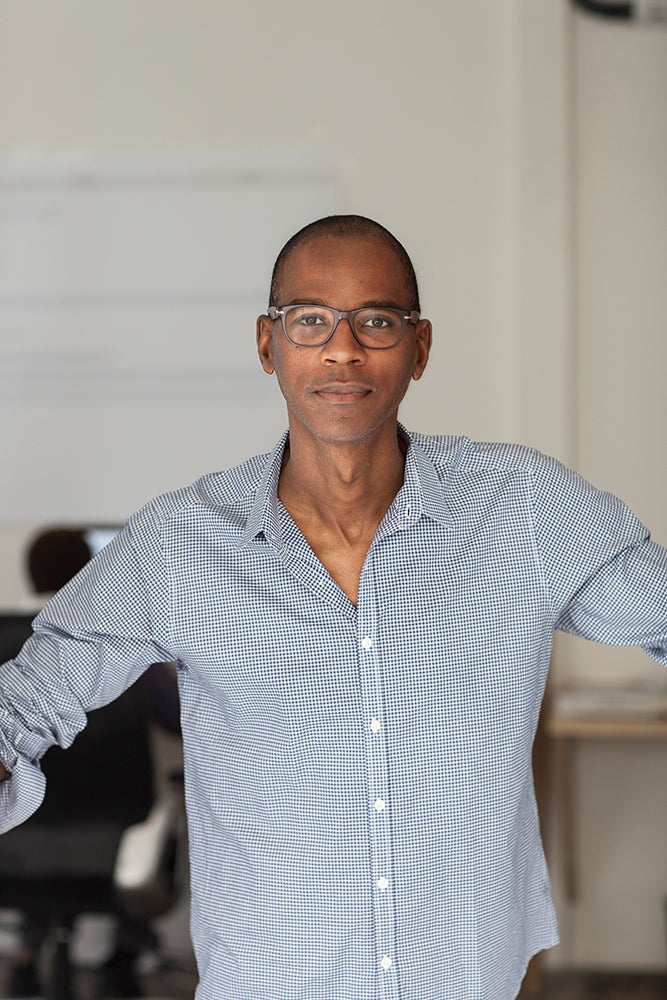 By all accounts, Bradford's exhibition for the U.S. Pavilion in Venice is an absolute triumph. It was an honor he was somewhat reluctant to seize, however, particularly given the challenge, as a gay, black man, of representing the U.S. under an administration that reflects a turn toward open hostility to minorities, immigrants, the LGBTQ community, and other marginalized people. In this context, the interventions he performed in the U.S. pavilion are strikingly powerful—a tumescent bulge of paper that pushes visitors to the margin of the room, and a cancerous root of yellow and black knots of paper wrapped around the flaking walls of the grand rotunda, obscuring the oculus. The transformation of the pavilion into a site of sharp social commentary, through abstract means, shows Bradford at the height of his artistic prowess. "I cannot think of a single other artist who works the kind of sheer alchemy that Bradford does, in transforming ordinary paper into art that is profound, and profoundly beautiful," Katy Siegel, co-curator of the U.S. pavilion, tells MutualArt, "That in itself is a political act, as well as an artistic one."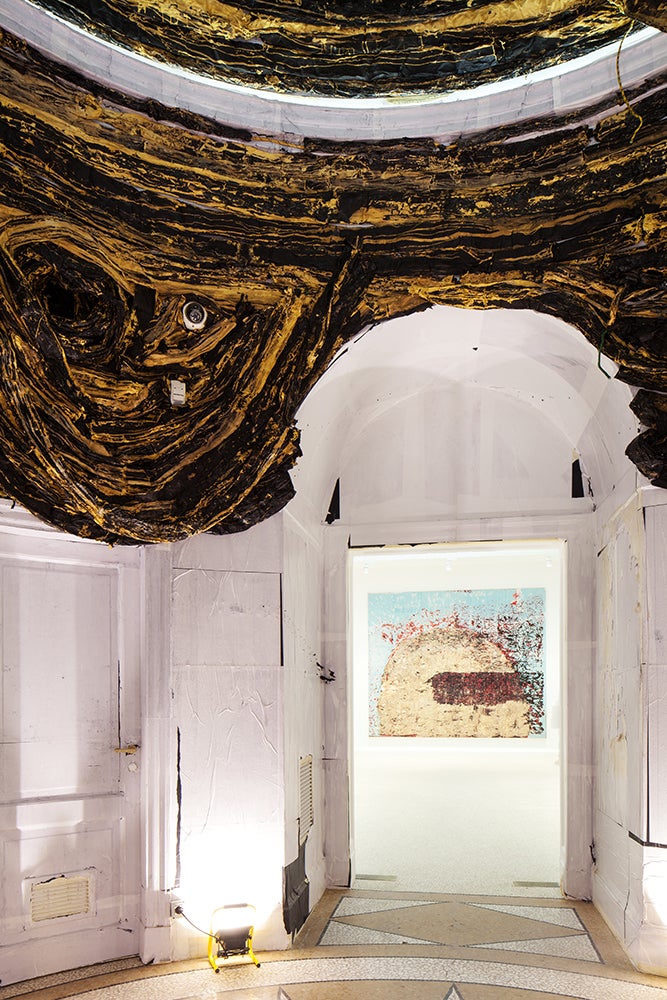 Bradford's origin story is oft repeated, inseparable from our understanding of his art. Born in 1961 to a single mother in Los Angeles, he grew up working in his mother's hair salon. He went to CalArts to study art at a time when painting was disparaged in favor of conceptual art. The eureka moment came when he chanced upon the end papers used for setting curls as a material for his work; affixed to the canvas, the end papers provided a gridded, layered structure for his first major paintings. As his work progressed, Bradford used other found materials from the streets—from music posters to yard sale signs to ads for predatory lenders—to build up the layers of his paintings, developing a technique of sanding the layers into abstract excavations and landscapes.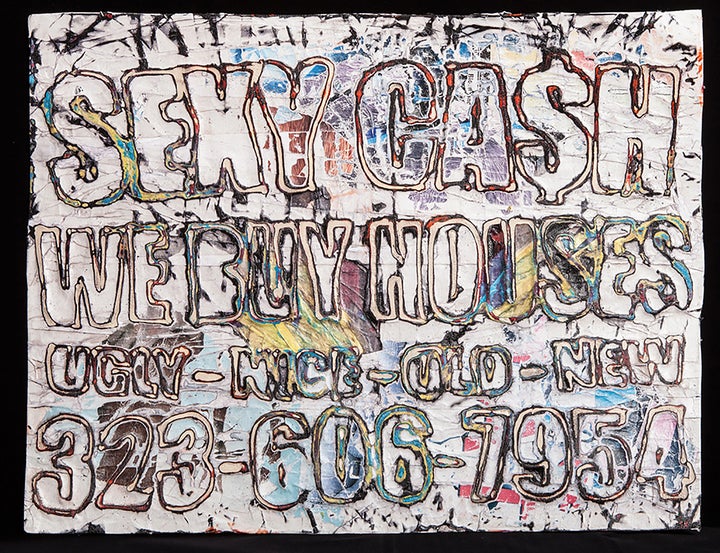 Bradford uses the term "social abstraction" to define his work: abstract art that has "a social or political context clinging to the edges," he says. Siegel acknowledges that this relationship is not as paradoxical as it might seem at first: "In the early 20th century, critics and theorists (if not artists) often separated abstraction from social content, seeing it as exemplifying some kind of purer, ideal, transcendent form or system. Mark Bradford, like many artists in the postwar period, doesn't oppose abstraction and social content—his abstraction is not built out of an ideal system, but a material reality." The social fabric and its remnants are literally embedded in his paintings. "That reality," Siegel continues, "of advertisements, printed matter of all kinds, commercial paper, dye and bleach, carries its own memories and meanings, ones that are social and collective as well as belonging to the individual artist. They speak of the changing community of South Los Angeles, its vulnerabilities and strengths, the predatory nature of the political system, and even just passing fashions in music and style." Incorporating these ephemeral materials into his work forms a strong connection to the neighborhoods of Los Angeles where they are sourced, and grounds his painting in reality.
The French affichistes Raymond Hains and Jacques Villeglé, along with Italian décollagist Mimmo Rotella may be some of the most conspicuous artistic forebears to Bradford's practice of layering paper found on the street. "There are plenty of ancestors for Bradford," Siegel says, mentioning Rotella, as well as African-American abstract painter Norman Lewis, and mixed-media pioneer Robert Rauschenberg. Bradford's commitment to social service, with his art-centered organization helping foster children in Los Angeles, has found him compared to Theaster Gates and Rick Lowe. Others have drawn connections between Bradford's work and Richard Diebenkorn, Jackson Pollock, Willem de Kooning, and Brazilian Neo-Concretist Hélio Oiticica, among others. Bradford himself has expressed a feeling of deep affinity to the Abstract Expressionists.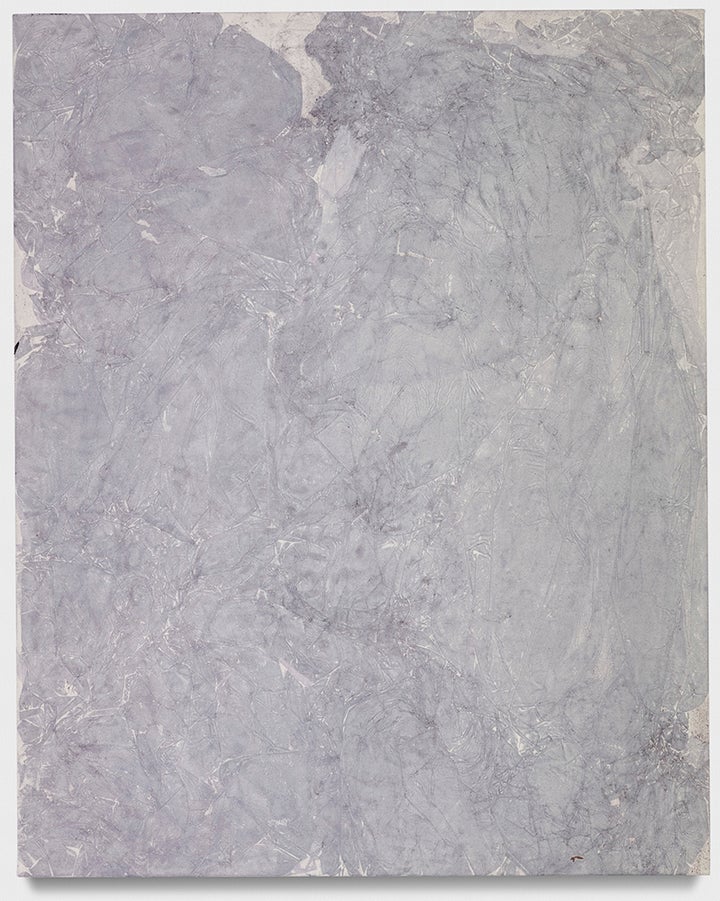 Bradford's relationship to the Abstract Expressionist painter Clyfford Still is in fact the subject of an exhibition, Shade, currently showing at the Denver Art Museum, which pairs new paintings by Bradford with those by Still, and at the Clyfford Still Museum next door, where Bradford has curated a selection of Still's paintings. The exhibition reveals more than aesthetic affinities. Bradford's response to Still's work, particularly in terms of the prevalence of the color black, has resulted in a series of new works with a darker, more somber palette, and a new technique using black newsprint to stain canvas. "At a time when other Abstract Expressionist painters had vibrant palettes, Still used black to force viewers out of their comfort zones," says Rebecca Hart, curator at the Denver Art Museum, "For Bradford, the choice of black isn't neutral; it intentionally forces us to confront conventional notions of race." With titles drawn from ballroom drag culture, Bradford's paintings like Butch Queen, Realness, Legendary, and Shade (all 2016), have got a jagged swagger. "Race is never far from the conversation," Bradford says, "All these codes were put on me…abstraction was a place where I found freedom. Figuration was going to speak too loud." For Bradford, perhaps, abstraction operates like the codes that marginalized cultures use to communicate, to find freedom within the mainstream.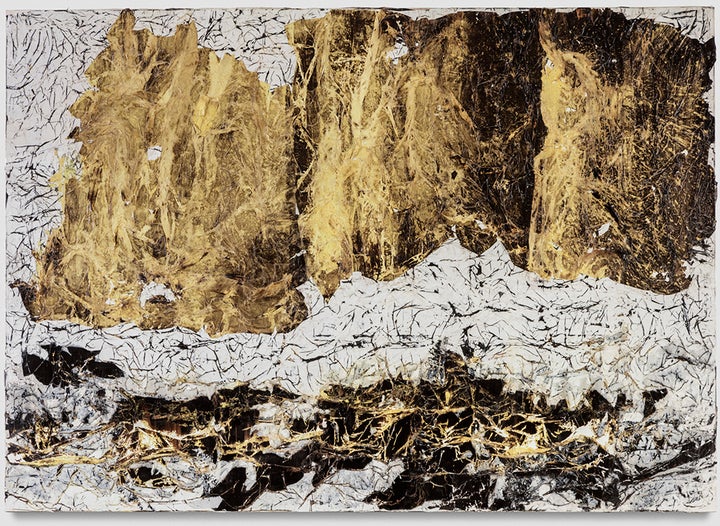 "I don't think there is such a thing as a 'pure' abstraction," Bradford says. "For me, abstraction is a conceptual framework that I use to interrogate my surroundings and my relationship to them. My paintings come out of this neighborhood and out of this body, my sense of belonging to it, and also my separateness as a gay man." Bradford's art comes out of his material reality, his lived experience. His work, while full of uncompromising beauty and awe-inspiring technical prowess, confronts us with issues of race and queerness. At a time of political strife and regressive policies, Mark Bradford is just the artist we need right now.
Related
Popular in the Community