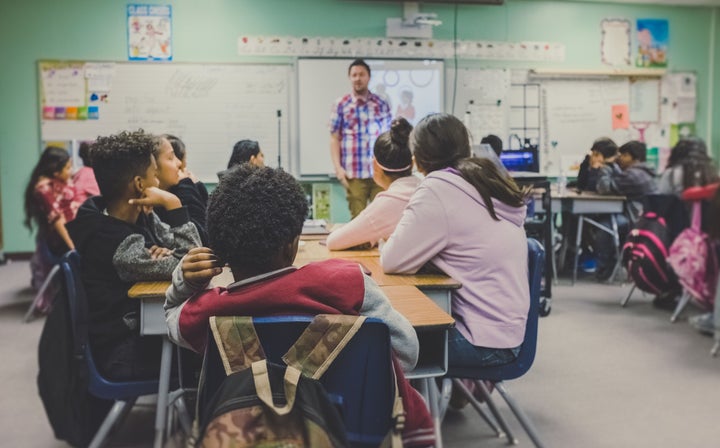 In the current digital age, everyone wants their message to go viral and reach millions of Americans, a la Dove's "Real Beauty" campaign or the ALS Ice Bucket Challenge.
But those viral campaigns are rare, and there is no one tried-and-true formula to achieve them. That's not surprising, considering the fragmentation of the current media landscape, which makes reaching people across the U.S. especially challenging.
Instead of trying to find the secret recipe to make your message go viral, consider the constants across the country. Every region, county, or town has a few things in common, including schools. And who keeps those schools running? Educators — an audience with a lot of influence.
"Think of the potential buyers and potential consumers of your message that teachers connect with each day," said Bernadette Grey, chief strategist at MDR, a division of Dun & Bradstreet. Teachers have the ears of not only their students, but parents and administrators as well. "Look ahead; these could be your next generation of purchasers, voters, advocates, innovators, businesses, communities, state leaders, and school boards," Grey said.
Teachers are also excellent communicators and have a track record of strong ethics. Year after year, polls from Gallup show that Americans view K-12 teachers as possessing high honesty and ethical standards, with recent polls rating grade school and high school teachers at 70 percent and 60 percent, respectively.
And businesses have already worked successfully with this audience to spread their messages. Pepsi, for example, enlisted teachers at more than 5,500 schools to spread the word about its Recycle Rally, which has recycled 111 million plastic bottles and aluminum cans since its 2010 inception.
It's not just major companies that benefit from utilizing teachers' messaging skills, though. As long as you plan your messaging properly, you can too.
1. Get to know teachers' consumer traits.
Teachers are smart, savvy consumers. That starts with reading — and not just textbooks and classic novels. Teachers obtain information across multiple forms of media and are more likely than other shoppers to research — then purchase — products and services online. In fact, 80 percent of educators report making internet purchases in the last year.
2. Use online channels strategically.
When teachers aren't hard at work in the classroom, they can be found online. More specifically, 71 percent of teachers report using Facebook daily for personal use. But they don't use each platform in the same way, and neither should marketers. For example, Facebook is personal and conversational, while Pinterest is much more visual, so the marketing content should reflect that.
Across all channels, teachers respond best to marketing with accurate targeting and relevant messaging. Before you target and tailor your messaging to a smaller audience, however, you have to find that audience. How?
3. Learn about teachers' online behavior.
Much of what we do online can be tracked. That data shows preferences, behaviors, and personal traits, all of which provide information crucial to creating highly customized marketing content.
A better understanding of teachers' behavior online can also make your marketing more relevant to them. For example, by participating in a WeAreTeachers grant contest, teachers provide marketers with the specific topics they teach as well as their degree of interest. When combined with email response history and other information, you can use the data to target audiences and deliver more relevant messaging — such as email campaigns and ads with a specific subject, grade level, or professional goal in mind.
Tracking is also important and relatively easy. By inserting a conversion pixel in the form of code on a landing page, you can track a prospect who might have viewed an ad before making a purchase later through a different channel.
Using data collection tools to analyze and track online behavior isn't quite enough. You also need to get feedback from teachers. Luckily, they're accustomed to classroom participation, so don't be shy.
A quick survey conducted through Facebook, Twitter, or email is best for eliciting feedback. To ensure the survey isn't too onerous for your respondents, limit it to three questions, such as, "Why do you love our products?" "How do they make your job easier?" "What can we do better?" Then offer a small discount or reward as a thank you.
The payoff is threefold. Besides receiving feedback to inform your ongoing product and marketing development, you'll have a group of customer testimonials for marketing use. Plus, teachers rely heavily on recommendations from their colleagues. By asking for feedback, you're showing customers you value their opinions, keeping your business top of mind.
With their wide-ranging influence, educators are the ideal audience for your marketing efforts — but only if you plan your messaging carefully. If you understand their online behaviors and solicit feedback to help you improve, you'll be well on your way to a marketing strategy that engages teachers. In turn, teachers will engage with their captive audiences to help your product or service go to the head of the class.
Support HuffPost
The Stakes Have Never Been Higher
Related
Popular in the Community