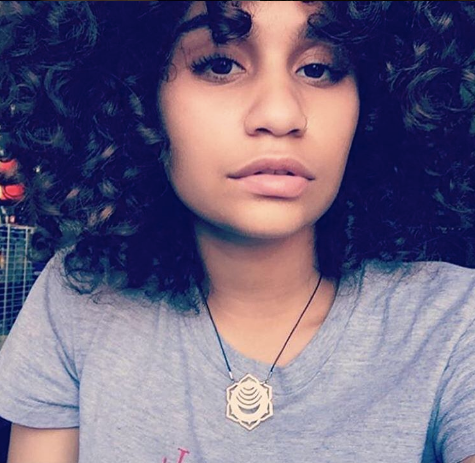 Her name was Maylin Reynoso.
In the days following her disappearance, friends and family shared photos of Reynoso on social media platforms like Tumblr, Facebook, and Instagram, pleading for anyone who had information on her whereabouts to come forward. No one did. Aside from the social media posts, there was no major news coverage on the 20-year-old's disappearance.
And there was still little media coverage when, on July 31, Reynoso's body was found in the Harlem River.
Meanwhile, in the same week as Reynoso's disappearance, countless international outlets covered the death of Karina Vetrano, a 30-year-old Italian-American woman who was assaulted and murdered on Aug. 2 after going for a jog in Queens.
What happened to Vetrano was horrific, and most certainly worthy of attention. But the disparity between the response to Vetrano and Reynoso's disappearances is telling. There were consistent reports from major outlets throughout Vetrano's disappearance and the subsequent discovery of her body. Even now, updates continue to come in about the ongoing investigation into who murdered her. This has not been the case for Reynoso.
People across social media have hashtagged her name, calling out the media's disinterest in the deaths and disappearances of Latinas and women of color in general: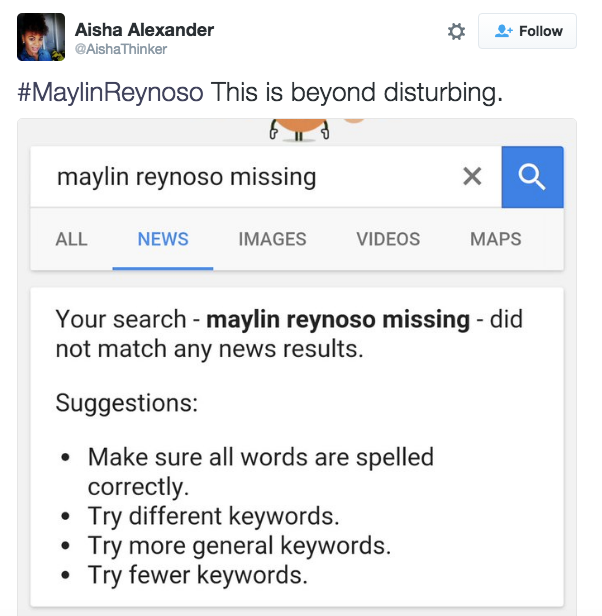 The fact that so little information has come out about the circumstances of Maylin Reynoso's disappearance and death speaks to the ongoing problem of what is commonly referred to as "Missing White Girl Syndrome."
Watch any true crime documentary or read any crime headline in the news and the description of the missing or murdered girl will use several tropes and buzzwords. A victim was "blonde," "attractive," "All-American." It's a narrative that works well, that perfectly fits the clickable, sellable narrative of innocence vs. evil. It's a narrative that not only caricatures, fetishizes and erases the identities of real-life white female victims, but also makes no room for women of color like Maylin Reynoso.
Whereas white women are innocent victims in disappearance scenarios, the assumption with young black and Latina women is often that they were somehow involved in activities that led to their kidnapping or death.
Fourteen young black and Latina girls in the Bronx have gone missing since July 2014 (9 have been found). According to Bitch Magazine, despite initial concerns that their disappearances were linked to a forced prostitution ring in New York City, all of the girls were labeled as "runaways" by the NYPD. The disappearance of 14 young girls from a single borough should have gotten more attention. Instead, their disappearances have been treated largely as a mundane reality. Would the same be the case for 14 young white girls disappearing in the suburbs?
Ignoring stories like Maylin Reynoso's while concentrating on stories like Karina Vetrana or Vanessa Marcotte (a Google employee killed while jogging in Massachusetts) has real world ramifications. Sometimes consistent news reports on missing women, with their faces plastered on television screens and in newspapers, can make a difference in finding them alive, or at least finding justice.
Right now, there is still no justice for Maylin Reyonoso. But hopefully, by using her name to raise awareness, we can be reminded that the lives of young Latinas matter just as much as everyone else.
Before You Go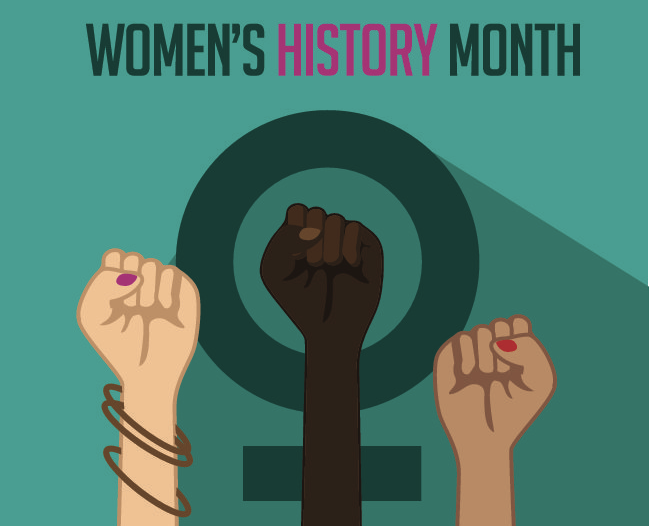 9 Powerful Blogs By Latinas To Empower Women Everywhere
Popular in the Community