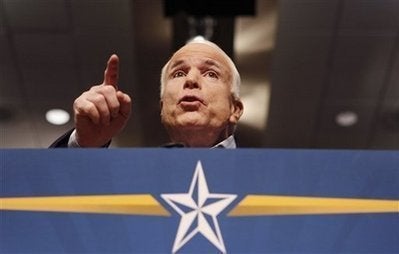 Since Sunday, Democrats have been buzzing about the re-revelation that during the 1980s, Sen. John McCain served on the board of a far-right conservative organization that had supplied arms and funds to paramilitary organizations in Latin America.
Democratic strategist Paul Begala lit the fire when, during an appearance on Meet the Press, he warned that this relatively obscure detail from McCain's past could draw him into a guilt-by-association game he was bound to regret.
"John McCain sat on the board of...the U.S. Council for World Freedom," said Begala, "The Anti-Defamation League, in 1981 when McCain was on the board, said this about this organization. It was affiliated with the World Anti-Communist League - the parent organization - which ADL said 'has increasingly become a gathering place, a forum, a point of contact for extremists, racists and anti-Semites.'"
But McCain's involvement in the U.S. Council for World Freedom, which extended from 1981 through, possibly, 1986 is significant -- not merely because it ties him to unsavory characters but because it firmly associates him with a foreign policy that was, at the time and still, controversial.
"I didn't know that [McCain had] served on the board," said Shannon O'Neil
Douglas Dillon Fellow for Latin American Studies at the Council on Foreign Relations. "It is a little bit surprising to me. But all of those organizations did come from the Republican side mostly. Often the people were tied to the military and they saw the world in black and white terms... My impression is [McCain] still sees the world in back and white."
The USCWF was founded in Phoenix, Arizona in November 1981 as an offshoot of the World Anti-Communist League. The group was, from the onset, saddled with the disreputable reputation of its parent group. The WACL had ties to ultra-right figures and Latin American death squads. Roger Pearson, the chairman of the WACL, was expelled from the group in 1980 under allegations that he was a member of a neo-Nazi organization.
The U.S. Council of World Freedom claimed to be cleansed of these elements. The group's director, retired Major General John Singlaub, said he had purged some of the more "kooky" members, including a Mexican chapter that "blamed everything on the Jews," and "even accused Pope John Paul of being a Jew." The Anti-Defamation League, once critical, applauded Singlaub for his efforts. Moreover, the USCWF was granted a sense of political legitimacy when President Ronald Reagan addressed the group in September 1984.
But the group's secret activities were still controversial. It claimed to support "pro-Democratic resistance movements fighting communist totalitarianism." And during the 1980s it became a vehicle for the Reagan administration to prop up some of the more totalitarian, anti-communist efforts in Central America.
According to a March 1989 Washington Post article, the USCWF coordinated funding efforts with sources in Taiwan and South Korea to help contras in Nicaragua purchase some $5 million worth of arms. The group was charged with operating a plane that was shot down while flying supplies to these very same rebels. The council, according to a 1986 New York Times report, "provided $10 million to $25 million in cash and 'in-kind' aid: four to eight small aircraft (''non gun-mounted'') to the contras, boots to rebels fighting Soviet troops in Afghanistan, $20,000 in medicines to Cambodian resistance forces, and help for groups in Mozambique, Ethiopia and other countries." Singlaub and the council also reportedly provided Neo Hom and other factions of the Lao resistance with aid in the form of clothing and medicine - aid that the group subsequently turned into a scheme to raise fund from refugees.
The McCain campaign, in a statement to Politico, defended the efforts of the council. Brian Rogers, a spokesman, said that the Senator "disassociated himself" from the group "when questions were raised about its activities, but that in no way diminishes his leadership role in ensuring that the forces of democracy and freedom prevailed in Central America."
But Singlaub "does not recall any McCain resignation in 1984 or May 1986," the Associated Press reported early Tuesday, "nor does Joyce Downey, who oversaw the group's day-to-day activities."
Moreover, while the goal of confronting communism may be politically defensible, the methods that the group pursued elicited heavy complaint. In January 1987, Sen. Patrick Leahy criticized Singlaub and, by extension, the Reagan administration, for directly circumventing the will of Congress, which had cut off funds to paramilitary organizations like the contras.
'The open courting of General Singlaub and his groups," said Leahy, "I've never seen anything like it. The active fund-raising among wealthy people to back these programs - I think it's unprecedented... There seems to be more and more of a feeling that, 'Gee, we really want to do something to help the contras, but don't tell me what you're doing because I'm not supposed to know.'"
The funders of the U.S World Council of Freedom read like a who's who list of prominent conservative figures. Joe Coors, the Republican Beer baron was reportedly a big donor. Time Magazine wrote that the Christian Broadcasting Network was a backer as well. The Washington Times newspaper, owned by the controversial Reverend Sun Myung Moon, started a fundraising drive of its own. And Moon himself had numerous ties to Singlaub.
Through it all, McCain was a member. As reported by Politico, the council formally approached him during his run for elected office in 1982 and McCain, then a member of the House of Representatives, agreed to join, citing years later the organization's commitment to a freedom agenda. "They've got some good people involved," he said. Aides to his campaign said he resigned from the board of directors in 1984. But in 1985, McCain attended the group's "Freedom Fighter of the Year" award ceremony in Washington. And as late as July 1986, the organization's communications firm sent a letter with McCain's name on it regarding Singlaub's appearance at a conference "of nearly 40 countries... taking part in an annual observance to commemorate efforts on behalf of freedom throughout the world."
By then, the council's activities were becoming well known. In a 60 Minutes segment aired in '86, Singlaub was described as the President's "secret weapon to sidestep a Congress that will not permit him to act in the areas where he believes that our security interests are at stake." He did not contest the description.

There is no reporting to suggest that McCain was directly involved in any of the USCWF's operational decisions. Begala, in his appearance on Meet The Press, actually took time to exonerate the Senator from any charge that he was associated with the organization's early anti-Semitic fringe membership. "Now, that's not John McCain," he said, "I don't think he is that."
But McCain's association with a group that reportedly circumvented law, financed right-wing military institutions, and engaged in sometimes brutal anti-communist tactics, could be telling for some voters. At the very least his time on the board of the U.S. Council of World Freedom provides a window of sorts into the foreign policy vision that he held back in the 1980s and one that he still seemingly holds today.
"Remember this happened during a time when you were either with us or against us," said Council on Foreign Relation's O'Neil. "Somewhat like the mindset," that we have seen with the Bush administration.
Popular in the Community