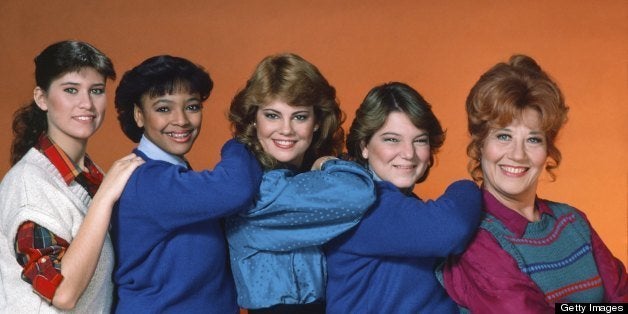 If you've lived with a television during the last 30 years, you may know me from the nine seasons I played Natalie Green on the NBC sitcom The Facts of Life. That show launched what has become my 35 years-and-counting career as a working actor. The real riches went to the producers and the studios; this was back in the day before actors got paid for re-runs or home video sales. But those were the rules, and on my generous sitcom salary I did more than my share of jet setting around the globe as well as meeting, working and hanging with amazing people. A Hollywood insider's joke is anybody who's anybody now did an episode of Facts back then -- just check out YouTube. You'll see a young George Clooney, Helen Hunt, and Juliette Lewis ... I was living the glamorous partying life of a teenage celebrity -- which in "Mindy years" brings us to around age 21.
I am about three weeks shy of turning 47.
So where've I been? What've I been doing? If the Guinness Book of World Records had a category for the celebrity who's turned down the most reality shows, you'd find my picture there. Yep, right now I could probably be lying on the beach of my very own private island I bought with all the money VH1 offered me to play (and hopefully make a fool of) myself, by wandering around on some other island with a motley crew of celebrities: cohabitating, losing weight, or getting sober. No offense to anybody who does those shows, it's just not something I want to do. I never had nor have any desire to play myself on TV. Gratefully, I have been able to support myself (in a style to which I have become accustomed) by acting. While nothing I have done has reached the popularity of The Facts of Life, I have continued to work with some of the most talented people and am looking forward to my move to New York to finally do what my real passion has turned out to be: theater!
As you can hopefully garner, after being discovered by veteran actress Charlotte Rae and revolutionary television producers Norman Lear and Alan Horn, much to my surprise, I discovered I am an actress. I own it. I'm proud of it.
And while I won't "tell all" ever, I am going to tell you a bit of my real facts of my life --As you may recall if you've been paying attention, I'm coming up on 47, and:
Single.
Never married.
No kids.
Not on drugs.
Not in debt.
Not schizophrenic.
Not a religious fanatic.
Although I've worked with all of them.
Sure I want a husband, kids -- a family of my own. I always have. But as my childhood friends were getting married and I wasn't, I glamorized this situation a la Katherine Hepburn, as "I was married to my career." Now, as I look at all my gorgeous, successful, famous friends who have all those things ... I feel pretty good! I am sounding freakishly well-adjusted. Truth? I kinda am thanks to my amazing parents and upbringing. Now Picasso had his "Blue Period" and so did I (who doesn't), but the terminal optimism that I have been graced with continues to serve me well and once I accepted what seemed like the battling aspects of my personality -- an optimistic worrier, a compassionate critic, a loner who likes people -- I felt a whole lot better.
Okay, let's begin with how I completely accidentally serendipitously became a teenage sitcom star on one of the most popular television shows of the 1980s.
It's the summer before ninth grade -- 1979. Shaun Cassidy posters hang in my bedroom, and I am obsessed with any kind of Chemin-de-fer jeans. I am a middle-class kid at a chi-chi pooh-pooh rich girls' private school -- Westlake School for Girls in Bel Air. Mom thought it was extremely important that her girls get the very best education possible, so a good chunk of her real estate lawyer's salary goes to school tuition for my sister and me. I'm not popular or a nerd, just somewhere in the middle -- pretty well liked, a contented B student, and during seventh grade, unmercifully tortured by Suzy Landa. My best friends are Nichelle Robinson and Leslie Jackson. Together we are known as "the Oreo." (Yes, they are women of color.) If you had asked me what I wanted to be when I grew up, I probably would've said a doctor because I wanted to help people and I have a knack for doing just that.
Have I said anything at all about performing, or wanting to be an actress? No, sir. In fact, my only experience as a performer at that point in my life had been absolute torture; I refer here to my bat mitzvah. Even though I had memorized my torah portion, I was so nervous getting up in front of people -- even my family -- I alternated feeling like I was going to puke or pass out on my way up to the bema (stage for all you non-Jewish readers).
Only two months after this near disaster, Mr. Reynolds, the headmaster came into our summer school classroom looking for students to be interviewed by some television producers. They were getting ready to shoot a new sitcom that took place at an all girls' school, and wanted to authenticate their scripts. Getting out of class sounded good, and the additional enticement of free doughnuts sounded better, so my friends and I stuck up our hands and marched off to Mr. Reynolds's office.
Waiting for us were Charlotte Rae, who I immediately recognized from the NBC sitcom Diff'rent Strokes. I didn't recognize Norman Lear, who produced All in the Family, Maude, Sanford and Son, Good Times, and The Jeffersons, but when he introduced himself, I knew who he was because All in the Family was my dad's favorite television show, which we all watched religiously every Sunday night. Next to Norman was Alan Horn, an amazing man working with Norman, who went on to create Castle Rock Entertainment with Rob Reiner and Glenn Padnick. Alan currently runs Disney Studios. Anyway, they were going to spin off Charlotte's character Mrs. Garrett for her own show, where she'd be a "dorm mother" at an all-girls school. So, for about an hour, they asked all sorts of all girls' school questions: Do you miss being with boys? Is it easier in class without them? Do you hate wearing a uniform? Between doughnuts, we did the best we could to answer.
And that was supposed to be that. Except the next day, Mr. Reynolds calls me into his office. It seemed that Charlotte Rae had fallen madly in love with me, in part because I reminded her of her best childhood friend Natalie -- and I was irrepressible, charming, and hilarious. So she asked the producers to create a part for me in the show. Honestly, the whole thing seemed so fantastic I didn't know what to think.
That night at dinner, over meatloaf or tri-tip depending on the day (my mom had a fairly limited cooking repertoire -- essentially heating meat), we talked it all over. Mom took the next day off so we could meet with the producers, who explained that they would be shooting four episodes that would be completed by the end of the summer. So, even though I had absolutely no acting experience, and to that point had shown not the slightest interest in being an actress, we all decided that compared to my other big summer offer -- being a CIT at Temple Emanuel Day Camp -- starring in a TV show would probably be a more interesting topic for that fall's "My Summer Vacation" essay at school. Looking back at all that's happened since, I think we made the right decision.
Since there was no "Natalie" character at all in the show before they met me, the producers and writers made Natalie up as they went along, based on -- you guessed it -- me. By Season 3 however, Natalie and Mindy started to "grow apart," as our lives and experiences started to diverge. This is when I started to "feel" like an actor: I stopped playing me and learned how to create a character.
The show consistently ranked in the Top 20 and we were eventually joined by George Clooney and Cloris Leachman. Cloris became a close friend and the first of many acting mentors. For other guest stars, check this out.
During the hiatuses of FOL, I started expanded my repertoire by auditioning and landing numerous guest spots, a New York production of James Lapine's play Table Settings, (where my next mentors Eileen Heckart and Stockard Channing came into my life) and the film The Boy Who Could Fly (enter Colleen Dewhirst and Bonnie Bedelia). I was particularly proud of getting this part because the director had no idea who I was when I came in to audition.
My "Sex, Drugs, and Rock and Roll" years were more like "Hand-jobs, Cigarettes, and Hair-holding," but I am definitely one of a group of underage stars who worked 12 hour days, hit the clubs, attended premieres, hung backstage at concerts, and globe-trotted.
My all-time favorite anecdote from this time period that still sustains me in times of unemployment is a dinner I had one night with Cloris Leachman. While this was a weekly occurrence for the three years we worked together, this particular night was at the legendary Mateo's. We approached comedy legend Lucille Ball, whose Life with Lucy we are killing in the ratings at the time. I knew I had arrived and my life would never be the same, when Lucy grabbed my hand and stated in her fantastic rasp, "You and that Tootie remind me of me and Viv. You are a very funny lady, Ms. Cohn. You keep this up now, 'cuz you have a lot to offer." I thought, "Kill me now, it's not going to get any better than this."
There have always been people who believed in my career and helped me look for my next job. I auditioned for the role of another TV icon -- an animated one. I started voicing the character of Velma for the Warner Brothers animated series and franchise -- Scooby Doo. I stepped into a billion dollar-industry that includes not only the weekly-animated series, but also DVD movies and video games. I am now going on my 12th year as the voice of Velma. What a rarity. I haven't felt unemployed in 11 years. How many actors can say that?
Unfortunately, in the eyes of many people in and out of the business, most of the indies or other projects I have worked on have been under the radar (but they are available for rental or sale!). I still get people coming up to me saying, "Are you working?" And I would still launch into one of my detailed, self-conscious, insecure explanations -- trying to justify to some stranger, that yes, I am a working actress, instead of just saying, "Yes." I love what I do -- even though I don't always get the opportunity to play the roles I want. But every role is an opportunity, and part of my work as an actor is staying open, flexible, and spontaneous -- not all that easy for a natural-born control freak. I'm not especially proud of every acting gig I've had in the last 35 years, but I'm not ashamed of or embarrassed by any of them. I know the difference between being an actor and being a star, and I'm 100 percent actor.
Some of my role models include Kathy Bates, Dame Judi Dench, and Geraldine Page. I have a strong belief in myself, and I'm a firm believer in "the Sally Field trajectory of success." She was seen solely as "Gidget" and "The Flying Nun" until a producer gave her a chance to be "Sybil." All of a sudden, she was a serious film actress. I know she had patience, perseverance, confidence, and stayed ready for the big break 'cause you never know when it'll come, and knew she was more than any one role she had played.
As I write this, I have not won an Oscar for a breakthrough performance, or a Tony for a long-running Broadway show. The good news is that fairly recently, I played the lead onstage in a musical in Toronto, starred in an independent film produced in New York City, and had a recurring role on Secret Life of the American Teenager. And while I am not with the man of my dreams (and I can't wait to meet him and find out what the hell he's been doing!) I have never defined myself by what I don't have.
I love the craft of acting, have embodied real success: the respect of your peers, quality work, connection, and have created a life filled with love, collaboration, inspiration, humor, and adventure.
Okay, that's it. We're all caught up. You be well and I'll check back with you in another 47 years.
Popular in the Community