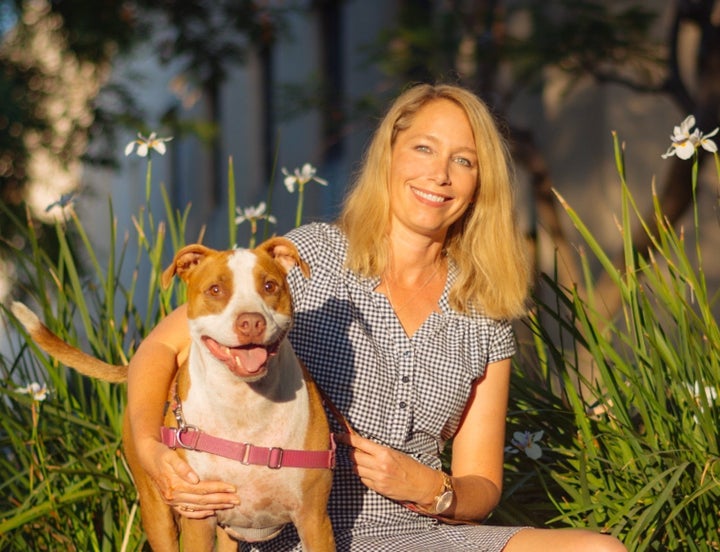 You don't need to convince Samantha Bonar of Los Angeles about the value of health insurance for her two dogs. Kaya, her Pitbull rescue, recently had more than $12,000 in medical bills paid for by a policy that Bonar has carried for the past year.
Three years ago, after Bonar noticed changes in Kaya's bark, she was told that her otherwise healthy and much beloved Pittie had a laryngeal rhabdomyosarcoma ― a cancerous mass wrapped around her larynx. Kaya had surgery and 20 rounds of radiation at Veterinary Specialty Hospital in San Diego and Bonar paid nearly $20,000 out-of-pocket to have her diagnosed and treated. Bonar took on extra work, friends donated money and she received donations from two dog cancer groups. She also dipped into her Roth IRA and borrowed against her home equity to cover Kaya's care.
In August 2015, Bonar, 47, bought Kaya pet health insurance that costs about $45 a month. And good thing she did.
In January of this year Bonar noticed Kaya had pain in her neck and shoulder that wasn't getting better. X-rays and an ultrasound first suggested arthritis, then a rotator cuff injury. It wasn't until Kaya began losing the use of her back legs in July that her vet suspected something more serious. An MRI uncovered a spinal cord mass. It was unclear if it was malignant or not, but Kaya's vets (a neurologist, oncologist and radiologist) said it was most likely a meningioma, a benign tumor that arises in the meninges, the membranes surrounding the brain and spinal cord. They all agreed that this was completely unrelated to her earlier throat cancer.
"Kaya was in bad shape," said Bonar. "She was in a lot of pain and could barely walk. One vet gave her only three to nine months to live."
Healthy Paws, her insurer, stepped up and agreed to pay for the oncologist's recommended treatment ― a highly targeted form of radiation called stereotactic radiosurgery ― that is commonly used on inoperable brain tumors in humans.
Bonar had to pay out of pocket (on her credit card) but was reimbursed within a week for 80 percent of the amount from Healthy Paws. The radiosurgery alone cost $14,000 and her MRI was $3,000. Both were covered. 
Here's the unpleasant reality, according to Bonar: "Had I not gotten her the insurance, I would not have gotten her the treatment. I love Kaya to death, but I could not have paid tens of thousands of dollars out of pocket twice. She would have gotten palliative care and indeed probably would have just lived a few more months."
Instead, it's been a month since her treatment and Kaya is back to her normal self, reports Bonar. "Her pain is gone, she is taking walks, running, playing, harassing my other dog, ripping things up ― the usual." And her prognosis is great. Her tumor is expected to shrink away to nothing over the next year, said Bonar. "If by some chance the radiosurgery missed any of the tumor cells, we can zap it again ― and again the treatment will be paid for by her insurance."
All of which raises the question: If having companion animals is so good for us  isn't there some logic to the idea that having a way to keep them healthier and around longer will mean we ourselves will be healthier? 
Yes, Medicare for our pets. Why not? It might even reduce our own human need for it.
Calling all HuffPost superfans!
Sign up for membership to become a founding member and help shape HuffPost's next chapter
BEFORE YOU GO
PHOTO GALLERY
What Dogs Can Teach Us About Being More Zen