A number of research studies prove that male sponsors are key to women advancing into positions of leadership. I've been fortunate to have a sponsor for the last couple decades of my career. And I am not the only one.
The power of personal champions
It amazes me to look back at my path and see how far I've come in my career. Twenty-four years ago I started at Tupperware Brands as a temporary secretary. Today, I am the Vice President of Global Communications & Women's Initiatives and I would not be in an executive leadership position without the consistent mentoring and sponsorship of Rick Goings, the Chairman and CEO of Tupperware Brands. Over the years, I have seen him champion many women into leadership roles.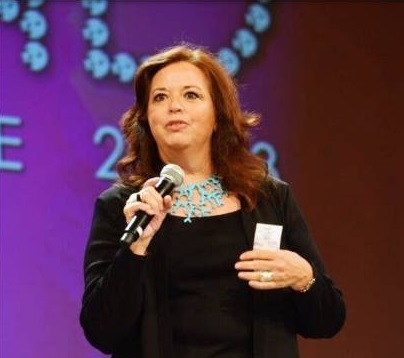 The author speaking to women on building confidence at the annual Tupperware Brands US/Canada Sales Conference (Jubilee).
Earlier this week, the next chapter of the HeForShe movement was announced. UN Women's inaugural IMPACT 10x10x10 champions shared their commitments to take bold action for gender equality and Goings was one of them. The IMPACT champions include 10 pioneering CEO's, 10 heads of state and 10 university presidents from around the world who have committed to taking proactive steps to change limiting gender norms that inhibit growth across sectors and society.
The potential for change that could cascade from the actions of the IMPACT champions is invigorating. Tupperware Brands is already in good shape when it comes to being a 50/50 company. That said, we vowed to take it to the next level to ensure that we are driving gender equality through every part of our value chain; we committed to increasing the sponsorship of women to reach leadership positions; to conduct an audit of our business from our brick and mortar down to manufacturing and supply chain. We've also launched a research study with Georgetown University to extend women's economic empowerment beyond the confines of our business. In short, we are committed to being game-changers.
We see families change when women are empowered, we see communities get stronger and we know women's economic empowerment is a key driver to all of this. But we also know that around the world men still hold the majority of leadership roles and, effectively, the keys to power. We need to stop focusing on changing women and start focusing on changing the system.
This is why the philosophy of the HeForShe movement is groundbreaking. We know the system won't change until men in positions of power stand up and commit to taking action for women. I'm excited to be an active participant on this journey with my company and excited to help shake things up in partnership with the HeForShe movement.
The HeForShe ripple effect
HeForShe aims to mobilize one billion men and boys in support of gender equality. Combined, the IMPACT champions' global footprint will create a ripple effect that we'll see for many years to come. Gender experts tell us that women only environments and initiatives, sadly, just don't work. We need to stand together to loosen the gender stereotypes that, frankly, limit both men and women. One of the ways to do this is to change business culture. We must implement concrete efforts that include metrics and proof points to enable other companies to follow in our footsteps.
This ripple effect needs to become a tidal wave. That's what it will take to make real change. Take a look at the recent UN Women study, "Progress of the World's Women 2015-2016." They found that globally, women earn 24 percent less than men, yet do 2.5 times as much child care and domestic labor as men.
To make substantive change - to see those numbers drop around the world - we need to stand in solidarity and we need male leaders to take swift and disruptive steps for gender equality.
REAL LIFE. REAL NEWS. REAL VOICES.
Help us tell more of the stories that matter from voices that too often remain unheard.