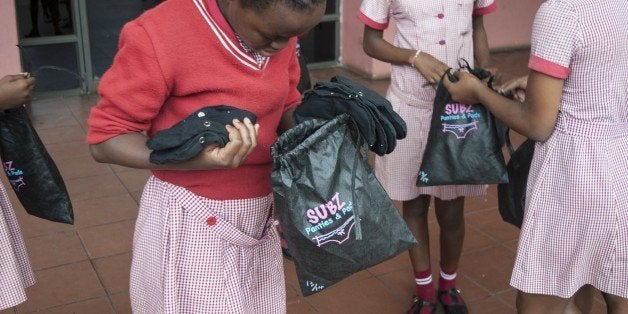 Each weekend, I board a bus out of Nairobi, bound for villages as far as eight hours away, and take hundreds of boxes of sanitary pads with me. As the founder of an organization that engages and teaches young women and girls in rural schools in western Kenya about early teenage pregnancy, gender-based violence, and reproductive rights, my work touches on many different challenges rural Kenyan girls encounter in their lives. But some of my most practical work involves something very ordinary that binds women together worldwide: menstruation.
In Nairobi, where I go to university, women have their periods with little discomfort and easy access to tampons and pads. But in many of the villages I visit, the advent of menstruation brings shame, isolation, discrimination and sometimes physical and psychological abuse. Women and girls are forbidden from cooking or preparing meals, participating in social events, working in the field, and going to the mosque during their periods -- they are considered impure, filthy, and even cursed.
Many girls also cannot afford sanitary products: in rural Kenya, a package of pads costs on average 75 shillings, which is roughly the cost of a meal for a poor family. With this cost, most male-dominated households will forgo providing necessary products for the women and girls in the family. In these circumstances, rural women make do with what they can find: old rags, magazines, leaves and even feathers.
Mismanagement of menstruation costs women in every aspect of their lives. Girls in my country miss an average of 20 percent of the school year due to mismanagement of their period, and many drop out of school because of poor performance after so many absences. Women using leaves or rags during menstruation are far more susceptible to infection and sickness. And being ostracized for a normal, healthy bodily function each month imbues young girls with a sense of worthlessness and low self-esteem.
When my organization teaches rural girls about menstruation, we're doing much more than lecturing on sanitary pads. By showing rural girls how to properly dispose of used products, we help them preserve the public health of their villages. By giving them reusable eco-friendly sanitary pads, we help save their families' money and preserve their environment. And when these girls learn that their bodies are normal, it raises their self-esteem and helps erase the stigma around menstruation. I'm truly passionate about expanding women's rights and health in Kenya, and I am glad I have helped some communities with the purchase of a few simple products -- even if I have to dig into my own savings to do it.
I am part of Advocates for Youth's Girl Engagement Advisory Board, a network of young women leaders from around the world who work for the rights of adolescent girls. Speaking with these other leaders, I am struck by how menstruation is stigmatized in so many different countries: in Nepal, where my fellow board member Muna lives, women are forced to stay in huts during their periods, while 50 percent of rural women in Hamna's home of Pakistan do not understand the origins of menstruation. And I know from my friends in the United States that many girls are uncomfortable discussing their periods in public or even among their peers.
While many important public and sexual health issues are seriously discussed in the global media -- rape on campus and Ebola make headlines in the United States and around the world -- menstruation is largely swept under the rug. While women in wealthy and liberal societies like the United States are generally able to buy sanitary products without the stigma rural Kenyan women face, they too are bound by their own type of stigma, an embarrassment that this normal process is somehow disgusting or dirty. This embarrassment has policy implications: low-income women in the United States are not allowed to use food stamps to buy tampons, while homeless women struggle because donors don't think to give sanitary products to shelters.
It is time to take menstruation seriously as a human rights issue, and the responsibility starts with the international community. On May 28, I will join hundreds of advocates, businesses, and organizations around the world to mark Menstrual Hygiene Day, to break the silence and stigma around menstrual hygiene management. By raising our voices and speaking about menstruation practically and openly, it is our hope that the larger international community will recognize menstruation management as a basic human right, and incorporate it into global, national and local policies, programs, and projects.
Menstruation is not some secret that needs to be carefully guarded -- in fact, silence around it is harming too many girls and women around the world. It's past time we talked about it openly and developed solutions for ensuring every girl and woman has access to the information and resources she needs.