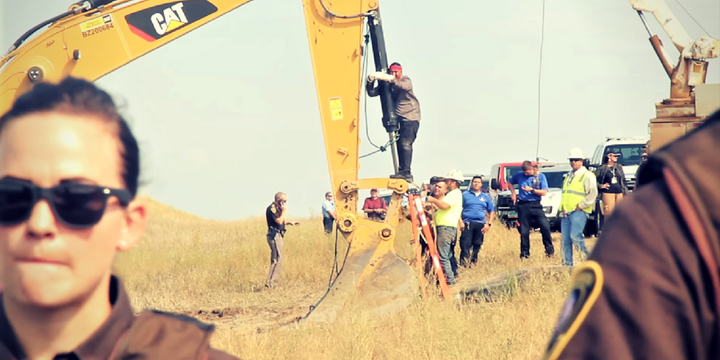 A wooden flute plays strong and slow in a room provided by San Francisco Housing Authority. Huaraches and orange juice nourish our desire to continue on. Radical queer and trans people of color (QTPOC) organizers sit in a circle on the wooden floor, with sacred herbal medicines at the center. The flute gets passed to the next hand; its music is deliberate with a sharp finish. We continue our conversations between puffs of lavender, chamomile, and weed. We talk about authentic allyship, transphobia, racism, eco-justice, the "otherization" of people of color and the militarization of the police.
In this space I was reminded of our experiences at Standing Rock. Hummers aggressively patrolled the camps. Sound cannons disoriented protesters and turned water protectors against one another. Drones militarized the sky while police canines moved ominously across the silhouette of sacred hilltops; local, state and federal agents stood arm and arm. The surveillance of people of color at the request of the U.S. government contests the basic rights of multiply marginalized people. Policing manifests in force and manipulative psychological tactics, such as the threat of being ostracized by the community at large. These methods highlight the abuses of power that characterize policing. The public is only resistant to power so long as they are aware it is being exerted. By controlling access to information about the pervasive militarization of the police and restricting knowledge of how systems of power work, opportunities abound for governments to exploit marginalized people, leaving them under the false assumption they are free.
Native people from coast to coast have been policed, displaced, murdered, and raped with militarized force since 1492. When Africans were trafficked into the Americas and forcibly enslaved in 1619, the repetitious tactics of surveillance, displacement, rape, and genocide were established, and these methods survive to this day. As put by Alan Palaez Lopez in How American Police Forces & Higher Legal Systems Embody Master/Slave Mentalities published in BGD:
The prison system and capitalism are America's legal slave plantations, where police forces take on the duty of the Master and send the insubordinate to prison so they can 'reflect' on their behavior; so they can't run when the master needs them to bow down and work. The police do the exact job that slave owners and catchers did. Through racial profiling and gender policing, they enter communities, turn people against each other, break up families, and ship children and parents to prisons.
In June 2011, CeCe McDonald was walking past a bar in Minneapolis and was severely verbally and physically assaulted on account of her race and gender. When the police arrived, CeCe was arrested and later charged in the case of the man who had assaulted her. The judge didn't permit expert testimony explaining that transgender women of color experience higher rates of violence, brutality and death as a result of hate crimes. The fact that CeCe McDonald was arrested and charged with manslaughter for self-defense highlights the ways that Trans Women of Color experience the regulation of their reactions to their oppressors by the police force. This is just one more way the militarization of the police is an extension of white supremacy and the prison industrial complex.
When queer and trans folks of color encounter policing we are seen as inherently villainous and the murder of Jessie Hernandez is an excellent example of that tension. In early 2015, Denver Police Department officers were called to an alley where Jessie Hernandez and their friends were chilling in a car. There was a report of a suspicious vehicle that held Jessie Hernandez and their friends as threatening based off of their race, sexual orientation and gender presentation. Officers determined the car was stolen. According to the police, cops approached the car and the driver hit one of the officers with the vehicle. That's when the officers fired shots at the car and killed Jessie Hernandez. However, passengers and witnesses to the incident counter police reports.
The detention of immigrants, particularly as a function of Immigration and Customs Enforcement (ICE) is an extension of militarization. When confronted about the 41,000 individuals detained for deportations under the Trump administration, ICE spokespersons told VICE News that the agency only conducts "targeted enforcement actions," where enforcements raid specific places and only previously selected individuals. However, if ICE agents encounter undocumented people with no criminal record in those situations they can and will take them into custody. These detentions are called "collateral arrests." ICE arrested roughly 10,800 undocumented people with no criminal record during Trump's first 100 days in office, an increase of over than 150 percent compared to the 4,200 non-criminal undocumented immigrants detained over the same period in 2016." It is through the use of federal funds, that local, state and federal agencies are equipped with military style weapons where the combat zones and enemy combatants are low income communities of color.
When communities of color are targeted by police militarization, queer and trans folks of color are subjected to horrendous abuses. Trans people are placed in detention centers that do not align with their gender identities with no access to hormones, and can be held in solitary confinement for undisclosed amounts of time under the guise of protection. Joe Arpaio, Arizona's self appointed "Toughest Sheriff" justified racially profiling Latinos and turning them over to federal immigration authorities regardless of citizenship status or criminal history under the banner of protecting America from immigrants. He was known for ruthlessly targeting immigrants and enforcing unfair incarceration policies. In July, Arpaio was found guilty of criminal contempt and sentenced to six months in jail. Militarization of the police extends beyond privatization, latching onto local governments, healthcare, education, warfare as yet another act of violence disguised as a necessary security measure.
Through critical and accessible conversations, we can connect networks of resistance to policing in our neighborhoods, and investigate the motivations behind militarized policing, and get them out our hoods — for good.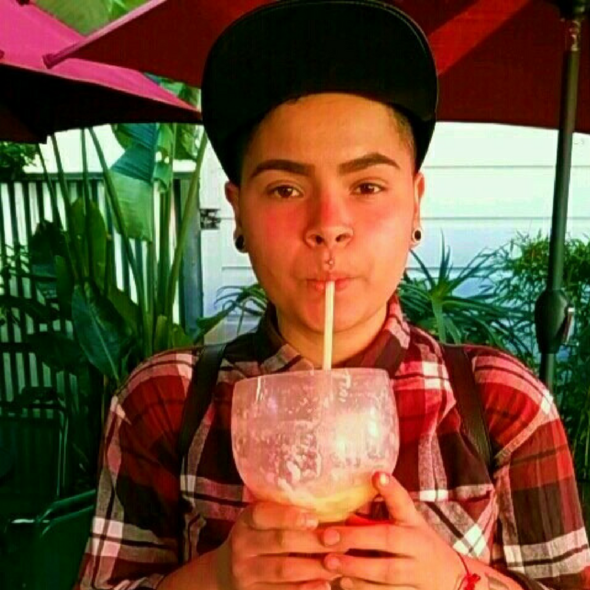 Habló Rodríguez-Williams is a proud Mexican and Colombian gender queer warrior, who is a radical, intersectional feminist, activist, published poet and organizer. Who speaks publicly and recites poetry with emphasis on decolonizing constructs of gender and emphasizes the resilience of women and queer/trans/non-binary folks of color.
REAL LIFE. REAL NEWS. REAL VOICES.
Help us tell more of the stories that matter from voices that too often remain unheard.