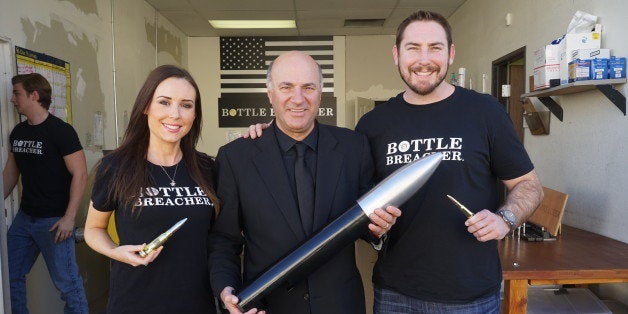 When you have prepared for combat, you are more than prepared to take on the business battlefield.
Eli Crane, a former Navy SEAL, wanted to spend more time with family after three combat tours in Iraq. He founded Bottle Breacher in his garage after his brother, a Marine Corp helicopter pilot, brought home from his deployment a bottle opener made from 50 caliber ammunition and gave it to Eli as a gift. He liked it so much that he began making similar products by hand for friends and after starting to sell them with success, he was able to secure financial backing in the Shark Tank from Mark Cuban and Kevin O'Leary.
While investing in veterans and active duty military personnel is a great way to give back to those who have served, there is also an important business case to be made related to investing in entrepreneurs who are veterans of the military. In fact, military experience helps prepare would-be-entrepreneurs for business battles as well.
Kevin O'Leary, who has invested in a number of veteran-owned businesses, says that military training emphasizes many of the same traits that make great entrepreneurs. "Specifically, military veterans have the three Ds: desire, drive and determination", says O'Leary, who likens business to being -- in its own way -- a battlefield. "In my experience," he says, "entrepreneurs who are in the military or have been in the past are able to problem solve their way through the business battle field with much more ease than most."
Here are some thoughts on what entrepreneurs can learn from military service:
The importance of team building. In business, a team is only as strong as its weakest player. "This is especially true in companies that are just starting out." says O'Leary. Bottle Breacher's Crane agrees. He says that teamwork is instilled in every facet of the SEAL team training, with the training focus always emphasizing the "TEAM" over the individual.
In the Navy SEAL program, for example, "We must have a 'swim buddy' with us at all times." says Crane. "If you get caught all by yourself, you're about to have a rough day. The reason for this is simple; in the heat of battle, you are insignificant by yourself, your personal abilities to operate and/or change the tide in a real battle are very limited. As a team, you are much more capable of saving each other, watching each other's back and dividing up threats in a fight."
"It isn't any different in business. First thing I did was to try and recruit my wife to be my 'swim buddy' at Bottle Breacher. Jen is very strong where I am weak. She watches my back and we divide the responsibilities of the entire operation. We have added many more team members along the way who have been a very integral part of our success, including Mark Cuban and Kevin O'Leary."
How to focus on mission-planning. One of my favorite sayings is that if you fail to prepare, prepare to fail. It is critical to plan in business, so that you can more easily pivot when things go awry. Crane echoes that planning is core to Navy SEAL ideology. He says, "We plan contingencies for every possible scenario. We then train to those scenarios so when encountered, we have been there before and know how to react. Count on Murphy's Law-- anything that can go wrong, will go wrong. Have a plan to deal with all obstacles and make sure key leaders know the plan and your vision."
Crane takes the planning focus into his business, especially in terms of having contingencies. "From our suppliers, to our machinists all the way to the end of the line with packaging, we never utilize one vendor, or one single point of failure." he says.
Rob Dyer of Ruck Pack, another former marine who secured a Shark Tank investment from O'Leary for his nutritional energy drink company agrees that you should plan, but stick to what works in both war and business scenarios. He says, "Be brilliant in the basics, never quit, don't fall in love with your own plan, and be willing to die before you let someone beat you."
How to sacrifice. As Rob Dyer says, "It's of course no question that so much more is at stake in battle, but when you're talking about your livelihood, your family's future, your friends' and family's investments, etc. doing battle in the boardroom is a very close second."
O'Leary adds that "One small mistake can mean disaster for a business, which means that every team member, from the CEO to the new intern, needs to be 'on' full-time and committed to the same mission. This means a willingness to make sacrifices, which often translates to late nights at the office, cutting vacations short, answering the phone after midnight and so on."
Crane highlights the commitments that you have to make to succeed in the military and in business. As a SEAL, Crane said, "I had to sacrifice my personal comfort, my body and my time. These sacrifices led to confidence and an attitude that I could overcome adversity. That time away from my family is the sacrifice I made to defend my family, friends and the American people."
Additionally, sacrifices aren't just made by the military personnel or the entrepreneur, they are also made by those close to them. "No one makes it through SEAL training alone," says Crane. "Your classmates, family and friends are the ones that support you along the way."
Developing as a leader. From dealing with adversity to problem solving and motivating those around you, leaders are key in the success of both militaries and businesses. "As a leader in war and in business, Crane says, "The leader's job is to out maneuver your enemy, to gain tactical advantage and key terrain, etc. It's important to keep a 30,000 ft. view of what's going on. This means you can't get sucked too far into a firefight or let one department monopolize your attention for long periods of time." The same can be said for any effective business.
"Empowering your people is another key element to being an effective leader," Crane adds. Accountability in any organization is huge and can be a very powerful tool. Those you intend to lead will be much more likely to admit mistakes and take ownership if they see you, their leader capable of it. I am not afraid to point out my weaknesses and take accountability for poor communication and things going sideways. I expect my staff to follow this example. We all make mistakes and that freedom to do so must be provided."
"I have found the same to be true in my business. I can no longer spend lots of time making Bottle Breachers. Though occasionally I will have to plug a hole and jump in to polish, engrave or even package. I can't lead my business and place us in a position to succeed 6-18 months from now if I get caught up in today's orders. I need to focus on bigger things, like financial health, company morale, new product innovations, branding, etc."
So, whether you are a former veteran considering entrepreneurship or an investor thinking of investing in a new veteran-owned business, know that those who have served their country have many of the qualities needed for business success.
Popular in the Community