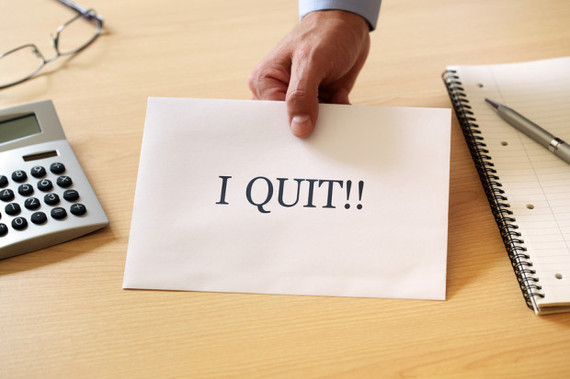 Recently, I've had several friends tell me they want to leave their jobs.
They give me a myriad of reasons. They don't feel like they can make any change in the company. They don't feel like they can get past the politics. They don't feel like they are appreciated.
I know what it's like to be at a job that's not a good fit. And that's why I left.
Don't get me wrong, the people that I worked with were really cool and treated me well. I worked in a challenging and interesting position. But in the end, the mission of the company didn't resonate with me on a core level and that's when I knew I had to leave.
I am a Millennial looking for a fulfilling career. In search of it. Building it. My friends are 20-somethings looking for the same thing. In similar ways, in different ways. You who are reading this, might be a Millennial trying to understand what you should be focusing your energy and time on.
These are reasons why Millennials leave their jobs:
They aren't in the right role. 20-somethings might feel pressured to accept the first job they can get or take the job society / parents / friends have deemed to be the right choice. However, after working at the job for a period time, they begin to understand it is not the right fit for them. So they go out itching to explore a new company, role, and / or industry.
They don't feel appreciated. One of my friends is working at a company where she does not feel like her supervisor has listened to her concerns nor has taken much of her feedback into consideration. Thus, she feels like all her efforts to help change the company in a more positive direction will not matter.
They don't feel they can grow with the organization. Maybe they joined an organization hoping there will be a path to promotions but then after a year or two, the realization set in that maybe there isn't a way to be promoted. They feel stuck, pigeonholed in the same role.
They want a pay raise. Along with the elusive hope of a promotion, they start to realize that the pay raise they want isn't happening as fast as they want it to.
I have friends who try to negotiate for pay raises. It can be difficult to broach with your supervisor. One of my friends was furious when she found out other people in similar roles were getting paid $5 an hour more than her.
In her case, she may find it easier just to leave her current job and negotiate for a higher pay right off the bat.
They don't feel intellectually stimulated. If you are stuck at a job where work becomes boring and redundant, you aren't going to feel challenged. Instead, you will feel stagnant day in and day out.
They want to live life on their own terms. Perhaps you long for a life of freedom outside of the 9-to-5 cubicle. The type of life that consists of architecting a lifestyle with a business built around your travels.
It's okay to feel frustrated. It's okay to quit your job.
After all, each experience, each person, and each job is a stepping stone to the next point in your life. Sometimes it's hard to know what really fills you up with passion, purpose, and fulfillment until you try a few different things.
There is hope for you -- the 20 something that wants to do purpose-driven work while living life on your own terms. Have faith!
Are you frustrated at your current job and want to transition to a job that you love? I can help you with your career transition. Find me on mimizheng.com or directly email me.
Calling all HuffPost superfans!
Sign up for membership to become a founding member and help shape HuffPost's next chapter