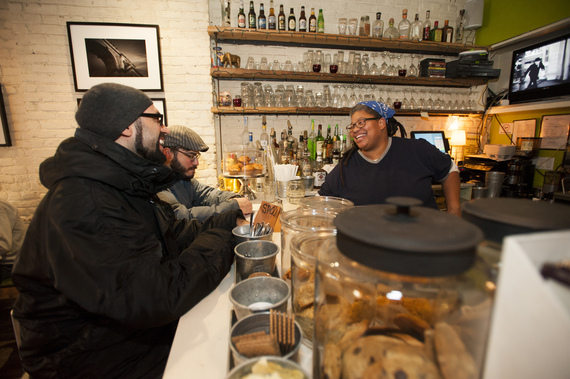 Cheryl Smith, owner of Cheryl's Global Soul in Brooklyn, NY
Everyday business owners are finding it increasingly difficult to get the financial resources they need to grow and prosper. Since the recession, small business loans on bank balance sheets have declined by 20%, while loans to medium and larger enterprises have increased by about 4%. Given the critical role of entrepreneurship in community development, how can we ensure that all business owners, regardless of background, have access to the support they need?
Community development financial institutions (CDFIs), like the four members of Accion's U.S. Network, are essential to filling this financing gap. CDFIs are mission-based lenders dedicated to serving individuals in economically disadvantaged communities, who face numerous barriers to qualifying for traditional finance. They receive funding through the U.S. Department of Treasury's CDFI Fund to leverage capital for impact. According to the CDFI Coalition, there are 945 certified CDFIs serving communities across the country.
In the years following the 2008 recession, CDFI lending increased slightly at the same time that bank lending significantly decreased. Every $1 dollar in awards from the CDFI Fund translated to $12.23 in loans made by CDFIs between 2005 and 2012. These funds financed a range of community development solutions, from small business loans to construction loans for affordable housing units and health care facilities. Between 2003 and 2012, CDFI loans generated approximately 63,249 permanent jobs and 47,866 construction jobs. CDFI investments have played a central role in our nation's economic recovery and growth.
The unfortunate truth is that traditional lenders don't serve all communities equally. Women- and minority-owned businesses operate with substantially less capital than their peers even after accounting for other factors like credit score, and this is one reason they survive at a lower rate. Women-owned businesses receive only 16% of conventional small business loans and minority-owned businesses receive even less - 9.9%. In contrast, approximately half of Accion's loans in the U.S. go to women-owned businesses and two thirds go to minority-owned businesses. These businesses survive at a rate of 97%. In 2015 alone, Accion's loans helped create or sustain more than 8,500 jobs.
A study by the Aspen Institute found that among mission-based lenders, $1 in program costs to assist a business translated to between $8.96 and $9.45 in benefits. At Accion we see how access to capital impacts lives - for business owners, their employees, their families, and their communities. Tequila Jarrett, a client of Accion in Chicago, discussed the significance of her business' success in an interview with The Atlantic. "At the end of the day, I can tell my son, this is what mommy did," she said. "Mommy provided this many jobs. She was able to help this many families. I'm really trying to leave a legacy for him."
Last week, the U.S. House of Representatives voted to preserve $250 million in appropriations for the CDFI Fund and defeated an amendment that would have cut CDFI appropriations by $20.7 million. This bipartisan support for CDFIs affirms the essential role that mission-based lending plays in revitalizing U.S. communities. The success of CDFIs as an engine for economic growth is clear, and we look forward to continuing and expanding upon that impact.
Calling all HuffPost superfans!
Sign up for membership to become a founding member and help shape HuffPost's next chapter