Co-authored with Claire Daviss
For more than a century, Missouri was known as the "bellwether state" because of its tendency to swing between Democratic and Republican presidential candidates. The title was well-earned. FairVote's analysis of state partisan leanings (based on a state's partisan deviation from the national average) shows a consistently balanced division in Missouri.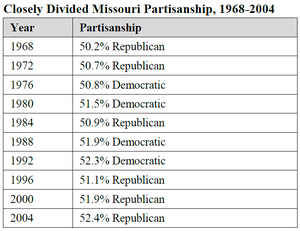 However, recent elections suggest that presidential candidates in 2016 are highly unlikely to target Missouri as a battleground and that, just as in 2012, it will be nearly completely ignored.
In 2008, the Obama and McCain campaigns devoted significant attention to Missouri, spending more than $9.8 million on ads and holding 20 campaign events in the state. However, Missouri still became more Republican. McCain won the state by 0.13 percent, despite the fact that Obama won 7.3-percent more votes nationwide, reflecting how it was a strong year for Democrats overall. Missouri's underlying partisanship thus rose to 53.7-percent Republican in 2008.
This Republican lean explains why the Obama and Romney campaigns largely ignored Missouri in the general election in 2012. Total ad spending in the state was only $127,560, which is just 1.3 percent of what it was in 2008. Neither candidate, nor either of their running mates, held even one campaign event in the state. Romney won the state by 9.4 percent despite losing nationally by 4 percent. As a result, Missouri's underlying partisanship increased to 56.5-percent Republican in 2012
In the 2016 presidential election, Missouri is highly unlikely to regain its battleground status. First, the trend in its partisanship has been steady, becoming more Republican in every election since 1996.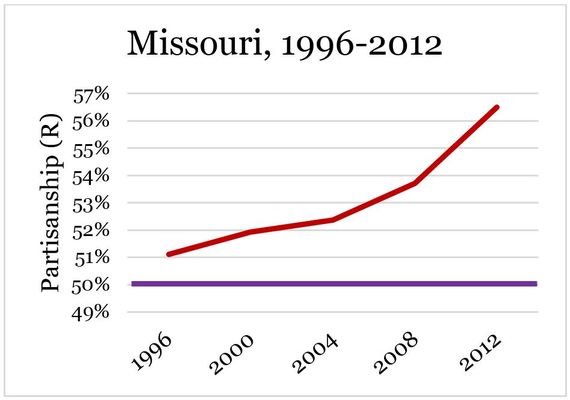 Second, Missouri is unlikely to experience a large enough shift back toward Democrats to make it a swing state. In the 2004, 2008, and 2012 elections, an average of just three states shifted partisanship by more than 5 percent. In 2012, the only three states shifting at least 4 percent were small, uncompetitive and ignored.
Third, Democrats have far more inviting targets to build on their base of 242 electoral votes in the 19 states they have won six straight times. They can seek the 28 additional electoral votes needed to win from these states with a total of 100 electoral votes.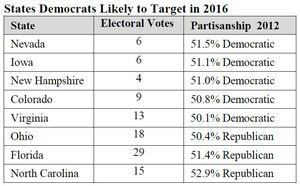 As a result, Missouri has joined the growing number of states that have no chance of being swing states and earning campaign attention. Missouri is just one more flyover state rather than "the bellwether state."
REAL LIFE. REAL NEWS. REAL VOICES.
Help us tell more of the stories that matter from voices that too often remain unheard.