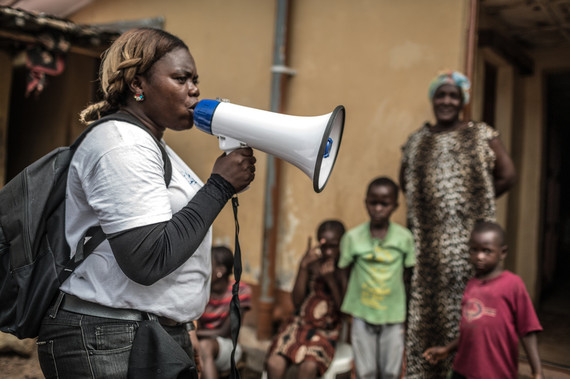 The UN had set an ambitious target of having Ebola under control by January 1, but we are a long way from zero cases. To stop running behind Ebola and get ahead of the disease in 2015, we need to do more work directly with communities.
Progress in the fight against Ebola has been made. Cases seem to be falling in Liberia, and -- critically -- more medical staff and treatment beds are in place across all three affected countries. But some of the main reasons why Ebola continues to spread have yet to change.
An Ebola Perception Study released in December in Sierra Leone shows that through mass social mobilization -- such as public service announcements and billboards - knowledge of Ebola has increased significantly. However risky behaviors persist - people continue to care for sick loved ones at home and wash dead bodies.
Results of the study conducted by FOCUS 1000, a Freetown-based NGO -- with the support of the Ministry of Health and Sanitation, CDC, and UNICEF -- show that misconceptions remain a challenge. For example, 36 percent of respondents still believe that Ebola can be prevented by bathing with salt and hot water, and 33 percent of respondents revealed that if a family member died at home, they would not accept alternatives to traditional burials.
In Liberia, Oxfam has seen how community mobilization on the ground can be successful at changing behaviors. In Montserrado county, we are supporting community members to go door-to-door and raise awareness about Ebola, while actively seeking out individuals that show symptoms and ensuring they are immediately isolated and referred for treatment. In fact, one-third of all new cases in Liberia in December were identified through Oxfam's active case-finding work.
What's more, we are now seeing people come forward voluntarily to seek treatment for both Ebola and non-Ebola health related needs, a major victory in a country where people have little trust in health systems.
Good work is also happening in Sierra Leone, but although treatment capacity is in place, not enough people are coming forward as soon as Ebola symptoms appear. This means that in addition to mass social mobilization through posters, radio jingles and billboards, we need to see a rapid increase in targeted, community mobilization work.
Based on our experience, we know that each community is unique and that a one-size-fits-all approach doesn't work.
Local chiefs and religious leaders have told us that "people will only listen to someone from their own community or tribe tell them that it is acceptable to bury loved ones without washing their corpses."
That's why Oxfam has intensified its work in the Western Area -- a major hotspot of infection in Sierra Leone -- and trained 120 local health committees to work within their communities to identify the reasons why people persist in hiding the sick or performing unsafe burials -- and then developed solutions and plans to overcome them.
While many strong actors -- including governments, UN agencies and INGOs -- have voiced their support for working at the community level, these words have not yet translated into action. All global actors must increasingly work together, with local partners and communities, to make concrete and coordinated progress on the ground. Affected country governments also have an obligation to set clear and measurable targets to guide these efforts both at the national and local levels.
If we are to succeed in 2015, we need strong government and UN leadership -- and efforts from us all -- to put working with communities at the heart of this response
REAL LIFE. REAL NEWS. REAL VOICES.
Help us tell more of the stories that matter from voices that too often remain unheard.