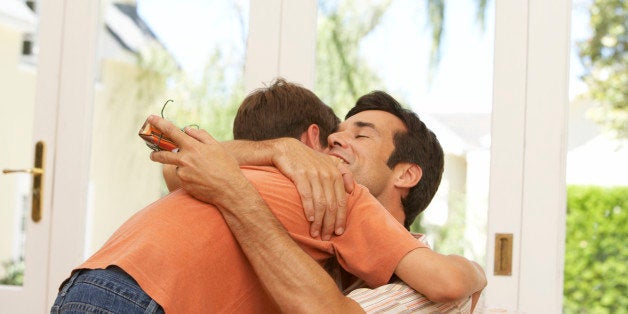 My son loves the water. All I need to do is mention the word "bath" and he runs to the tub ready to take his clothes off and jump in. He loves to splash and chase rubber duckies. This past summer, he absolutely loved the beach, racing to the water, getting his feet wet, and jumping waves with daddy. So this winter, I decided to try to enroll him in some swimming lessons. I had read that the sooner you introduce the pool to toddlers, the less fear they will have of the water. Sounded like a good plan to me!
These swim lessons, however, almost didn't happen. Everywhere I looked the sessions were called "Mommy and Me." Photos on websites showed mom and child floating in water -- smiles abound. Frankly, I was annoyed by this. It seemed to imply that only moms play a role in swim lessons. Even when I went to inquire about it, a woman at the desk told me dads can come if they want. Hardly a welcoming invitation! Why don't they just write "No dads allowed"?!
As I started to try to do more things with my son, I came up with more instances where dads seem to be excluded -- either explicitly or implicitly. "Mommy and Me Yoga." "Mommy and Me Music." Even the preschool my wife and I are considering title their program "Mommy and Me Tender Twos."
There are so many things wrong with this marketing. Many dads who might be considering some of these activities would not even bother participating in these programs because they would just assume the program doesn't include dads, or worse -- that this isn't an activity for dads. Society seems to be sending mixed messages -- dads should be more involved in their child's care, but spending some time at preschool, or Saturday morning teaching their child to swim or enjoy music, isn't something they need to be doing. That's the mom's domain.
And I'm not sure how it empowers moms. It seems to promote the stereotype that mothers automatically have more discretionary time to take time off work to spend time at preschool, or that mothers should be more interested in coordinating children's time on weekends. And don't even get me started how this type of class title punishes same sex couples with children, and makes their lives and societal acceptance even more difficult.
As for my son's love of water, we eventually ended up doing the "mommy and me" swim classes -- partly because I had limited options so I did it under protest. But we had a fun time together! And there was one other dad in it. I bet there would be a lot more if they actually seemed to want dads around.
Related