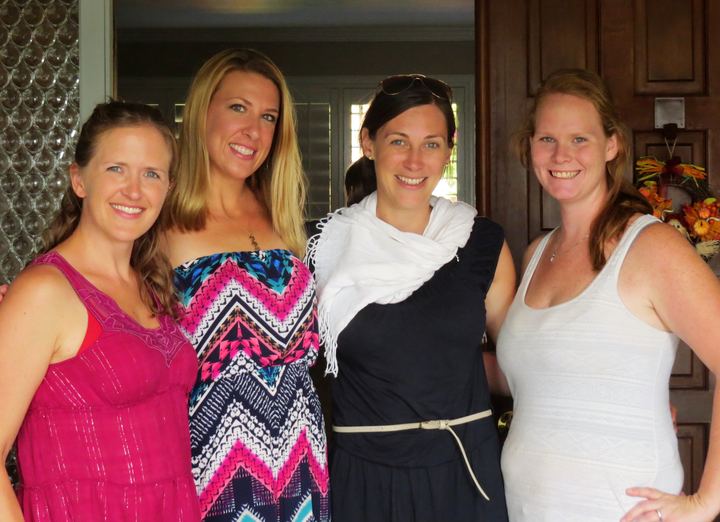 Since becoming pregnant for the first time, I have heard/read over and over again the importance of having mommy friends and finding your village. Four years into mommyhood, and I couldn't agree more!
See the photo above? That's part of my village. (I still haven't managed to get a photo of all of us!) These moms are amazing, and I am beyond thankful to have them in my life! We come from different backgrounds and different parts of the world, but we have one thing in common: We are all moms of two. I started a moms group a while back, and slowly our village formed. Now we have a group who gets together on a weekly basis and does all sorts of fun kid-related activities. (We have fun with just the moms too... happy hour anyone?)
These girls are a great support system. They're fun to be around, and our kids have a blast together! They have become an important part of both my life and my girls' lives. I really enjoy the time I get to spend with them. It's nice to know that I am not alone on this ever-changing journey of life as Mom. Or that my kid is not the only one who wants to eat snacks all day every day!
Here are 10 reasons why it's important to have mommy friends:
They get it! No one else can better understand the difficulties and pure joys that go along with motherhood than a fellow mom!

They can relate to your stories about tantrums, poop, sleep habits... the list goes on.

They understand when you're running late or have to bail last minute. ("Sorry girls, can't make it today, the threenager is out of control! Ahhh save me!")

They understand why you'd rather spend a Friday night with your family instead of going out to get drinks.

They don't judge you if you show up to a playdate in workout sweats, hair thrown up in a bun and looking like you haven't showered that day. (Hey, at least you made it, right?)

They know exactly what to say when you are feeling like you're doing it all wrong!

They understand why your house looks like a tornado hit and flung toys all over the place!

They too have moments where they want, scratch that, NEED to get out of the house for a bit... alone!

They are there to laugh with you during the good times and cry with you during the hard times. Because their kid is going through the @$$hole stage too.

Although being a mom is amazing, it can also be isolating and stressful. With mom friends, you're never alone!
If you are a new mom or just moved to a new area, finding mommy friends can be a nerve-racking task. It's kind of like dating. You go to a play group, your kid makes a new friend and it seems like you hit it off with their mom. Now what? Do you exchange numbers, try to make plans to meet up another time, or leave a brief FB message about how it was nice to meet them and hope to get together again soon? Why is it so awkward? It's like we're in the midst of our adolescence!
Despite the nerve-racking awkwardness, don't be afraid to put yourself out there! You can start by joining a local moms group, Meetup.com and Facebook are great places to look. If you see a cool mom at the park who you think you may hit it off with, go talk to her! Chances are she is looking to make some more mommy friends too. Once you have a mom friend or two, you will be thankful you put in the effort. Trust me, it's totally worth it!