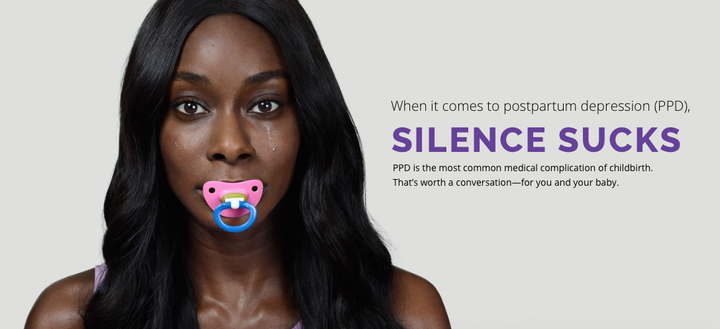 A campaign to generate awareness around postpartum depression is facing criticism for its imagery.
Sage Therapeutics launched "Silence Sucks" last month to encourage women to speak out about their struggles with PPD and seek treatment. The biopharmaceutical company is developing new treatment options for the disorder.
While many have praised Sage Therapeutics' efforts to help women with PPD and shatter the stigma around this topic, the "Silence Sucks" campaign has come under fire for its choice of visuals.
Ads for "Silence Sucks" appeared on public transportation in the Boston area for the month of May. The initiative also offers a website with resources and educational material about PPD.
The ads feature photos of women sucking on pacifiers. The accompanying text reads, "When it comes to postpartum depression (PPD), Silence sucks. PPD is the most common medical complication of childbirth. That's worth a conversation ― for you and your baby."
When Sage Therapeutics shared photos of the ad on Instagram, people were quick to express their concerns. "As someone who suffered from PPD this advertising campaign is demeaning and degrading." wrote one commenter.
"This ad campaign is disturbing. The conversation is worthwhile, but showing grown women with pacifiers in their mouths is severely misguided and infantilizing ... What a missed mark on such an important conversation," added another. "Showing adult women sucking on pacifiers while crying does nothing to legitimize the emotions experienced by women during postpartum depression, but rather, diminishes and trivializes their experiences."
Postpartum depression survivor and blogger, Stephanie Sprenger, told HuffPost she also believes the campaign visuals are problematic.
"While the intention behind it may be good, the imagery is absurd and not the right tone for addressing such a serious and widespread issue," she said. "It is infantilizing and further isolates mothers with a visual that is silly and babyish. Opening up about postpartum mood disorders can feel humiliating, as it makes women feel defective and inadequate; adding a slightly embarrassing graphic does not improve this challenge."
Blogger Rebecca Fox Starr, who suffered from severe postpartum depression after the birth of her second child in 2013, said she is a strong advocate for speaking out about PPD. Though the 'Silence Sucks' campaign seems well intentioned, she believes it was "terribly misguided."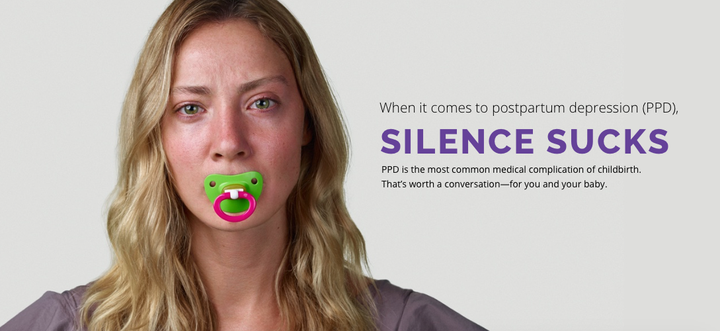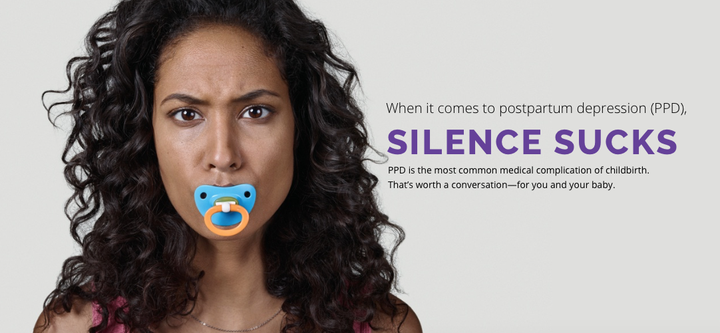 "I agree with the criticism that it is infantilizing and patronizing; I agree that the advertising team missed the mark," she told HuffPost. "I can see how someone in the marketing team at Sage could have pitched this as an idea ― trying to capitalize on the success of the 'NOH8' campaign with the duct-taped mouths, for instance ― but I am shocked that this idea did not end up on the cutting room floor."
Starr added that she believes the campaign is "silly" at best and "hurtful" at worst. "For a woman, at her lowest, to be told, effectively, 'Don't put your baby's pacifier in your mouth to silence yourself, as you should be open to talking about your severe mental health issues!' seems irresponsible, inconsiderate and completely ineffective," the mom said, emphasizing that PPD is often not about the presence of the new baby but rather a mother's unexplained feelings of despair.
"When a person is experiencing postpartum depression (which can be almost identical to regular depression), they can be foggy, swimming through life as if under water," she continued. "I cannot imagine that a confusing image, like the one portrayed in the Sage campaign, would encourage even one silent sufferer to speak out about her struggles. And, to me, that is very sad."
Sage Therapeutics responded to the controversy in the Instagram comments section. A representative for the company also issued a statement to HuffPost.
″'PPD Silence Sucks' was created to increase awareness of and spark a dialogue about PPD, the most common complication of childbirth," the statement reads. "We chose a provocative image to demonstrate the debilitating silence surrounding PPD and encourage meaningful conversations between women and their healthcare providers."
The spokesperson explained that Sage Therapeutics developed the campaign with input from many different perspectives, including women who have struggled with PPD or have a high risk for it, doctors and maternal mental health advocacy organizations. She added that the campaign has fostered dialogue around PPD, which often goes undiagnosed despite affecting about 10 to 20 percent of women who give birth each year in the U.S.
"We recognize that it will take many voices from all perspectives ― patients, families, doctors, and policy makers ― to ensure that women with PPD are diagnosed and receive the care they need. We do not believe the burden of diagnosing PPD should fall solely on the patient and we have launched a separate physicians-focused awareness campaign to further encourage women and their doctors to have an open and honest conversation about PPD and screening, while pregnant and after delivery. We hope these two separate, but equally important efforts, help ensure that a mother's health is treated as importantly as the baby's."
Jamie Zahlaway Belsito, a PPD survivor who serves as advocacy chair of the National Coalition for Maternal Mental Health, also shared a statement about the "Silence Sucks" campaign with HuffPost. Belsito experienced a sense of isolation and confusion during her PPD struggles due to lack of information and education within her community.
"When I saw the 'PPD Silence Sucks' campaign, it brought about a whole new vision of what my experience would have been had this campaign been out and about in the Boston metro area during the times that I experienced postpartum mood disorders," she said in her statement, adding that she supports the effort to bring this issue to the light and help normalize and destigmatize PPD.
"The images of the campaign make you wonder what's going on with that woman. That man. That provider. The images make people look twice, and read the information on the visual. It makes people think and hopefully want to know more."
Though the imagery missed the mark for many women, here's hoping the company's efforts to help mothers struggling with PPD are fruitful.
Breaking the silence around postpartum depression is an important cause, and perhaps the feedback on this campaign will help inform future efforts to advocate for women.
Popular in the Community