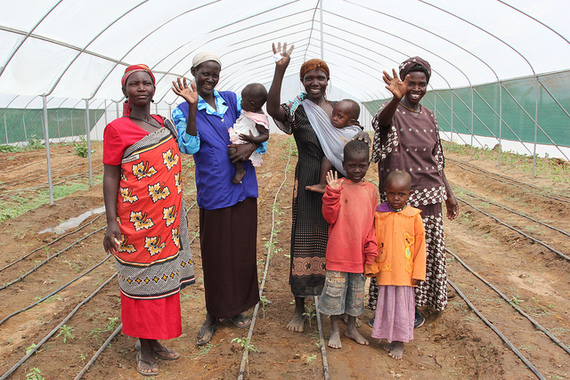 Mother support group leader Gladys Nagilai and other mothers with their budding tomato crop in a greenhouse in Lodwar, northern Kenya. The crops were planted by a mother support group. (Image by Marisol Grandon/Department for International Development)

You don't need me to tell you how important your mom is--especially around Mother's Day.
But what about all the other moms--the estimated 85.4 million in the United States, and the countless more around the world? Besides doing the often thankless job of taking care of their families, these women play important roles in shaping our world and tackling the global challenges we face today.

For some moms, promoting U.S. foreign policy is in their job descriptions, from President Obama's national security team to members of the Senate Foreign Relations Committee to the many U.S. servicewomen and diplomats around the world. These women work tirelessly to make the world a safer place, and they deserve to be honored for the sacrifices they and their families make.
But for many moms, it's often in the ordinary, everyday moments that they help make the world a safer and more prosperous place.
Moms counter violent extremism. One of the biggest priorities of U.S. foreign policy today is countering violent extremism. But governments can't do this work alone. Women are an important part of the effort, particularly at the grassroots level. As the core of a family, they're able to recognize early warning signs of radicalization among family members--and take action.
In some places, mothers save their children from being exploited by violent extremist groups. On a recent trip to Iraq and Jordan, I met a woman named Huda who fled the city of Mosul after members of ISIL came to her home to recruit her son as a fighter and her daughter as a "bride." Huda is just one of many moms who are powerful partners in our common efforts to counter violent extremism.
Moms promote health and well-being. The powerful roles women play in their children's lives aren't always so dramatic or obvious. Mothers make decisions every day that will change the lives of their children, from getting them immunized to making sure they stay in school.
Women's personal health care choices affect their families as well. For example, women living with HIV/AIDS who get tested and stick with treatment significantly reduce the risk that their babies will be born with HIV. When it comes to HIV, staying healthy--through prevention or treatment--is one of the best ways a mother can promote health and well-being for her children.
Moms inspire champions for equality. Recently I heard a man named Hamid tell the story of a young girl in Pakistan. At the age of 7 the girl stopped going to school to help her widowed mother around the house. At the age of 14 she was forced into marriage, and at the age of 16 she had her first child.
But one year after having her first child, she became a business owner. And today, she is the proud mother of five degree-holding children--and one of those children is Hamid.
To me, Hamid's story illustrates the power mothers have to change the lives of others for the better. Mothers do tremendous things for their families--and their courage and commitment echo across communities and across generations. That's why Hamid cares about women's empowerment. That's why men like Secretary Kerry and President Obama care too. And that's why everyone should care--because issues that affect our moms, wives, daughters, sisters, and friends affect everyone. And oftentimes, it's moms who help us to understand this.
As we honor the women in our lives this week, we know that all women and girls have an important role to play in making the world a safer, more prosperous place--and men do too.
But it's worth recognizing the critically important ways mothers shape the world. And in doing so, it's important to remember the many barriers that hold them back--from domestic violence that goes unreported and unpunished, to laws and stereotypes that keep women with children from excelling in the workforce (or being a part of it at all).
So on Mother's Day--and every day--we can do more than thank women for the many ways they make life better for their children, their communities, and their countries. We can reaffirm our commitment to include them and empower them in all aspects of society.
Calling all HuffPost superfans!
Sign up for membership to become a founding member and help shape HuffPost's next chapter