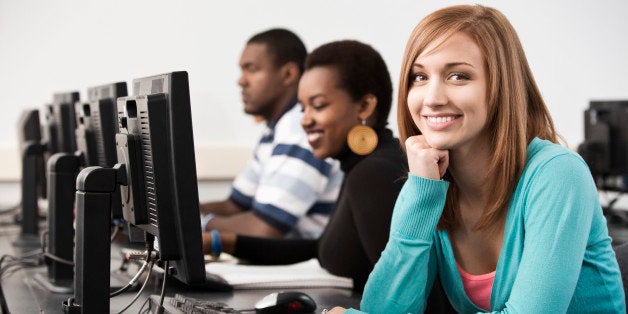 Eighteen months ago at a panel discussion at the World Economic Forum in Davos the star was not Bill Gates of Microsoft or Larry Summers of Harvard, but 12-year-old Khadijah Niazi of Lahore, Pakistan, who captivated the audience by talking about a trend that could revolutionize education. She is one of millions who have improved their education by taking a Massive Online Open Course (MOOC).
Certainly Khadija is an exceptional teenager, as we found out when we met her at the Global Education & Skills Forum in Dubai a year later. She was only 10 years old when she took an Artificial Intelligence online course. But, however preternaturally gifted she is, she underlines the fact that MOOCs may be more appropriate for pre-university learners (K-12), than simply as a means of taking university courses online.
The MOOC phenomenon began only two years ago, but since then has begun to revolutionize higher education, tearing down the walls of tough entrance exams and skyrocketing tuition fees that kept learning beyond the reach of millions. However, some of the greatest student success stories are claimed by secondary school teenagers such as Khadijah Niazi or Battushig Myanganbayar, the 15-year-old Mongolian boy who earned a perfect score in edX's first MOOC Circuits and Electronics. Their appetite and aptitude for learning puts many of their rich country counterparts to shame, but their story has much wider implications.
The United Nations estimates that 57 million children are not in primary school, and that a staggering 1.6 million extra teachers are needed to achieve universal primary education by 2015 and 3.3 million by 2030. If these teachers are not put in place quickly, and all the signs point to the fact that they will not, then the MOOC revolution should be harnessed to help children that currently have no hope of getting a basic education.
While MOOCs offer a way for Universities and individual professors to disseminate their brand internationally, K-12 teachers and schools do not generally have such a global focus. For teachers the most important thing is being able to tailor the best content available to their students' specific learning needs. For them, the ability to pick and choose the best content from around the internet represents a remarkable opportunity to bring the best teaching in the world into their classrooms.
MOOCs can also help schools lacking resources to cater to the full spectrum of student abilities by offering advanced courses for exceptional students, or extra teaching for students who are finding learning particularly difficult. MOOCs also offer access to the right support materials for students in remote parts of the globe with aspirations to attend universities in the U.S. or Europe. In a 'globalized world,' MOOCs offer a chance to create equality of opportunity when it comes to access to a quality education.
MOOCs also have the potential to open up new horizons for the growing number of students who are homeschooled. In the U.S. alone the figure is around two million, which is about the same number as attend charter schools. Some of the best teachers in the world can now be brought right into the living rooms of these children.
At Davos Khadija said she "just wanted the course to be longer." These words are prescient for a generation of talented young learners who desperately need access to quality learning materials. Especially when basic education around the world is currently underfunded by US$26 billion a year according to UNESCO, and aid is continuing to decline.
MOOCs offer an unparalleled opportunity to bridge this gap. GEMS Education's first online courses will be offered in the second half of 2014. We hope, and expect, these will be the first of many.
Popular in the Community