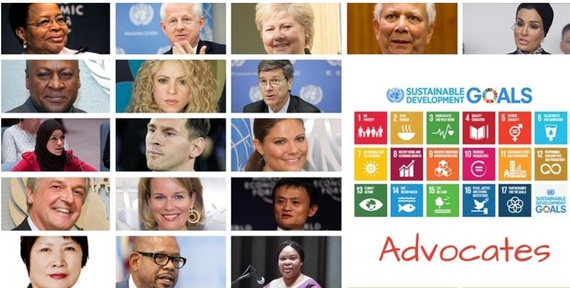 Few American companies know about the United Nations Sustainable Development Goals (SDG) and even fewer know how to leverage the power of global partnerships to help both promote a sustainable planet while growing their bottom-line. Those in the know are becoming the biggest influencers and tapping into global growth opportunities faster than possibly imaginable. Leading the pack is Unilever (UL) and its CEO Paul Polman, a U.N. SDG sustainable ambassador.
Unilever, a company that has been driving business growth through its well-known 'sustainable living brands' strategy, was among the early ones to leverage the power of collaboration and partnerships to improve its sustainability. Polman describes the company as a "place of purpose." Much of the company's 'purposeful' activity is performed in collaboration with organizations outside the company.
Unilever continues to add new partners specializing in different areas of expertise. Just to pick three very recent examples, the company has partnered with a consultancy called 2degrees to achieve zero-waste in its supply chain; International Flavors & Fragrances Inc. to enhance the livelihoods of Haitian smallholder farmers; and the environmental charity Hubbub Foundation, and food waste specialist Wrap, to help cut food waste in the UK.
So what are the SDGs? At the United Nations Sustainable Development Summit on 25 September 2015, world leaders adopted the 2030 Agenda for Sustainable Development, which includes a set of 17 Sustainable Development Goals (SDGs) to end poverty, fight inequality and injustice, and tackle climate change and infrastructure issues by 2030.
The last goal in the list of 17 UN Sustainable Development Goals for 2030 refers to creating "Partnerships for Sustainable Development." This 17th goal is meant to help in the achievement of the other 16 goals. Therefore, a company committed to aligning its business strategy with the SDGs must recognize the value of this most essential 17th goal.
For most companies with limited resources, the key to success would be to invest deeply in fewer partnerships and to focus on building strategic relationships and trust with them. Dan Henkle, Senior VP of Social Responsibility at Gap (GPS) says that there was a time when the company had 3,500 factories and thousands of vendors, but fewer partnerships. By consolidating its supplier base, the company has increased leverage and the ability to share knowledge and conduct more thorough monitoring.
Starbucks contributes to economic development by hiring locally and sourcing local products. To this end, the company has partnered with YouthBuild USA, an NGO that helps low-income youth gain the skills they need for employment, and the Shultz Family Foundation, to create a career development program for at-risk youth.
Large companies often do not have the natural advantage of serving disparate communities that require a highly customized on-the-ground presence. Therefore, Barclays (BCS) partners with local NGOs with a better understanding of the needs of customers, including rural farmers, in its inclusive business activities.
Essilor relies on a partner network to implement its inclusive business initiatives at scale. Greater awareness of vision-correction issues is essential to promoting Essilor's eye-care products to new demographics. Therefore, it works with NGOs and other organizations to raise awareness of access to eye-care as a key health issue.
1-800-PublicRelations is working with PVBLIC, #oneforall, UNCTAD and various UNDP departments and other SDG initiatives across the board to drive viability and media coverage to further public/private partnerships and accelerate the international go-to-market strategies of participating companies.
These early-stage Fortune 500 adopters have created the stability for emerging growth companies to now enter the market, and the opportunities from medical to agriculture to consumer product companies and even development work on the ground have presented nearly limitless ways to engage and accomplish the sustainable development goals.
Calling all HuffPost superfans!
Sign up for membership to become a founding member and help shape HuffPost's next chapter