For women, girls, and gender non-conforming people living in a patriarchal society, simply knowing about one's rights and legal protections (or lack thereof) is not enough. All of us must have the inner strength and self-confidence to take action. By doing so, we are also fighting for the rights of others.
Yet most funders, feminist funders, and humanist funders, lessen the impact they can make with their funding when the basic premise is that every person simply has rights. I believe our job as social change leaders and philanthropists is to urge people to learn about what those rights are and how to maximize them for further social good and impact.
Realizing our rights and optimizing our rights actually takes a particular kind of strength, and it also takes a community with that particular strength. I always say I will run through a wall for myself and my sisters because I know it's the right thing to do.
The World Bank Report, Voice and Agency – Empowering women and girls for shared prosperity, shines a spotlight on the value of voice and agency, the patterns of constraint that limit their realization, and the associated costs to women, their families, communities and societies. The research shows that expanding agency is likely to bring broader gains for development and to advance the agenda of eliminating poverty and then achieving shared prosperity.
What do we mean by agency? Agency is the ability to make decisions about one's life and act on them free of violence, retribution, or fear.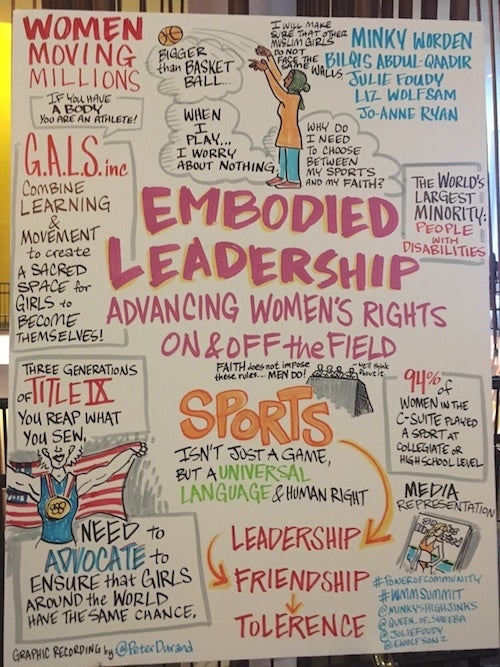 Embodied leadership is a way of being in the world that allows one to seamlessly integrate the lessons of the body learned through healthy movement and competition: risk, courage, anxiety, fear, the art of fundamentals, achievement and failure in everyday living, and decision-making. Girls and women who actively practice these lessons are more likely to successfully and graciously make "healthier" decisions—emotionally, relationally, and intellectually. They have agency. And from decades of sports programming here in the United States, we know that sports offers many valuable skills including increased inner strength, self confidence, and increased agency as well.
Through sports (and living embodied leadership), girls, for example build agency as they…
Are more aware of and in control of their bodies
Get out of the home
Are able to build trust and social supports
Learn how to ask for help
Challenge stereotypes about women
Encourage boundary setting
Build courage
Secure a proud place in the community
And ultimately, increase their voice and agency.
This is why I continue to talk about the larger significance of Title IX in America. It has taken nearly 40 years to understand the "off-field" implications of Title IX. It was never just about sports. With its equitable funding mandate for federally funded primary and secondary schools, Title IX didn't just make education and sports available to women and girls; it built a career path to leadership. Girls who participate in sports and physical activity are academically more successful, more likely to graduate from high school, more likely to matriculate in college, and experience greater career and economic success. Ernst & Young surveyed 821 high-level executives and found that a whopping 90% of women sampled played sports. Among women currently holding a C-suite position, this proportion rose to 96%. The data also clearly demonstrates the substantial rate of increase in degrees earned in law and medicine.
Focusing in on girls specifically across the globe for a moment—the barriers preventing girls from participating in sports almost always prevent them from fully participating in society as well. This is a shame because we know embodied leadership and voice improves women's presence and experience in every other sphere of life such as the workplace, home, and community. There are 600 million girls growing up in developing countries today. We need to leverage the power of sport to address the most critical issues facing them. As Secretary of State Hillary Clinton said, Title IX is one of the most important human rights legislations of this generation. So what might it take for the ethos, the spirit of Title IX, to go global?
Until we acknowledge and address these barriers to sports participation at home and abroad, far too many human beings will not access the confidence, power, and voice that come through embodied leadership. So how do we address the gender and cultural barriers that impact participation in sport? Together, we need to answer this question because we know sports can have a powerful impact on social change.
After 30 years working in philanthropy, I know a big part of the solution is funding. We need to fund sports and embodied leadership development programs because funding is always what drives opportunity here in the US or abroad. Resources drive the availability and quality of the sports experience.
One outstanding example of making embodied education accessible to all irrespective of backgrounds is the Girls Athletic Leadership Schools Inc., a growing national network of public schools that uses movement as its pedagogy as well as a positive gender focus. Imagine what the next generation of girls with agency in the United States would look like if every tier I and tier II city in this country offered a GALS Inc. school as an option? Imagine going to a school where everyone does circuits or yoga or runs every day, and not just the students, the teachers and administrators too? A school where there are movement breaks for the brain and body and kick-ass music as bells in between classes, and where girls learn and own responsible action through inquiry rather than rules demanded of them?
We also need to learn from the voices of leaders who have had high level competitive sports as the core of their personal and professional development. This past Friday, 200 of us did just that at the Women Moving Millions Summit in New York.
The panel, "Embodied Leadership: Advancing Women's Rights On & Off the Field" moderated by Minky Worden, Director of Global Initiatives at Human Rights Watch, examined the powerful role sports play to develop strong female leaders, build resilient communities, and advance women's rights and parity at home and globally.
Bilqis Abdul-Qaadir, Athletic Director, Pleasant View School, Motivational Speaker & Basketball Trainer
Liz Wolfson, Visionary, Girls Athletic Leadership Schools, Inc.
Julie Foudy, Two-time Olympian Gold Medalist & Former US Women's Soccer Team Captain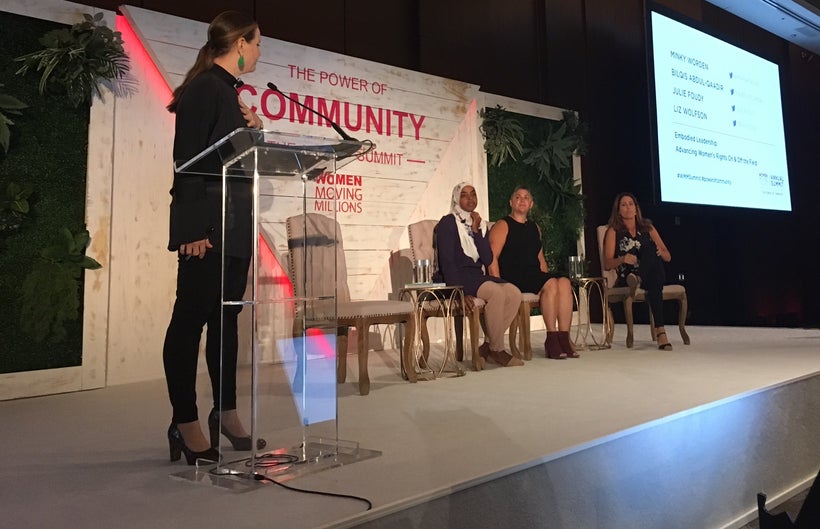 Each of these fierce leaders have devoted their expertise, passion, and philanthropy to create programs, organizations, and schools that offer the opportunity for embodied power for women, girls, and gender non-conforming people.
We already know that we live in a patriarchal society. In case we couldn't see it before, the evidence is glaring now. We know that sports, military, religion, politics, and corporate America are the hosts and feeding grounds of patriarchy. We must use sports and embodied leadership to disrupt the patriarchy, throw our full weight behind programs benefitting women and girls, and help every person feel powerful and strong in their body.
Sabo, D., Melnick, M., and Vanfossen, B. (1989) The Women's Sports Foundation Report: Minorities in Sports. New York: Women's Sports Foundation, Eisenhower Park, East Meadow, NY 11554.
Game Face. (2002). From the Locker Room to the Boardroom: A Survey on Sports in the Lives of Women Business Executives. Oppenheimer Funds, 498 Seventh Avenue, New York, N.Y. 10018, Feb. 2002.
REAL LIFE. REAL NEWS. REAL VOICES.
Help us tell more of the stories that matter from voices that too often remain unheard.
This post was published on the now-closed HuffPost Contributor platform. Contributors control their own work and posted freely to our site. If you need to flag this entry as abusive,
send us an email
.