It's time for music discovery platforms to catch up with their users. There are plenty of services out there that will collect lists of new artists or provide the user a group of artists that sound similar to one the user has entered. While these sites are useful and were amazing when they first launched, the increased ease accessibility of all things, especially media, on the Internet, is rapidly dating these sites. Today, the average music fan has come to expect a product that is nearly infinite in catalog and provides them with a unique experience which, at the same time, is clean, organized, and intuitive. As MTV prepares to launch its new Music Meter (www.mtvmusicmeter.com), they seem to have this modern fan in mind and have developed a platform that makes discovering new music and artists a much more active and user-controlled experience.
Before the Internet, on-demand services, and iPods gave all of us musical ADD, MTV was where music fans would go to watch their favorite clips and discover new ones (full disclosure, they are a long time client). With the new Music Meter, which MTV describes as "a quick and easy way to discover new music - a daily list of lesser known artists that music fans are listening to, talking about and sharing across the internet and the real world ", it seems that the network has once again tapped in to how the next generation wants to experience their favorite music and be exposed to what's new and what's next.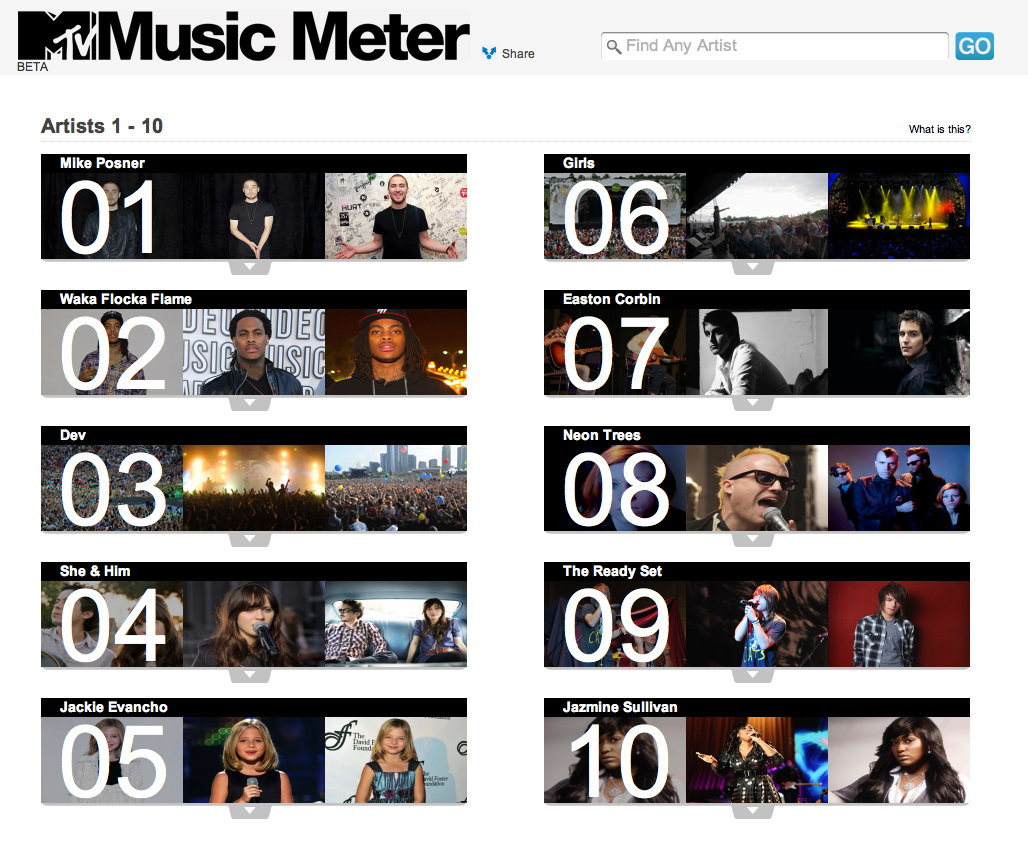 Photo courtesy of MTV Networks
The Music Meter has a two-fold appeal: it ranks the 100 most buzzed about new artists (on and offline) and provides a music recommendation service. The ranking system serves as an answer to one of the most talked about questions in the music industry from 2010... with all the music services, streaming sites, video sites, social networking, adding, favoriting, mentioning, and downloading that surround music today, how do we know which artists are really hot? Yes physical sales are still important, but the modern era has brought about so many new means of communication and ways to experience music that any ranking system that does not take all this new activity into account, antiquates itself and lessens its own validity. Ranking systems, usually curated in the form of a countdown, have always resonated with music fans. The Music Meter provides that same ranking, but can give you 100 artists and hundreds of songs/videos in seconds, as opposed to 10 songs in an hour. (It's a bold move, I might add, by MTV to weed out the overall most popular artists to keep the list fresh and full of new music.)
While the Music Meter's Top 100 is a great way to start digging into the platform, it is not going to be what keeps users on the site. True music fans are going to click through a few pages of the top 100 and then branch off into their own tastes when they hear something they like. How? The Music Meter is not just a collection of artists, but an entire music discovery hub on par with The Music Genome Project (in terms of like-artists). Any artist you search for (with very few exceptions) has a drop down that offers 30-second samples of songs, full-length videos, news, photos, a bio, and any Twitter activity surrounding their music. This allows the user to develop a passing familiarity with this new act within seconds and to become an expert within minutes.
The fact that music discovery is a large part of the Internet music experience is not new. Ask iTunes Genius, Pandora, The Hype Machine etc. What IS new and innovative about the Music Meter's discovery technology is that the user can check out artists, songs, and videos at their speed. When looking at a given artist, you simply click the "Similar" icon and the site pulls up 10 similar artists. Just like with the Top 100 ranking, you can look at videos, photos, song clips, news, etc. for each of these artists. Any that you're not interested in can be completely ignored and artists you're curious about can be explored for exactly as long as you're interested and then it's on to the next one. When you're ready to move on, you can choose from one of the other 10 similar artists you've pulled up, you can find 10 artists that are similar to one of the artists you've just discovered, or you can do a completely new search.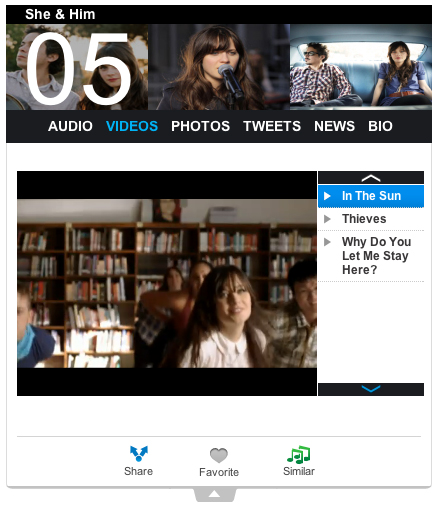 Photo courtesy of MTV Networks
This is on-demand music discovery. It's interactive, user-controlled, and can last a few minutes or hours. Pretty cool.
So often with music discovery, the experience is stagnant. You enter one or two artists you like, and are then given a list or stream of similar artists, all of which connect back to your first search. The Music Meter is dynamic; it's about curation without dictation. Show the users what's new, what's interesting, and provide them the tools to explore new music without being told what to listen to. Sure, we wish we could stream full tracks from every artist, but that isn't the purpose of the Music Meter. This is about elegant and efficient introductions to new music for the modern music fan. The platform allows for a user-directed discovery experience and gives the ADD music fans, with varied attention spans and even more varied tastes, the ability to find songs and bands they love when they still haven't found what they're looking for... and even once they have.

Related
Popular in the Community