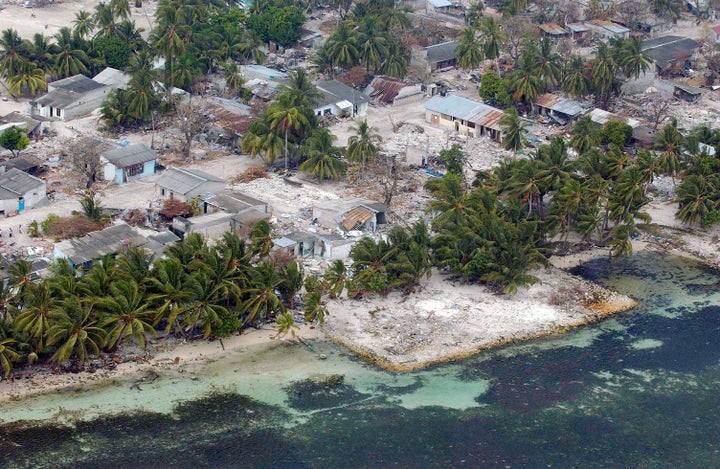 It is 19 years since the world first met to discuss global early warning for natural hazards in Potsdam, Germany. Since then events have only underlined how important early warning systems are for saving lives across the globe.
Six years after that gathering, the failure to have a tsunami early warning system in place in the Indian Ocean contributed to the death toll of 230,000 in the 2004 tsunami.
The infrequency of tsunami events in the Indian Ocean explains why there was no such system in place while one had been installed in the Pacific Ocean 55 years earlier in 1949, following the Aleutian Island earthquake which resulted in 165 casualties.
Filling obvious gaps can justify the expense of a single hazard early warning system as in the case of Bangladesh which has lost hundreds of thousands of lives to cyclones but has reduced the death toll significantly in the last two decades thanks to an effective community-based cyclone preparedness programme.
However, it is often the case, particularly in developing countries, that a multi-hazard approach makes more sense economically, and operationally, especially in parts of the world exposed to many different types of hazard.
This is timely in the context of extreme weather events that have doubled over the last 40 years and continue to claim many lives and cause huge economic losses particularly in countries which struggle to maintain viable climate and weather information services.
The breakthroughs in the use of space-based technologies and satellite meteorology have led to an astonishing improvement in weather forecasts over the last 50 years.
The ever present challenge remains though, how to get the right information in a timely manner to the people who need to take action. When warnings are shared in a way that all affected can act, for example through standardized messages from an authorized source on social media and mobile phones, both lives and livelihoods can be saved.
Cyclone Nargis which struck Myanmar in 2008 killing 138,000 people illustrates another reason why the multi-hazard approach is a good option. Warnings were provided by the Myanmar Meteorological Service but other elements of an effective early warning system were absent including communications and people's preparedness to act. It was also an unusual storm which did not follow "normal" cyclone tracks but struck from the west along a remote stretch of coast where much of the protective mangrove forest had been chopped down.
Historical patterns are no longer reliable guides and the adoption of an end-to-end, multi-hazard approach can prepare countries to take on the challenge of anomalous events, the likelihood of which are only increased by climate change.
Early warnings however must also convey clearly the likely impact of the forecast event. As the WMO Secretary-General, Petteri Taalas, says: "Put simply, while there is a realization of what the weather might be, there is frequently a lack of understanding of what the weather might do."
A single hazard event such as a tropical storm can have a cascading series of impacts including high winds, storm surge, coastal inundation, inland flooding, heavy rains leading to disruption of water and sanitation systems, power supply, closure of roads, damaged housing, unravelling of supply chains and damage to agriculture.
The solution is not an overarching - one-size-fits-all-hazards – approach. A focus is required on the logical links between certain hazards through shared observation systems e.g. rain gauges which assist in calculations on the likelihood of floods or drought, or satellite systems which aid in estimating the likely impacts on exposed and vulnerable populations of an incoming storm.
Excessive focus on technology without paying attention to the challenges in dissemination and communication - the fabled "last mile" - is a danger the Climate Risk Early Warning Systems (CREWS) addresses. CREWS is a partnership of WMO, the World Bank and UNISDR, announced by France two years ago, intended to strengthen end-to-end multi-hazard early warning systems in several least developed countries. CREWS, with USAID and the Government of Spain, are also financing the two-day Conference (22-23 May).
Multi-hazard early warning systems are essential to achieving reductions in loss of life, the numbers of people affected by disasters, economic losses and damage to critical infrastructure – targets which Governments have agreed to under the global plan for reducing such losses, the Sendai Framework for Disaster Risk Reduction.
The Sendai Framework also commits UN member States to having in place national and local disaster risk reduction strategies by 2020 which will inevitably have a focus on early warning as the bedrock of any plan to reduce disaster losses.
Two events will help to concentrate minds at the Conference: the beginning of the Atlantic Hurricane Season in June and the 50% to 60% possibility of El Niño returning later this year. We have been warned.
Related
Popular in the Community