Five years ago, I began an interview series called, Why Music?. The series highlighted local and celebrity musicians sharing their personal stories of how music changed their lives and how they are sharing their talents and experiences in educational and/or community minded activities. Upon discovering that legendary Latin percussionist, Sheila E., was coming to work with Seattle youth musicians and serve as this year's Musical Director for the 14th annual More Music @ The Moore, I thought it was time to bring the Why Music? series out of hiatus.
More Music @ The Moore is Seattle Theatre Group's (STG) signature youth music program. The participants are selected through a rigorous audition process and represent diverse cultures, music genres and several cities throughout western Washington. The program provides them rehearsal time with professional musicians, production and promotional support and an opportunity to perform at the historic Moore Theatre. As for the guest artist, the Moore Theatre education staff researches candidates based on availability, music industry and mentoring experience.
I sat in during rehearsal with Sheila and the youth. After the initial sound check, Sheila sat down on the edge of the stage and said: "When we're in rehearsal, you're going to be full out. This is a time to be focused. There's no half. It's full out."
Coming from 40+ years in the business, these are wise words. Sheila set a positive tone from the beginning, easing rehearsal jitters, and it was wonderful to see these young musicians focused and eager to learn. From jazz and Polynesian dance, to hip-hop and punk, I was amazed at the tremendous talent.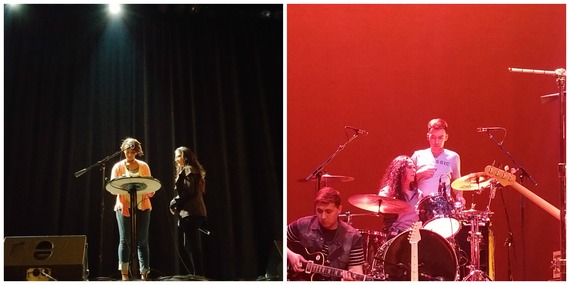 Sheila E. working with R&B singer, Paris Williams and drummer, Carson Dent (photo by Carla Moreno)
During a break, I visited with Sheila in her dressing room and she told me that growing up she dreamt of becoming an Olympic track athlete. Everything changed at age 15 when she stepped in as percussionist in her father's band after his bandmate fell sick just before a major performance. The band members were all men, twenty years older and superb musicians, but for Sheila that didn't matter. Playing percussion in front of a crowd of 3,000 people was an out-of-body experience. It was at that moment that she knew her life would never be the same. Since then, Sheila has played with many musical greats including Cyndi Lauper, Ringo Starr, George Duke, Michael Jackson and of course, Prince.
Despite Sheila's impressive resume, it's not been an easy road to say the least. At age 5, Sheila was a victim of sexual abuse and for many years she struggled with the shame of her childhood experience. Fueled with compassion and love of music, Sheila E. co-founded The Elevate Hope Foundation in 2001 to provide music and arts therapy for abandoned and abused children.
When I asked Sheila, why music?, she responded: "It's always been a part of my life to help and serve the community because music has been a life-changing tool for me and I've seen how inspiring it can be for others."
When I asked the youth about their experience, they expressed gratitude and excitement at this unique performance opportunity. While not all dream of musical stardom, they attribute music as the positive driving force in their life because music teaches self-discipline, responsibility and hard work.
It was an honor to spend time with Sheila E. and these young musicians. To hear their stories and see them at work is yet another reason why we must keep music in our schools! Music is integral to our emotional and mental well-being. Music teaches us the necessary life skills to live productive lives and make good choices.
Many thanks to Sheila E., for taking the time to nurture these young musicians and to Seattle Theatre Group's commitment to provide these opportunities for Seattle youth. I know for certain that these kids will remember this event for the rest of their days.
Calling all HuffPost superfans!
Sign up for membership to become a founding member and help shape HuffPost's next chapter