"As far as boundaries are concerned, we are always looking for new ones."--Hankus Netsky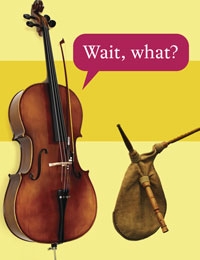 Recently, I attended a class by Hankus Netsky, who heads up the
at New England Conservatory. This is the department Gunther Schuller created in 1972 as Third Stream with the amazing pianist Ran Blake as its first chair. I'm proud to say it is celebrating its
this year and the program has become one of NEC's most distinguished and distinctive.
I had attended quite a few performances by CI musicians and been swept up in the energy and creativity of students and faculty alike. But I had never had the opportunity to experience the actual teaching of improvisation.
The group of students numbered about 10 and it was very apparent that they all felt great respect and affection for each other.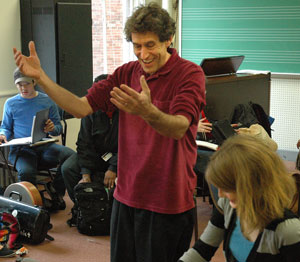 Hankus Netsky
Photo: Andrew Hurlbut
Hankus, who was bustling with energy as he always is, played a recording and then got the group to sing a Calypso by, of all people, Sonny Rollins. Whatever and however they sang, they would subsequently duplicate this approach on their instruments. When the Calypso felt comfortable for the group, individuals started to sing improvisations within the structure of the piece. Then, it was time to move from vocals to instruments, but with the sure understanding that it is our vocal selves that shape and form our instrumental selves. The results were free-wheeling, inspiring, original, and curiously moving. Hankus filled all the empty spaces with questions and encouragement. He wasn't just getting the best out of these players; he was stretching them by taking them to new places, not yet discovered, but certainly dreamt of.
From my observations, the term "improvisation" is much too confining when it comes to describing what goes on in CI. Indeed, CI and its progenitor Third Stream have always been about pushing the envelope. Their history has been, as Hankus likes to say, a process of searching for new boundaries.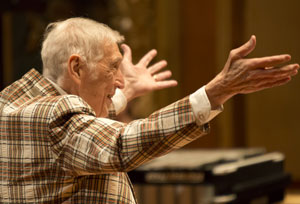 Gunther Schuller
Photo: Andrew Hurlbut
As envisioned by Gunther Schuller Third Stream was meant to be a fusion of classical and jazz idioms. Schuller had created the first ever degree-granting jazz program at NEC in the late 1960s and Third Stream was a logical extension of that. I was amused recently to see in Wikipedia a list of things that Third Stream is not, a list compiled by Gunther obviously answering yet another set of journalistic questions and showing his frustration.
It is not jazz with strings.
It is not jazz played on 'classical' instruments.
It is not classical music played by jazz players.
It is not inserting a bit of Ravel or Schoenberg between be-bop changes--nor the reverse.
It is not jazz in fugal form.
It is not a fugue played by jazz players.
It is not designed to do away with jazz or classical music; it is just another option amongst many for today's creative musicians
Over the years, the focus of Third Stream inevitably enlarged, until in 1992, NEC changed the name of the department to Contemporary Improvisation to acknowledge that there really are no boundaries. CI today is all about discovering the huge wellspring of imagination in a student and then allowing it to cascade in whatever direction is possible. It is unique in my experience and I do not know of anything quite like it at any other school in the country. It is very cutting edge, highly original, energized by empowered students and faculty. It brings together everything from Blue Grass and Scottish fiddling, to avant-garde, rock, klezmer, Gospel; allowing musicians who can dance, sing, and play instruments as diverse as the oud and Chinese zither, to work together. Take Yasmine Azaiez, a young Tunisian violinist, who not only plays classical concertos with major European orchestras but also studies jazz and many idioms of world music.
At the same time, I think of the program as the most old-fashioned at NEC because it returns musicians to the very essence of being a creative artist: Unambiguously non-specialist. A wonderful combination of performer, composer and improviser. This surely represents the characteristics of all great musicians from Dowland to Bach, Mozart, Paganini, Chopin and Stravinsky as well as Coltrane, Hendrix, Monk.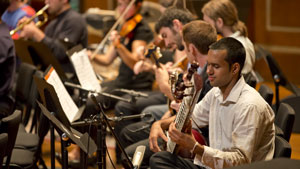 Photo: Andrew Hurlbut
Hankus, who has been at NEC since the early years of Third Stream and became Chair in 2008, is one of the most inspired teachers and performers I have ever come across. His being literally pulsates to the energy of the students he is working with. I have sat with him at many concerts by his students and he lives every note with the type of warmth and involvement you might expect from a Red Sox fan watching the Yankees being beaten at Fenway. (That's probably a fantasy these days ...!) His passion for this program and the very exacting demands he makes on applicants to NEC and eventual students, has produced a student body of about forty-four whose influence runs through NEC from opera to classical to jazz.
His faculty are all performers and teachers of the highest quality and originality. I have been deeply moved by many of them in performance and would mention a few recent experiences.
Dominique Eade, one of this country's great singers, was the first student to receive an Artist Diploma in CI/Third Stream, and then stayed on here to teach even as she established an important performing and recording career. There's Carla Kilhstedt, the violinist and songwriter, whose unique voice and virtuoso skills create an indelible impression.
Pianist Anthony Coleman is not just pushing the boundaries, but leaping over them with a recent music project inspired by Fellini. There's a brand new talent, Eden MacAdam-Somer, just finishing her DMA and coming onto our faculty. Her talents are boundless, from flat-foot Appalachian dancing to settings of the love poetry of Rumi for voice (hers) and solo violin, settings of heart-stopping beauty.
She is inaugurating a CI program in our Preparatory and Continuing Education schools. Linda Chase, who teaches interdisciplinary musical collaboration, presented a compelling original chamber composition-improvisation concert featuring internationally renowned poet Jane Hirshfield. They drew heavily on recent experiences in Japan--Linda's during the earthquake/tsunami. Also, guitarist/bassist Joe Morris hosted a spectacular free improvisation event at the Lily Pad that allowed Three Generations of Third Stream/CI alumni a chance to jam with each other in the most open way possible. And, finally, Nedelka Prescod, whose passion for singing and ensembles has resulted in the creation of NEC's first African American Roots Ensemble.
I invited the Roots Ensemble to perform at NEC's Convocation last September and the singers emerged from the audience, gathered a rhythmic pattern, and sang with an intensity that brought the house down, even among new students eager to study Tchaikovsky, Bellini, Cage and Stravinsky. The singing demonstrated to them another way of looking at the power of music.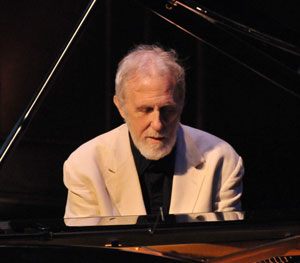 Ran Blake
Photo: Andrew Hurlbut
And of course there is the legendary Ran Blake, the department's first chair, and still a vital member of the team. Ran's performances, nearly always given in complete darkness (something which I now love), are examples of artistry at the highest levels. His passion extends not just to music but also to "film noir" and last week I heard him give an impromptu performance of the theme music to Laura the 1944 movie with Gene Tierney (the subject of next year's film noir project).
That opening scene with Dana Andrews staring at her "Laura's" huge painted portrait came instantly to my mind. Magical stuff.
As I said, this amazing department, representing, I think, the musical equivalent of the Hadron Collider or -- if you are not into cosmological discovery -- then the greatest example of renewable energy and research, celebrates its 40th anniversary. There are a whole host of events around Boston and spreading to New York City next March. Among these was a reunion of alums that I attended the other night at Scullers, an important jazz club in Boston. The place was packed for performances by some of the best singer/songwriters who have emerged from Contemporary Improv in recent years.
This was more than just a reunion in the traditional sense. These young performers are kindred spirits, who have the passion and skills to take music in all sorts of new directions. They are building an artistic community devoted to the creation of original music and a new style of performance that is serving as a model. I want to use the word ... "movement," so I shall! This is a movement and Contemporary Improv has reached critical mass in its development and influence. It is increasing exponentially. And, my word, you could hear that at Scullers! Nedelka Prescod singing from the soles of her feet, Alonzo Harris' raw humanity and power, Christiane Karam with the beauty and tenderness of her Lebanese background, and there were so many others.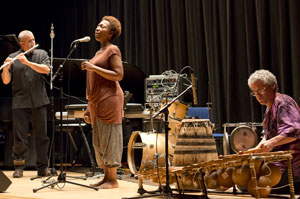 Photo: Andrew Hurlbut
These young musicians are the leaders of the future and I cannot wait to see what transformations they will bring about.
Here's a list of upcoming CI concerts in Boston and in New York City. For the most up-to-date information, click HERE.
2012-11-29 Rebirth of the Third Stream
2013-01-28 Jazz and CI Faculty Spotlight
2013-01-29 Brando Noir
2013-02-13 Anthony Coleman
2013-02-19 From Third Stream to Contemporary Improvisation
2013-03-03 Eternal Echoes: Songs and Dances for the Soul at Symphony Hall
2013-03-10 Anthony Coleman, Tanya Kalmanovitch, Ted Reichman
2013-03-20 NEC Jewish Music Ensemble in New York
2013-03-21 CI alumni jam at Barbès
2013-03-22 Coleman, Kalmanovitch, Reichman at Cornelia Street Café
2013-03-23 CI all-star concert at Symphony Space
2013-04-08 Monk/Webern
2013-04-15 Honors Ensembles: Jazz/Wild Card
2013-04-18 Music of Randy Weston
Popular in the Community