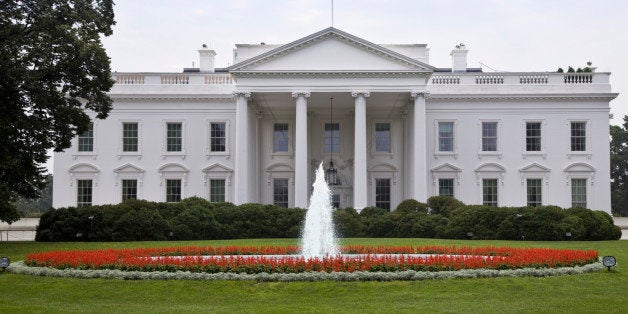 Imagine an eight-year-old, Pakistani, girl version of Martin Luther King, Jr. She's wearing her dad's oversized black suit, a red striped tie hanging just above the knees, long black hair tied back, and a thin mustache drawn on with eyeliner. She stands in front of her third grade class and recites lines from the "I Have a Dream" speech.
Until this week, I had completely forgotten that memory of my excitement to play the role of Dr. King for a Black History Month class assignment. I remembered that moment today after a week of controversy resulting from the boycott and condemnation of the White House Iftar by a number of Muslim groups and leaders.
I've always appreciated the president's gesture to mark the month of Ramadan with a meal shared with Muslim leaders from across the country. In all honesty, I secretly wished I'd grow up to be a leader with a seat at that table.
The White House Iftar captures the glamour of high-profile receptions I've seen on the West Wing, and the power of a room full of some of our nation's most influential Muslims. While other countries opt to ban veils and minarets, ours honors a month that we hold sacred and elevates Muslim activists and change agents.
As news of the Iftar controversy unfolded, I had the privilege of discussing these events in real time with participants of Union Theological Seminary's Millennial Leaders Pilot Conference.
I probed this issue with fellow millennials and came to some conclusions about the event:
The attacks against innocent Palestinians, women and children, are deplorable. As American Muslims, we are implicated in our president's complacency and defense of Israel's actions. I defend and support the rights of those Muslims who organized boycotts and spoke out against the event.
I also respect and support those Muslims who chose to attend the Iftar. Chicago activist Rami Nashashibi articulately explained last year why it's important for Muslims to engage with the administration.
I do not condone the public shaming of Muslims on both sides of this debate. I was reminded at the conference this week that the Civil Rights movement needed both a Martin and a Malcolm. It's time for deeper dialogue amongst Muslims about how we help and hurt each other in our social justice efforts.
This debate has especially hit close to home for me. I'm a long-time interfaith organizer and study the intersection of religion and politics. I've spent the last year looking at models of faith-based engagement that bring religious communities in partnership with government agencies to address important social issues. Faith-based organizations are already at the forefront of these partnerships.
In Massachusetts, for instance, a majority of resettlement agencies that house and support refugees are religiously affiliated. This is true in other states as well.
The City of Boston, too, is taking steps to better engage with its diverse faith communities. This week, City Hall is hosting it's first-ever Iftar celebration to mark a month of significance to Muslim Bostonians.
I felt disheartened by some of the angry rhetoric against Muslims who attended the White House Iftar because I consider it an opportunity to build bridges between American Muslims and our government. It was in this spirit that I worked on the team to organize the Iftar in Boston.
But civic engagement doesn't end with a glamorous meal. We'll be dining while Palestinians are bombarded in the latest Israeli ground offensive; while the fate of thousands of young immigrants fleeing from Central America remains uncertain; while mass incarceration continues our nation's legacy of systematic racism; while greedy corporations pollute our planet and oppress our laborers. There is no end to the issues that demand our attention.
And we need civically engaged Muslims to tackle these issues from all fronts. We need organizers and activists, daring demonstrations and diplomatic dinners. We need Malcolm Xs and Martin Luther Kings, Pauli Murrays and Ella Bakers. And most important of all, we need the courage to organize and the humility to respect all approaches to social justice.
The Prophet Muhammad (peace be upon him) said, "The similitude of believers in regard to mutual love, affection, fellow-feeling is that of one body." It's high time we lived up to this ideal.
REAL LIFE. REAL NEWS. REAL VOICES.
Help us tell more of the stories that matter from voices that too often remain unheard.