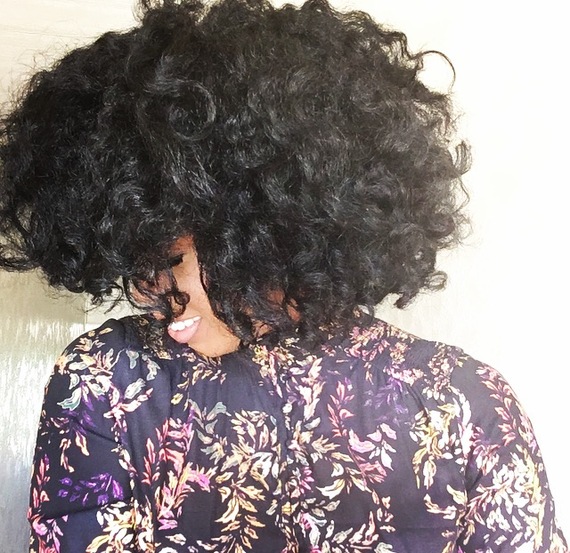 I never imagined that when I went natural in 2013 that I'd be embarking on a spiritual journey that prompted self-awareness and growth. Equally, until I big chopped I didn't know that I was insecure and had processed lots of damaging thoughts. Cutting all of my hair off brought those realities to the surface and I was forced to confront them. And while I've heard of so many success stories that tell how liberating a big chop could be, I had a different experience. I was traumatized. It wasn't so much of the shedding of hair that frightened me as it was the woman looking back at me in the mirror.
I didn't recognize her because the mask had finally come off. She transformed into three versions of myself. Looking back at me was the little girl I felt wasn't cool enough, the teenager who never fit in, and the young woman who felt she had everything to prove. Intertwined in my emotions, these three ladies asked me a clear question, "Will you love me now?"

Needless to say, my hair journey demanded that I recognize and get in touch with the parts of myself that I neglected for years, hidden behind a smile. So, from 2013 the present I've been working tirelessly to unlearn the behaviors of mental self-harm. The TWA (or teeny weeny afro) stage was the most challenging, because natural hair was so fresh to me. This was the stage that I first felt the wind on my scalp and wished I could undo everything. However, it was here that I learned who I truly was. Though some validated my hair choice, others did not. And in passing, I internalized the quick glances and side talk. Yes, natural hair had become more of a norm at the time, but namely in black communities. When I big chopped I was pursuing a masters degree in Southern Illinois in a predominantly white city. There, I realized how much I believed the threadbare lie the straightened hair was the only way to express beauty. Ultimately, I challenged myself to become better in my thinking and learn the hard lesson of loving me.

I challenged myself to become better in my thinking and learn the hard lesson of loving me.

I was forced to remove the barriers that simultaneously identified and constrained me. I learned to accept the ostracized little girl and give her a drum to march to her own beat, I embraced the teenage version of myself and told her that one day she will create communities around her, and to the young woman I validated her existence, experience, and thoughts. In essence I told all three versions of myself, "Yes, I love you now!"
By the time I moved to Alabama in 2014 to pursue a PhD, I had become more comfortable with my image and my self-esteem. Looking back on my journey now I am grateful for the process. In the practice of growing my hair I grew in my spirit. Meaning, I developed in a way that I had never thought I needed. I believe that sometimes it's so easy to point out what's wrong with others without examining ourselves. Ultimately, as I searched for new hair products I also examined my inner wellness. I've learned that everything I needed to grow and mature was in me the whole time. I never needed the things that I thought, I just needed to believe that there was a plan for my life and if I ever wanted to find it out, I first had to find out who I was at my core.

In the practice of growing my hair I grew in my spirit.
I grew into the woman I am today. A woman who is more confident, secure, and brave. A woman who can openly compliment and encourage another woman on her beauty. A recovered hater. A public intellectual. A servant at heart.
I've reached a level of freedom and it all started with me cutting away the pieces of me that once hindered me: self-deprecating thoughts and my relaxed hair.
Social Networks:
IG: naturalli_bri
FB: Briana Whiteside
This post is part of HuffPost's My Natural Hair Journey blog series. Embracing one's natural hair -- especially after years of heavily styling it -- can be a truly liberating and exciting experience. It's more than just a "trend." It's a way of life. If you have a story you'd like to share, please email us at MyNaturalHairJourney@huffingtonpost.com.
Popular in the Community