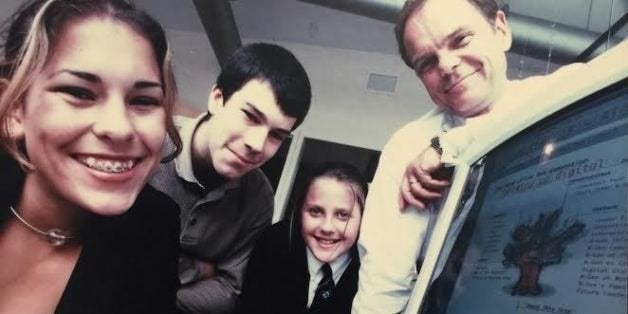 Pictured above: Nicole Tapscott, Michael Furdyk, Friend, Don Tapscott, 1996.

In the mid-1990s, I began studying the behaviors of kids when I noticed how my 10-year-old daughter was effortlessly able to use sophisticated technologies. At first, I thought, "She's a prodigy!!!" but then I noticed all her friends were like that too, so I decided that was a bad theory.
I began to theorize instead that this was the first time in history when children were an authority on something really important. (I was an authority on model trains when I was a kid.) Today, the 11-year-old at the table is an authority on revolution changing business and society.
So I started working with my kids and a couple of hundred other young people to write Growing Up Digital (1997), a best seller that defined terms like the digital divide, the net generation, and the generation lap.
The website for the book was built by a group of children aged 7-13, led by 13-year-old project manager Michael Furdyk. Two years later, Michael personally became a multi-millionaire when he sold his website mydesktop.com to a big media company. During this period, I realized I could learn a lot from young people, and implemented something I called "reverse mentoring." I asked several kids to mentor me!
Niki, Michael, Alex and several other young people have been by far my most important mentors. Many of the biggest ideas I come up with came from these mentors.
An insightful (and hilarious) example:
In early 1997, I spent an hour in a TV studio surfing the Web on a national television program. The point was to illustrate to the viewers the wealth of material available on the Net. When I returned home, my wife Ana, my most trusted critic, told me she thought the show was good, but that our son Alex who was 12 at the time, thought the whole idea of the program sounded like less than thrilling viewing.
Mom: "Hey Alex, Dad's going to be on TV live for an hour -- let's go watch!"
Alex: "Cool, what's the show about?"
Mom: "Dad's going to use the Internet on TV -- surf the web."
Alex: "That's the dumbest TV show I've ever heard of. Why would anyone want to watch Dad use the Internet?"
Mom: "Everyone is interested in this new technology, how to use it, and how it works. It's a technology revolution."
Alex: "Mom, this is so embarrassing. All my friends are going to see this. You don't need to show people how to use Internet."
The next day over breakfast, to hear it for myself, I asked him why he didn't want to watch the show.
Alex said, "Dad, no offense, but I think you adults are obsessed with technology. You call this a technology revolution and you are so fascinated by how the technology works... imagine some other technology, Dad."
As this point I sense he's going to use an analogy and sure enough he points to the television. "The television -- is that technology to you, Dad? Imagine a TV show where people watch you surf television! Wow! Let's see if my dad can find a football game on television! Now my dad is going to try and find a sitcom!"
Suddenly sister Niki came to his support (a rare thing at this age), embellishing a point from a previous conversation.
"Yeah Dad, how about the refrigerator! It's 'technology' too... let's have a TV show where we can watch you surf the fridge!"
As I'm considering this to really send the point home, she adds, "Oh, wow! Dad found some meatloaf! And from all the way in the back! Isn't he amazing?"
I concluded that for this generation they will have no fear of what I then viewed as "technology" because it's not technology to them. It's like the air. That became another big idea in Growing Up Digital.
Over the years, my books and other writings are filled with big ideas and wisdom from this generation. Even today I'd say that my two biggest source of insights about all things digital are these young people, in particular Niki and Alex.
For the first time ever it's apparent we can learn directly from kids! Listen to the children.
Don Tapscott is CEO of The Tapscott Group, a think tank. He is the author of 15 books and rated by Thinkers50 as one of the top five living business thinkers in the world. He also plays keyboards in the band Men in Suits. On Twitter @dtapscott.