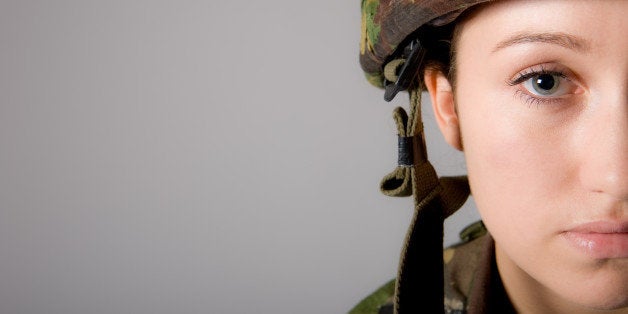 The debate over whether girls should also be required to register for Selective Service (aka, "the draft"), as 18-year-old boys have since 1980, gained momentum last week.
After high-ranking military officers told Congress that it is the next logical step, two congressmen introduced a bill titled "Draft America's Daughters Act," which would require registration for all women ages 18 to 26.
This is an important topic for parents, one that has always affected moms with sons but might soon affect moms with daughters, too.
Here are some frequently asked questions and thoughts on why this should be the next conversation at every American dinner table.
Selective Service vs. "the draft"
As the topic surfaces nationally, there is much confusion about the difference between Selective Service and "the draft." Since 1980, young men have been required to register for Selective Service within 30 days of their 18th birthday. If they don't, they face up to five years in prison, a fine of up to $250,000 and ineligibility for financial aid and government jobs.
But the government has not enacted a draft, in which they tap into the country's database of young men, since 1973, making it easy for many people to forget about Selective Service at all.
The purpose of Selective Service is to make a draft fair and equitable among those who can serve in the military. Now that women can serve in combat roles, an opportunity for which many fought tirelessly, a draft that does not include them can never be "fair and equitable."
Expect lawsuits if the country enacts a draft from a Selective Service registry that does not include young women.
But not all women want to be in the military.
Neither do all men, and assuming they do is as sexist as assuming a woman can't fly fighter jets.
Herein lies the thorny dilemma. Taking a side on this issue forces you to reject one of society's two closely held beliefs: that women can do anything a man can do or that men go off to war to protect the country's women and children.
If you support the idea that your daughter should have choice -- in employment, over her body and pregnancies, about maternity leave -- you probably don't like the idea of her not having choice, even in theory, about joining a war.
So where has our sons' choice been all these years?
We have fought for women's choice regarding their bodies and their lives, but apparently boys having no choice about joining a war is par for the course of being male.
During the most recent Democratic debate, Clinton said, "The idea of having everybody register concerns me a little bit." She didn't elaborate on why.
Was she thinking about her own daughter? Her granddaughter?
Was she imagining what it would be like to love and protect a child for 18 years and then tell her she's required to sign up for Selective Service or face jail time?
Was she thinking about the tough, heartbreaking questions that child might ask about it?
Was she realizing what it would feel like to have the government decide the fate, even just in theory, of a child you have birthed, raised and loved?
Certainly she wasn't thinking that women need to stay home, have babies and raise them.
But maybe she was suddenly realizing what mothers like me who have sons have faced since the 1940s?
If not your daughters, then why my sons?
It's not likely we'd have another draft anyway, right?
During the debates, many candidates seemed to hang their lukewarm passion for this on the hope the draft will never be used anyway. "I have a hard time imagining the kind of national emergency that would require the use of the Selective Service system," Hillary Clinton said.
Clinton's reasoning fails to address one thing: So why are our boys still registering, and why are they penalized if they don't?
Another draft might be a long shot, but the consequences for boys who fail to register are very much real. So far, 18-year-old girls have not faced that same obligation. And their mothers and fathers haven't had to think about it either.
As a military dependent since the day I was born, I know this: our all-volunteer military is always one national crisis away from needing to employ a draft. For generations, the specter of a draft has weighed heavily on the minds of mothers with sons. Soon, if we want true equality, it might weigh on the minds of mothers with daughters, too.