By AsiaToday reporter Lee Mi-hyun - "Nowadays, young people do not stay long on the job, and are impatient to move on, fewer believe in learning the ropes, taking time to develop skills on the job and working their way up."
This is the public remarks of Singaporean Deputy Prime Minister Tharman Shanmugaratnam.
Older generations and companies have often described younger colleagues as "self-centered and disloyal employees." However, they will soon come to dominate the labor market.
Millennials, the generation born between early 1980s and early 2000s, will form 50% of the global workforce by 2020, according to global consulting firm PricewaterhouseCoopers (PWC). By 2025, they will make up 75% of the workforce.
Does the millennial generation really have different values, just like what its predecessors believe? Contrary to popular belief, various in-depth surveys reveal that millennials put 'opportunities for career progression' as a top priority rather than 'work-life balance'. They are less resistant to job-hopping and more adventurous to get a new job than older generations.
△ Asian millennials are hungry for success
The Singapore Tourism Board surveyed over 6,500 millennial workers from the Asia-Pacific region engaged in the travel industry. and found that the most important job selection factor for them was the chance to succeed.
According to "The Asian Millennial Workforce and the Travel Industry", about 49% of Asian millennials chose their current job for the good 'opportunities for career progression'. This is nearly twice as high as the second most important factor - the company's prestige and reputation. Another characteristics of Asian millennials is that they want fast promotion.
However, work-life balance is one of the least significant drivers that affects job satisfaction for Asian millennials which is contradictory to the characterization of millennials. Less than a third stated that they would opt for flexible working arrangements if it meant compromising career advancement. One respondent noted that, "Millennials are hungry for experiences and success."
However, the report said that the millennial generation, which emphasizes professional success, isn't that loyal.
Only 39% of millennial workers said they are likely to stay with their company for the next three years. As one manager noted, "Loyalty is not a key value to [Asian] millennials."
This tendency was found to be higher in emerging countries.
△ Asian millennials in emerging countries have greater intention to move on
Deloitte, a global management consulting firm, surveyed more than 7,700 millennials from 29 countries including 9 Asian nations and found that millennials in emerging countries were more likely to leave if they had the opportunity.
While 66% of millennials around the world said they will have left their organizations before 2020 has passed, the percentage was lower in Japan (52%) and higher in emerging countries like India (76%), China (65%), and Philippines (64%). South Korea, although being a middle-income country, had high figure with 74%. This can be interpreted as a low loyalty, but it could be the lack of talent management of companies.
The most loyal employees were more likely to agree that 'There is a lot of training for leadership in the workplace' and 'Young employees are actively encouraged to aim for leadership roles.'
On the other hand, the number of millennials who said their 'leadership skills are not being fully developed' was higher in emerging countries. The figure exceeded 70% in the southeastern Asian nations of Malaysia, Singapore, and Thailand.
According to Deloitte, leadership skill is the ability that the millennial generation feels is the most lacking in themselves. Many millennials feel that their abilities are not being used properly, and this is related to high job hopping, the report said.
The report pointed out, "Asian millennials are dissatisfied with remuneration and career advancement, yet these are the most significant drivers of loyalty."
△ How to engage Asian millennials in the workplace?
The report suggested that companies should provide 'role hopping' for millennials as an alternative to job-hopping. It's because millennials don't singularly see career progression as promotions up the traditional job ladder, but also view it as opportunities for greater exposure, taking on new challenges and learning new skills.
Global cosmetics company L'Oreal for example, has established a program that allows new employees to experience all their jobs by rotating four to six different departments for 18 months.
Gitansh Malik, Asian program head at global HR and recruiting consulting firm Aon Hewitt, said, "Millennials have higher expectations from their employer and are more prone to attrition," compared to earlier generations. "To manage these expectations, the best employers focus on creating a work environment that enables accelerated learning for millennials along with continuous feedback on performance and promotion potential," said Malik.
In fact, Goldman Sachs reorganized HR management program last year, to provide junior bankers with quicker career progression and more stimulating tasks.
Planting a sense of mission to the millennial generation who want to do meaningful work also helps staff management. Sebastian Hampartzoumian, senior managing director of Page Group Singapore and India, revealed that implementing a CSR (corporate social responsibility) program can also improve the sense of accomplishment and job satisfaction of millennial employees. In addition, job flexibility and company culture are also key priority areas for millennials.
△ Millennials enjoying leisure time? Death by overwork on rise among young workers
Unlike their desire for guaranteed personal and leisure time, millennials are not really enjoying their work-life balance.
Hong Kong's South China Morning Post (SCMP) asked itself, "Longer hours, worse jobs : are Asians turning to working machines?" and pointed out, "It is not that, because these young workers do not yet protest, there is no crisis."
A young woman who graduated from a prestigious university in Beijing told SCMP, "We work eleven hours a day, spend another three hours in traffic to commute outside the city because of expensive house price. We are working ourselves to death."
The media reported that Asia's labor market crisis is not only a matter of shortage of jobs; many jobs are hardly pay enough to keep up with the rising cost of living.
In Japan, death by overwork is on the rise among vulnerable workers, mainly young people and women.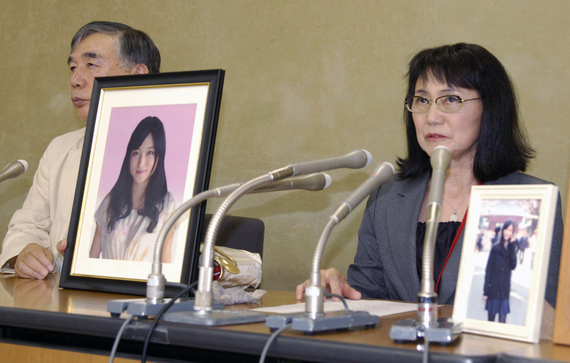 [In this Oct. 7, 2016 photo, Yukimi Takahashi, right, mother of Matsuri, with lawyer Hiroshi Kawahito, speaks to journalists at a news conference in Tokyo after her daughter's suicide was recognized as "karoshi," or death from overwork. Matsuri Takahashi's dream career at Japan's top ad agency, Dentsu, ended with her suicide after her overtime exceeded 100 hours a month. (Kyodo News via AP)]
According to the Japanese labor ministry, work-related suicides are up 45% in the past four years among those 29 and younger. While victims of overwork death were mainly middle-aged men in white-collar jobs in the 1980s, now it expanded to women and young people.
A 24-year-old graduate with overtime exceeding 130 hours at one point at Japan's biggest advertising agency committed suicide on Christmas 2015. On September 2016, the Japanese labor ministry ruled the suicide as death by overwork. According to a white paper published by the Japanese government released last year, one in five Japanese workers faces risk of death from overwork.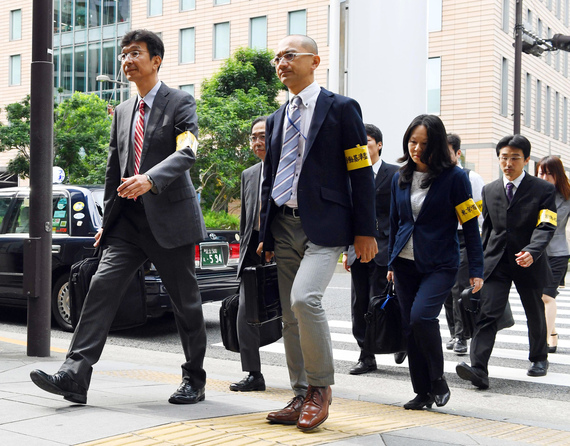 [In this Oct. 14, 2016 photo, officials from the Tokyo Labor Bureau head to the headquarters of Japanese top ad agency, Dentsu, in Tokyo for on-site inspections. Matsuri Takahashi's dream career at Dentsu ended with her suicide after her overtime exceeded 100 hours a month. (Akiko Matsushita/Kyodo News via AP]
HRM Asia, a media specialized in Asian human resource management, reported that work-life balance continues to be a hot topic, especially with millennials forming the bulk of the workforce today, however it's far from reality.
According to the Singapore ministry of labor, more companies in the past year have begun offering flexible work arrangements but few Singaporeans expressed satisfaction. Nearly one in two Singapore workers perceived their work-life balance to be "awful", according to a new Emolument.com study.
The media explained that one key reason for this was that the lines separating work and personal time have become blurred with increasing digitization. Young workers of today can check their emails via smartphones on their way to work, conduct video conferencing calls from home in the middle of the night, and receive work files on the cloud from anywhere in the world. This means that they are now connected and logged on 24/7.
The media warned that although companies want their workers to be able to maintain work-life integration, this kind of approach may not be sustainable over the long-term.
△ Chinese millennials are idealists seeking for challenges and meaningful work
China reportedly has the most idealist millennials among Asian countries. Nearly a quarter of Chinese millennials were willing to accept a job with a lower salary for more meaningful work, compared to 18% in the rest of Asia.
Chinese millennials showed a tendency to take risk and start their own business rather than sticking to dull jobs.
QQ Browser, part of China's Tencent Holdings, polled 13,000 college students in China recently and found that only half of those were willing to have stable jobs upon graduation. 15% of respondents said they want to start their own business, and 8% aspire to take on new professions. The most sought after jobs include online live-streamer or blogger, game tester and make-up artist.
Chinese young people, who have grown up in a booming economy, showed adventurous characteristics to pursue their dreams. It is different from their parents, who defaulted to the factory floor, construction site or staid state-sector job.
In addition, Chinese millennials no longer cling to factory jobs. Grown up in a better environment than their parents, many of them want more control over their lives, rather than being forced into long overtime shifts.
As a result, global companies with factories in China are also changing their employee management.
The Financial Times reported that Procter & Gamble's China plant is working to keep their young workers from job hopping by offering an program that trains graduates for senior supervisory positions.
Calling all HuffPost superfans!
Sign up for membership to become a founding member and help shape HuffPost's next chapter