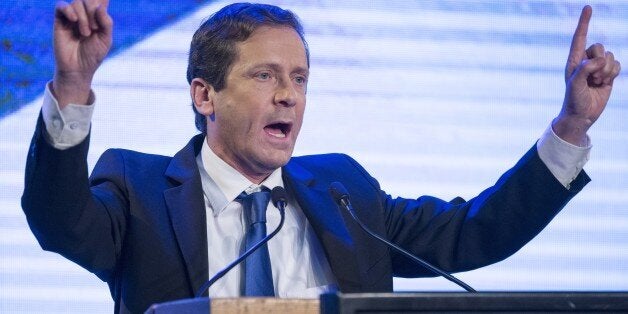 When the State of Israel was born, David Ben-Gurion told Time magazine, "We have set up a dynamic State, bent upon creation and reform, building and expansion."
The early Zionist pioneers built this country once before, and the time has come to build our country once again, this time for the 21st century.
The Israeli economy has been heralded as a great success story. The "Start Up Nation" is a global brand, with an innovation ecosystem that is the envy of many developed countries. Against all the odds, we built a diverse, resilient and self-reliant economy that has allowed us to prosper and grow.
Not everyone has enjoyed Israel's recent prosperity and now is the time for "Start Up Nation, The Next Generation." Nearly 75 percent of Israelis have been left out of our innovation economy, whole sectors are lagging behind, more than 60,000 small to mid size businesses collapsed over the last few years, thousands of jobs were lost thanks to government bureaucracy and abysmal credit conditions, housing is practically unaffordable for our young people, and even those with good jobs suffer from the staggering rise in the cost of living that has made it impossible to make ends meet.
Since 2004, real GDP growth has exploded, but wages remain stagnant. Our economic policies focused on achieving 'economic goals' -- that is, macroeconomic objectives -- but excluded ordinary Israelis. Rapidly growing inequality in Israeli society was once thought to be a geographic ill, seen only in the 'peripheral areas.' I have news for you. There is no more 'periphery,' because all of Israel suffers from the same economic challenges and the disease called government neglect has spread, infecting the entire country.
'Trickle down growth' has failed to ensure opportunity for all. The monopolistic hold on Israel's privately held companies, the market control held by a handful of Israeli families have hijacked one third of our economy. While the elite grow richer, most Israelis are struggling to survive without a minimum safety net.
When I entered the Knesset in 2013, I had hoped to correct these inequities, applying my skills as a high-tech and social entrepreneur to the challenges we face as a society. If there's anything I have learned during my time in the Knesset, it is this: only with responsible leadership and dialogue can we implement the change we need.
Promoting economic development across the country
I have an economic vision that strengthens Israel from within, pursuing collaborative approaches that promote economic development in Israel's new frontiers in the North and in South, creating seven regions of excellence and innovation across the country that will attract investment, generate jobs and bring growth to areas of the country that have been left behind.
Under the leadership of Isaac Herzog, we have a viable economic development plan for every corner of the country. We did it in the Southern city of Beer Sheva and what once was a sleepy desert town is now world-renowned for forward thinking cyber-defense technologies bringing game-changing ideas to a new reality. We are doing it in the North, in the Galilee where 15 regional councils, industry, academia and R&D are united behind an initiative that leverages the region's assets in innovative agriculture and biotech, making it ripe to become a leader in the medical food industry, a growing global trend. A Herzog government will know how to leverage Israel's competitive advantages, creating sought-after regions of excellence that will compete globally and generate jobs.
As an entrepreneur, I am acutely aware of the need to balance the country's social concerns with the demand to remain globally competitive and attractive to investors. Yet we can establish clear rules of engagement that boost confidence for both domestic and international investors while offering every underprivileged group a chance at the same opportunities I had.
We cannot afford another nine years of more of the same. Economic growth cannot be separated from social growth any longer. Israel's opportunities should be available to everyone and under Isaac Herzog's leadership, we will ensure that strong economic growth benefits ordinary people.
Popular in the Community