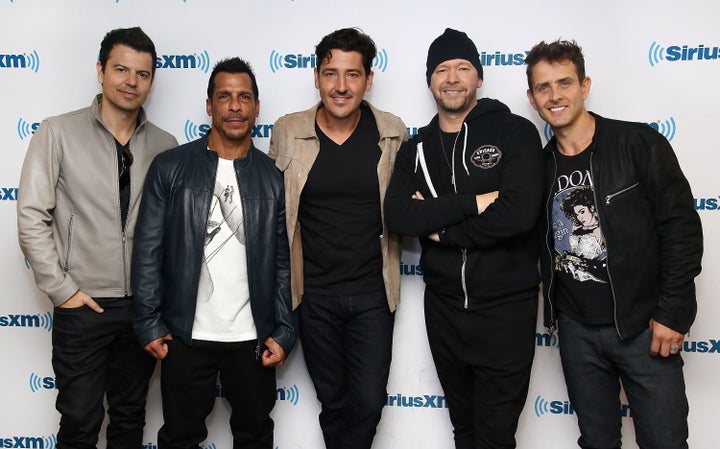 If you watched Season 1 of "Rock This Boat," you got a glimpse inside the dedicated fandom that surrounds New Kids on the Block. Women (and men, too) of all ages flock to see the boy band at concerts, fan events and beyond. For the last seven years, the New Kids have set sail on a cruise with their beloved fans, who get up close and personal with Donnie Wahlberg, Joey McIntyre, Jordan Knight, Danny Wood and Jonathan Knight. 
In 2015, the group decided to film the high-seas adventure for the Pop TV series "Rock This Boat." This year, the five boy banders followed suit, stepping it up for Season 2 (currently airing on Pop TV) by showcasing a lot more of themselves throughout the show.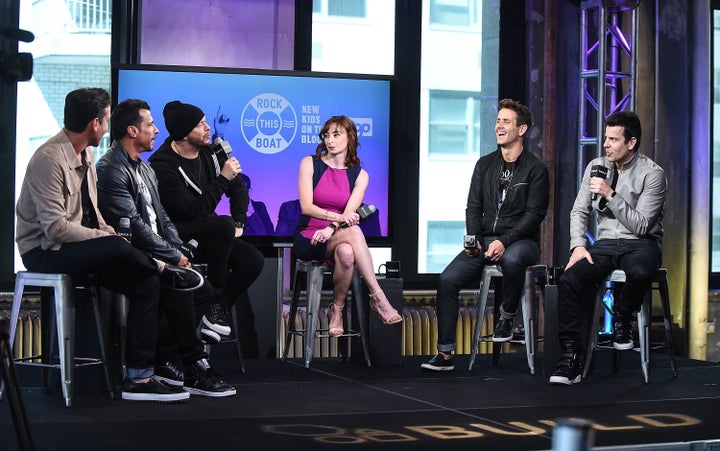 "Certainly the fans that were in it [Season 1] did a wonderful job, but I think the true cruise experience needs both, and you need to see what we do," Wahlberg told The Huffington Post during an AOL Build segment. "And it was a lot to ask the fans to let the cameras be there on a vacation that they paid for and saved up a lot of hard-earned money for and it was also a lot to ask these guys to do it because they give so much of themselves on the boat anyway. They were just willing to put themselves out there and it's really made the show go to a whole other level," he added. "I'm really grateful to them and the fans [for] giving us a second chance to do it again."
New Kids are quite familiar with second chances. After a 15-year hiatus, the guys decided to reunite in 2008 and have been on the go ever since. 
"When we broke up, I thought it was done. And in 2008 I left my other job and I told my business partner I'd be back in two months," Knight said. "I thought we'd just go out and do 50 shows, a reunion and I'd be back pounding nails, and here we are eight years later, still going and [we] have things in the works for the future. I don't know, those nails may have to wait another eight years."
For Wahlberg, it's almost unreal to think that the original founding members are out there doing what they did in their teenage years -- singing and dancing to fan-favorites such as "Hangin' Tough" and "You've Got It (The Right Stuff)."
"In 1998, my mom was 46, and I'm 46 right now. So, the thought that we'd be doing what we're doing at my mom's age at this time still is unfathomable," Wahlberg told HuffPost. "But here we are. And I think we're enjoying it more than ever ... And we're really blessed for the second go-around because I think we get it."
As for what's next? Well, a lot apparently. The guys have two gigs lined up this summer. They're headed to Coney Island in Brooklyn, New York, for a one-off show on Aug. 4, which is a special place for the group since they filmed their first music video ("Please Don't Girl") at the amusement park there in the '80s. And, on Aug. 6, they will perform at the Mixtape Festival in Hershey, Pennsylvania, alongside Boyz II Men, 98 Degrees and Paula Abdul. Plus, of course, there's another cruise is in the works; the group's eighth trip with fans is scheduled to take off in October. 
"Then we'll see from there," Wood said of their future plans. "Hopefully there's much more to come from us. 
"Rock This Boat" airs Wednesdays at 8 p.m. ET on Pop TV. 
REAL LIFE. REAL NEWS. REAL VOICES.
Help us tell more of the stories that matter from voices that too often remain unheard.
BEFORE YOU GO
PHOTO GALLERY
Nineties Boy Bands