I have a few questions for you today.
How many times have you or someone you know lost the same ten pounds? Five, six, or even ten times, perhaps?
What about joining a gym - how many times have you joined one but never really got into a steady routine of going?
And then there's learning that new language. How many years in a row did you vow that this was the year it would happen?
If this sounds familiar, listen up. And don't feel bad, because you are not alone.
As a matter of fact according to a study by The University of Scranton's Journal of Clinical Psychology, only 39% of people in their twenties achieve their resolution goals each year.
And the number keeps decreasing with age. By the time you are in your fifties only 14% of people achieve their resolution goals each year.
Well there are a few reasons:
We bite off big chunks that aren't realistic. Essentially we go from doing nothing to saying we will do everything.
We make commitments based on other people's expectations. We worry too much of what other people are thinking instead of asking ourselves, what will make "me" happy?
We don't have the right mindset. We have not made that internal shift.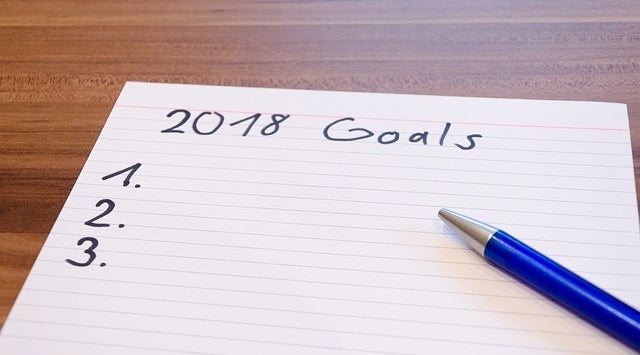 So how do we make 2018 different?
First - throw away the New Year's resolutions and think about what you should be doing all year long. Real goals do not start on New Year's. Real goals are with us everyday.
You need to identify your internal NEEDS. Not what others expect you should do - but what is gong to make you happy.
To do this, start with a vision board. Taking the time to actually cut out pictures of what you want your life to look like takes effort. And by looking at it each day, you will keep your momentum going.
Next - ask yourself, Why?
That's right; everything worth doing is first worth defending.
So if you have a picture of yourself in a bikini - ask yourself, is it because you want to be skinnier than your sister - or is it because you want to be healthy for your children?
The correct answer will determine your success.
Finally - keep a journal. Write down every success and every failure. Look for patterns. It is only when you recognize what you are doing wrong that are you able to change your actions.
It really is easier than everyone makes it out to be.
Start small and have commitment to every action. Do not make excuses when you fail. Simply acknowledge it, determine why it happened and move on.
Once you see small victories, the large ones will follow.
Give this a try instead of making dozens of grandiose resolutions.
Write to me, and let me know how you are doing.
I want to hear from you because I believe in you!
Related
Popular in the Community