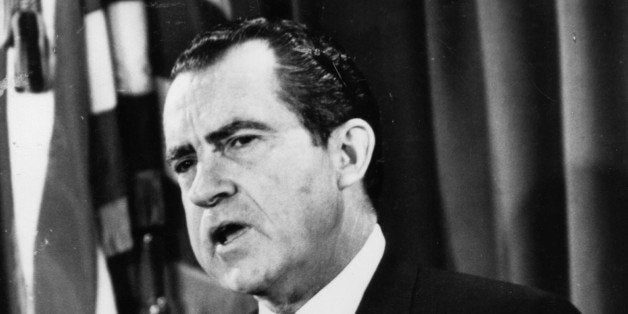 Forty years ago, Richard M. Nixon made unprecedented constitutional history when he resigned the presidency amid the disgrace and scandal of Watergate. He cannot escape that legacy -- for he left an indelible record of his deeds in a treasure trove of tapes and papers that continue to fascinate us with revelations.
Alas! Watergate is Nixon's spot that will not out. The break-in, the ensuing revelation of what Nixon's attorney general, John Mitchell, called the "White House Horrors," the congressional and prosecutorial investigations that considered those travesties and Nixon's eventual resignation laid bare unprecedented instances of presidential abuses of power and yes, criminality.
Watergate was a major constitutional crisis; the promiscuous use of the suffix "gate" only trivializes it. Alexander Butterfield, who revealed the existence of the White House taping system, described Nixon as a man always conscious, if not obsessed, with history and his role in it. How ironic then that he left rich historical documentation, a self-inflicted wound as it were, that has so sullied his record and reputation.
Yet Nixon endures. He stands as the commanding figure of American political life since the end of World War Two. His style, achievements and failures range over the political landscape and persist nearly two decades after his death. As a rising politician, as an opposition figure, as president and in his 20 years of "retirement," Nixon greatly influenced his time. Today his impact is still apparent in so much of U.S. public life. He survives to praise or "kick around." Either way, Nixon matters.
Calling all HuffPost superfans!
Sign up for membership to become a founding member and help shape HuffPost's next chapter