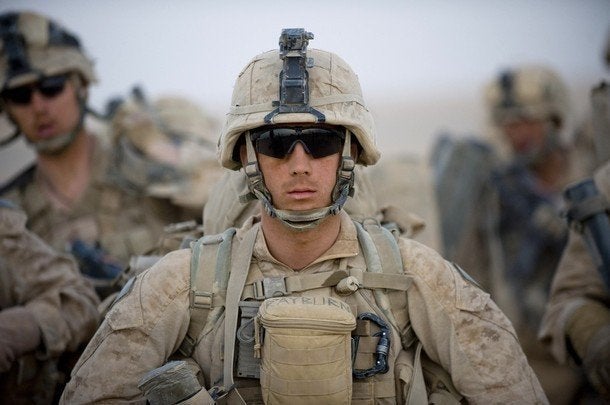 Wednesday's Wall Street Journal reports on a longstanding White House policy that Presidents do not send condolence letters to families of U.S. soldiers who commit suicide.
Military suicides are "almost sure to top last year's grim totals," the Associated Press reported earlier this month, while noting that "a recent decline in the pace of such incidents could mean the Army is starting to make progress in stemming them."
The Journal reports that the family of 25-year-old Army specialist Chancellor Keesling, who killed himself in Baghdad this summer, is "mounting a lobbying effort" to get the White House to overturn its policy, and that "a bipartisan array of lawmakers from their home state of Indiana" has joined their efforts.
"If the president wants to destigmatize mental health, and destigmatize military suicide, why does he stigmatize families like ours by pretending that our son didn't die?" said Spec. Keesling's father, Gregg Keesling. "If Chance had been struck by lightning in Baghdad or hit by a car, we would have gotten a letter. We shouldn't be treated differently because he died by suicide."

The family's efforts are running up against a longstanding institutional belief within the military that suicide is a sign of weakness and that troops who take their own lives shouldn't receive the same military honors accorded to troops who die in combat or from accidents in the war zones.
A White House spokesman said a review of the policy has begun.
Writing for the Huffington Post, longtime media executive Joe Peyronnin noted that the National Suicide Prevention Hotline has changed its greeting to include a special message for soldiers.
When calling "1-800-273-TALK" callers will hear, "If you are a U.S. military veteran, or are calling about one, press 1 now." Calls are then routed to agents at the Veterans Affairs call center in Canandaigua, New York, or one of five sub-network centers. This past April veterans calling Lifeline represented 20 per cent of total calls, and that number is growing.
There have been 62 confirmed suicides by Army soldiers in 2009, with at least 72 more deaths being investigated as suicides. Last year, the Army recorded 139 suicide deaths. The U.S. Army and the National Institute of Mental Health have announced a partnership to study suicide and mental health among those in the Army. The $50 million study will be the largest-ever on the subject.
Calling all HuffPost superfans!
Sign up for membership to become a founding member and help shape HuffPost's next chapter