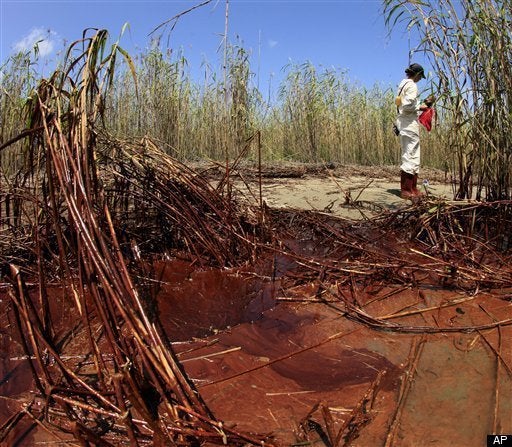 Many details surrounding the spill in the Gulf remain a mystery. We don't yet know how much oil is freely gushing through the ocean floor; the extent of the damage to affected wildlife; or how long fishermen and other communities dependent on the Gulf will suffer. But there is one thing we do know: Unless President Obama intervenes now, it could happen again on another BP deep-sea oil platform called Atlantis.
BP's Atlantis platform became active in October 2007. Located over 150 miles off the coast of Louisiana in "Hurricane Alley" at a water depth of more than 7,000 feet, Atlantis is one of the deepest moored semi-submersible oil and gas platforms in the world and it poses a serious, immediate and potentially irreparable threat to the Gulf of Mexico's marine environment, oil workers and communities.
In June 2009, a BP whistleblower named Kenneth Abbott informed Food & Water Watch that BP was operating the massive Atlantis platform without proper up-to-date and engineer-approved safety documentation. We began writing and calling the Minerals Management Service (MMS) to urge them to take action. It took the agency six months to agree to meet with us.
10 days after the Horizon spill on April 20, MMS responded to our most recent information request, but it appears that the agency has done nothing and it plans to continue doing nothing. It is clear that the cozy relationship between BP and MMS is resulting in irresponsible and dangerous practices.
Food & Water Watch filed a lawsuit last Monday against the Department of the Interior (DOI) because it has failed to enforce its own safety regulations regarding oil drilling in the Gulf.
The Deepwater Horizon explosion was not a freak accident, but a result of a history of negligent behavior, and Atlantis is no small threat: An internal BP email characterized the situation as having the potential for "catastrophic Operator errors." A worst-case scenario spill from Atlantis would be many times larger than the spill from the Horizon explosion.
President Obama must take immediate action to shut down BP Atlantis until it can be proven safe. We have announced our Spill the Truth Campaign, which includes a TV ad that will air soon in the Gulf region.
It's not enough that Chris Oynes, the head of MMS's oil and gas drilling program, announced his departure. And, while the President's move to split the MMS into three new agencies with oversight on leases, environmental protection, and revenue collection, respectively is a small step in the right direction, it is insufficient to address the lack of regulatory oversight of the industry.
There are more than 100 industry standards that are currently incorporated into MMS regulations. The DOI must institute a review process of the regulations for permitting oil drilling and, based on a public rulemaking process, make them more stringent and binding. Safety and environmental programs should be mandatory for all platforms and subject to strict oversight. Verification of platform design and construction should be done by the agency, not paid verification agents. All engineer approved mandated drawings should be submitted to MMS, not kept on file by the company. Finally, there must be a mandatory environmental whistleblower office.
President Obama can and must act now to prevent another accident and order the immediate shutdown of BP Atlantis. He must also require an independent review of safety documentation and procedures for all operating deep-sea platforms, beginning with those operated by BP.
Calling all HuffPost superfans!
Sign up for membership to become a founding member and help shape HuffPost's next chapter