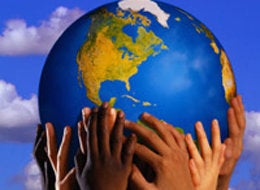 Talking recently with Russian scholar Gregory Asmolov about Ushahidi's latest efforts in Russia with the wild fires got me thinking. If a handful of social entrepreneurs from Kenya could create an open-source "social mapping" platform that successfully tracks and sheds light on violence in Kenya, earthquake response in Chile and Haiti, and the oil spill in the Gulf -- what else can we use it for?
At a time when close to 20 million Pakistani flood victims are desperately waiting for relief from the U.S. military and international organizations -- Wired's Danger Room reports that our government is relying on "home-brewed" mapping tools because our government's efforts have been far too "tech-lite" to date. The good news is that the open-source community around the world has stepped up and filled the void, helped people, and made an impact. The bad news is that America has not done more to help. Now is the time. Let's take a minimum of .5% of 1% of the president's 6-year $50 billion Transport Bill -- or $250 million -- and invest in two things immediately -- small business and collaborative technology.
I believe if the U.S. government selected 10 technology-based small businesses, gave each one $25 million, then we could build the proper infrastructure (perhaps using Ushahidi's collaborative platform) and apply these tools to shining a light and solving ten of the biggest problems facing our country today.
Some of the money can be spent on building the platform, other elements on customization, education, training and reporting. The bottom line is that we cannot continue to primarily rely on the open source community to guide our military humanitarian efforts, disaster relief or other essential services.
If the White House made the decision to move on this by Thanksgiving, I believe that one-year later:
The State Department would have a robust tool conducing and measuring public diplomacy;
The Pentagon would have tools for managing humanitarian aid;
The Army, Marines, Navy and Air Force would have the resources to truly help military families in need;
The Education Secretary would have a tool for keeping in constant contact with teachers, parents and students about the issues of the day and areas to improve; and
Law enforcement would have the tools necessary to curb violent and white-collar crimes.
There are hundreds of small businesses and thousands of Millennial (and not) strategists and programmers dying for an opportunity to do something exciting. Jobs would be created. Lives changed. And with everything that's bad going on, what's better than creating opportunities for Americans to go back to work and help their country.
Popular in the Community