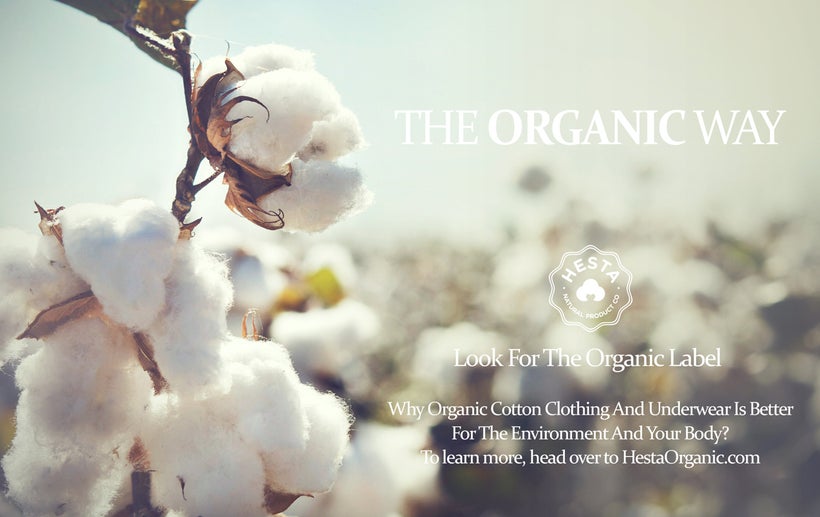 As awareness regarding environmental and personal health concerns regarding toxic pesticides and fertilizers continues to increase, more ways that we can and should green our lives continue to arise. It all began with eating pesticide-free foods, cleaning with green cleaners, and using organic bath and body products. But what about the clothing you wear each day?
Is There Pesticide in Your Clothing?
It's easy to forget, but the clothing you wear is a natural fiber grown from the cotton shrub. Although cotton is a natural fiber, most farmers fertilize and treat their cotton crops with toxic chemicals and pesticides. Cotton is one of the most chemically treated crops worldwide. Because your closet is likely packed full of cotton clothing and undergarments, you may have more pesticides in your home and on your body than you imagine. While the EPA in the US will require farmers to phase out some pesticides between now and 2018, Hesta Organic Underwear—not all will be phased out. Alternately, not all your cotton clothing is made in the US, and even if it is, that doesn't mean the cotton used is sourced locally.
You Can Buy Organic Cotton Underwear And Clothing
As with all crops, there are organic farming alternatives and clothing companies committed to providing you with organic fibers. Clothing lines that commit to using organic only make sure it is clearly highlighted on their packaging and advertising—such as Hesta Organic.
Underwear And Panty Liner Sales Increased At The Hesta's Amazon Shop
While Hesta Organic' original goal was to provide environmentally friendly, washable, and organic cotton and bamboo period and continence products, ladies loved wearing organic cotton underwear daily. This is why organic underwear and panty liner sales increased at Hesta's Amazon shop and at HestaOrganic.com. Wearing organic cotton and bamboo is not only more comfortable, but women feel more confident wearing organic on the more delicate areas of their bodies—if not from head-to-toe.
Look For The Organic Label
Clothing and underwear aren't the only concern when it comes to products that remain in close contact with your skin, but also feminine care and incontinence products. Not only are most disposable, but most are not made from organic cotton and bamboo. This includes tampons, pads, pantyliners, and adult continence products.
Hesta Organic provides an alternative to disposable products that is environmentally-friendly and takes things one step further by using only organic fibers for all their products. Just a few benefits of wearing only organic panty liners, underwear, and period and continence products include:
· Chemical-free organic products are less irritating to sensitive skin or those prone to skin allergies.
· Organic cotton and bamboo are flexible, breathable, and comfortable.
· Organic fibers absorb moisture and reduce odor.
· Washable period pads and continence products are cost-effective.
· Form fitting products ensure maximum discretion.
The fact is, all women must invest in underwear and period protection, so why not choose organic and washable, instead? To learn more, head over to HestaOrganic.com.
Calling all HuffPost superfans!
Sign up for membership to become a founding member and help shape HuffPost's next chapter
This post was published on the now-closed HuffPost Contributor platform. Contributors control their own work and posted freely to our site. If you need to flag this entry as abusive,
send us an email
.