One day last summer my friend Cynthia Graham, a professional photographer, offered to take pictures of me with my children on vacation in North Carolina to help me in my effort to "stay in the picture."
The morning we arranged to take the pictures, my parents were in town to help me celebrate my 39th birthday. I woke up early to try to meet Cynthia on the front porch of the 1901 Victorian house we were renting, apologizing to her because the only clothes I had with me for most of us were our "summer vacation" clothes -- T-shirts and shorts, most with decidedly un-photogenic graphics, and wrinkles galore. They were not the stuff of magazine spreads or the dreamy, hazy pictures one usually hopes to get out of a session with a real photographer (as opposed to my usual: Instagram filters).
The hour or so we spent taking pictures was hard. The older boys were not thrilled to sit still for photos. There were no-see-ums attacking us in large, random droves. The 5-year-old refused to cooperate. And the toddler was, in all ways, a Toddler. Let's just say that I now own more than one picture of her in her first birthday dress, perched on a quaint Adirondack chair in a beautiful sea of green grass, grasping my iPhone with one hand and scowling. I was beginning to sweat. I thought maybe we needed to call the game and give up.
At some point, the screeching and protests of my various children brought my mom out to the porch to check on us. My mom is not a morning person. She takes a while to warm up to the whole "new day" thing. But she came out in her pajamas, barefoot, and she helped by holding 1-year-old Lucy and calming her down while we figured out what to do next. Lucy saw her as a safe place, the only grown-up not trying to coax her away from the phone and the sugar cereal we were using as bribes. And because my friend is both a professional photographer and somewhat brilliant, she knew to snag the opportunity to take a picture of my mother holding Lucy, though at the time, my mother and I both failed to notice it happening.
Months later, I was scrolling through the pictures from that day, trying to figure out which ones to order. I had worried so much about what we were wearing and how it wasn't good enough, where the light would be best, and how I would look in the pictures. I wanted to capture the moment I turned 39, the moment when we were in the mountains for the summer, the moment when we were all in that place and time. Despite all the plagues we had encountered that morning, we ended up with plenty of beautiful pictures of my family. But one of my very favorite photos from that day, it turns out, is the spontaneously-snapped shot of my Southern Belle mother who is almost always impeccably coiffed and polished, in her pajamas with not a stitch of make-up on her face, holding my very "over it" baby daughter in an image that wasn't planned, posed or prepped in any way. And I love it for just that reason.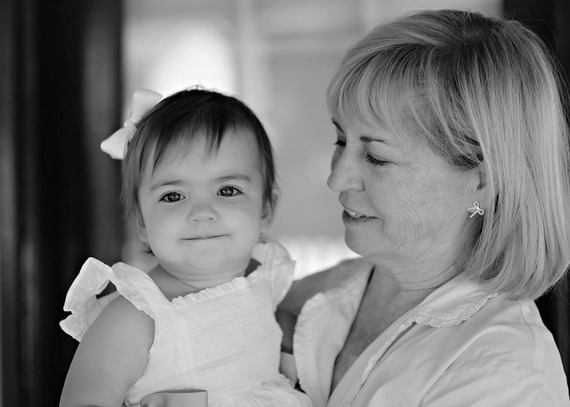 Photo credit: Cynthia Graham
So often, I am still guilty of waiting for the perfect moment to put myself in pictures with my kids. The perfect moment, of course, must include my hair blown dry, make-up, an actual outfit, a bra that actually fits, the right angle, a person to take the picture because I'm terrible at selfies, good lighting and the right time of the month so that my hormonal acne isn't out in full bloom. Those moments, by the way, happen just about, oh, never. That is part of the reason why I have so few pictures of myself with my kids from the past 10 years: while they always seem cute and camera-ready, even with unruly hair or the wrong T-shirt, I never felt like I was good enough to be in the picture. I didn't want to ruin the perfect moment or the perfect picture by not being what I considered "perfect" myself.
I can't wait anymore. My oldest child is almost 12 now, and now I know exactly how fast and merciless time is. Every moment we have with our children is valuable, both good and bad, and I want to live them. I don't have time or bandwidth or even desire to prepare to be perfect for them, because there are no do-overs. The first day of school picture? I need to be in it, even if I am still rocking my glasses and pajama pants. The moment on Spring Break when I was windblown and lightly sunburned and excited to eat Cuban food with my kids? I want to capture that. I was there, after all. I was there, looking exactly the way my kids will remember me -- slightly mussed, a little rumpled, completely "imperfect" and exactly like their mother -- just like the picture I now have of my mother holding my daughter, her youngest grandchild.
Mom was there. That's what is important. That's what is perfect, in the eyes of our children. I know this from experience.
For the second year, 24-hour preschool network Sprout is hosting its #MomIsHere campaign (through April 27), encouraging moms to capture those everyday moments with their children -- both the perfect and the imperfect. Visit www.momishere.com or www.sproutonline.com for more details, and stay in the pictures, moms!