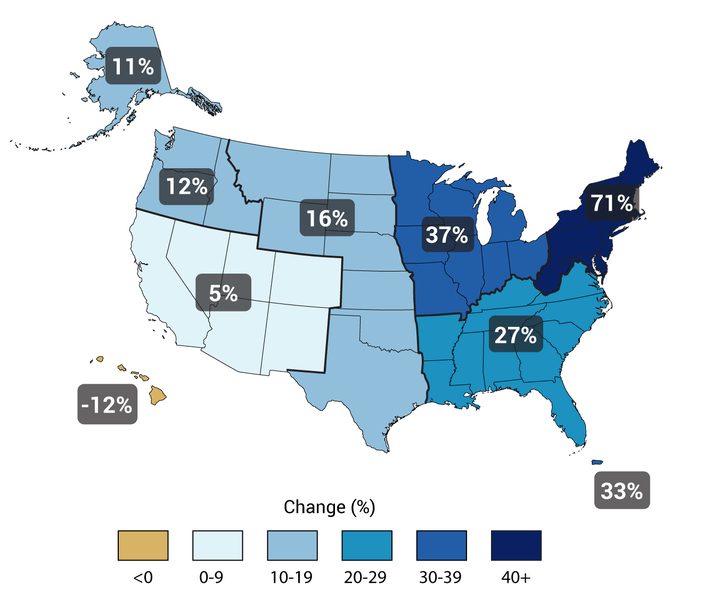 Donald Trump continued his crusade earlier this week to undo everything that President Obama accomplished. This time, he issued an executive order that wipes out one of the most progressive standards of our time for reducing the taxpayer costs and risks that weather disasters pose for new roads, bridges, railroads, electric transmission lines and other infrastructure.
The order is part of Trump's attempt to speed up the permitting and environmental reviews for infrastructure projects. The title says it will bring "discipline and accountability" to environmental impact studies. Insofar as the order accomplishes those objectives while still protecting the environment, property, human life and taxpayer investments, it's all to the good.
But in what looks like an afterthought, Trump revoked an executive order Obama issued in 2015 to make sure the federal government doesn't locate these projects in places where they might be damaged or destroyed by floods, only to be rebuilt with taxpayer money.
What may have caught Trump's eye is Obama's explanation of how to define a floodplain – the land area likely to be inundated. One option was to use a "climate-informed science approach" to anticipate where flooding will occur in the future as global warming causes more intense rainfalls. That's necessary because most infrastructure lasts a long time while extreme rainfalls and floods are getting more common. They are projected to become much worse as time goes on.
It's likely that three words in Obama's sensible policy also doomed it: "Obama," "climate" and "science." Trump and his team have made it clear they don't like those words.
It would be one thing if the projections of more intense rainfalls and damaging floods were long shots or mere speculation. But the deluges happening today are precisely what climate scientists predicted. The largest number of U.S. floods on record took place last year. A year ago, 13 people were killed, 60,000 buildings were destroyed and $10 billion in damages occurred in Louisiana because of a flood that statistics predicted would very rarely happen. Elsewhere in the state, there were eight other supposedly rare flood disasters in about a year.
Floods, the most common extreme weather events in the United States, were among 91 natural disasters here in 2016, the second highest number on record. Kevin Trenberth of the National Center for Atmospheric Research notes, "There have been many so-called 500-year floods along the Mississippi River every five to 10 years since 1993."
The most recent National Climate Assessment concludes that, "Heavy downpours are increasing nationally, especially over the last three to five decades, with the largest increase in the Midwest and Northeast. Increases in extreme precipitation are projected for all U.S. regions." Mark Bove, a meteorologist at the global reinsurance company Munich Re, says severe flash floods have increased in heavily developed areas of the country.
According to Peter Hoppe, who heads Munich Re's Geo Risks Research Unit, "there are now many indications that certain events – such as persistent weather systems or storms bringing torrential rain and hail – are more likely to occur in certain regions as a result of climate change."
Fortunately, states are allowed to set standards that are tougher than those established by the federal government. That's what states with increasingly severe flooding should do. A good model is the Obama executive order that Trump just revoked.
Calling all HuffPost superfans!
Sign up for membership to become a founding member and help shape HuffPost's next chapter
BEFORE YOU GO