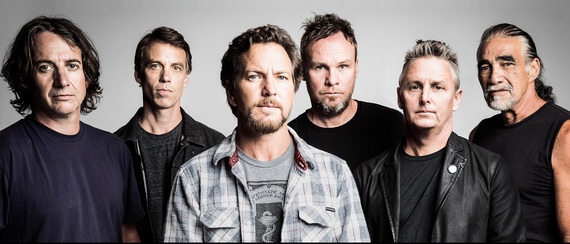 I have to admit, aside from digging the 4-5 MTV hits off their now-classic 1990 release, Ten, I was never a big Pearl Jam fan. In fact, up until yesterday afternoon, when my girlfriend told me her company had a box next to the stage at MSG, I still thought they were a bunch of over-hyped, mediocre, whiny, grunge rockers who'd long since past their prime. I mean, c'mon, you can't tell me there aren't a thousand bands out there who write songs as good, if not better, than the monotonous, "Better Man."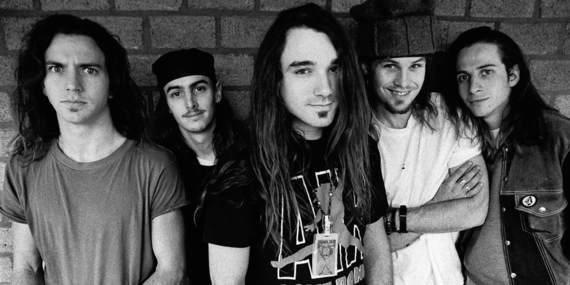 I won't take all the blame, though. Over the past few decades, mainstream media's done a terrific job of turning Eddie Vedder into the poster child for all things depressing and whiny. Granted, his lyrics about suicide and abuse definitely don't help matters, but, to me, in public, only Michael Stipe seems to be more of a downer.
As a result, I've pretty much gone through life with the p.o.v. that Pearl Jam is a band that's been lucky enough to ride the coattails of their early '90s mega-success, when they -- along with Nirvana, Alice in Chains, and Soundgarden -- ruled the rock world, but since then, have never really come close to the energy/grooves of their first album. What a difference a few hours make.
I've seen/performed with many a band in my day and I can say, without reservation, Pearl Jam put on one of the best live shows I've ever seen.
Obviously, I'm a wee bit surprised. Not just because, for a minute when they first hit the stage, I thought Jon Stewart took Mike McCready's spot, until I realized it was just a silver-haired version of the band's long-time lead player, but, as previously mentioned, I was expecting nothing more than a brooding, melodramatic, preachy two hour semi-acoustic romp, filled with Vedder and his droning voice. However, what I, and the other eighteen thousand-plus in attendance got was an incredibly refreshing, upbeat, and non-stop no-frills rock show from start to finish. In this day and age, when half the artists out there don't even play an instrument, let alone write their own songs, it was awesome to see the Keepers of The Gate letting the world know they're more vibrant, and perhaps important, now, than they've ever been.
All of this lost time of not being a Pearl Jam fan kind of pisses me off, actually, because the energy and intensity they bring live is, in my opinion, sorely missing from many of their recent recordings. I know bands always sound a bit different live than on the record, but this was night and day. Almost as if they were two different bands; the one that mainstream AOR radio loves, and the guys who just steamrolled through their set like a house on fire. Heck, even "Better Man" rocked.
Beyond that, the media has a lot of explaining to do for turning Vedder into a martyr. Perhaps he was more of a buzzkill in days gone by, but from what I saw last night, he seems like a really positive, fun, and easy-going guy; only making one reference to a non-music issue and it was a simple dedication to the late professor/author, Howard Zinn.
Other than that, he was cracking jokes all night and swigging from a bottle of vino. Even going as far as to get the band to play a song they never tried before in honor of a friend's birthday. A minute later, the entire crowd was singing The Doobie Brothers' Takin' It To The Streets while Vedder did his best post-grunge Michael MacDonald impersonation.
What I realized last night, is that the one thing a concertgoer gets to see, that you'll never experience listening to an iPod, or the radio, or even watching a video, is the earnestness. What I saw last night is a band of guys who not only care deeply about the music they play, as well as believe in what they're doing, they truly appreciate every second of the success they've been lucky enough to attract. And it shows.
In the end the thing that impressed me the most, and perhaps it's because I come from the old school when bands didn't use backing tracks, is that it didn't really matter that it was The Garden. You could've told these guys they're playing to 100 people at The Saint in Asbury Park and they would've put on the same exact show.
In an era where laser shows and costume changes seem to set the bar as to whether or not a $200 ticket was worth the price, to see a group of guys rocking out for three straight hours, with nothing more than their songs and their presence, and to do it on the world's biggest stage definitely gives one hope that all is not lost in the world of iHeartRadio-controlled live music.
Add to that that music, itself, in all its forms, when it comes from the heart, is the glue that can effortlessly link us together -- no matter our background, color, or political views -- for a few magical moments. It definitely did last night.
Calling all HuffPost superfans!
Sign up for membership to become a founding member and help shape HuffPost's next chapter