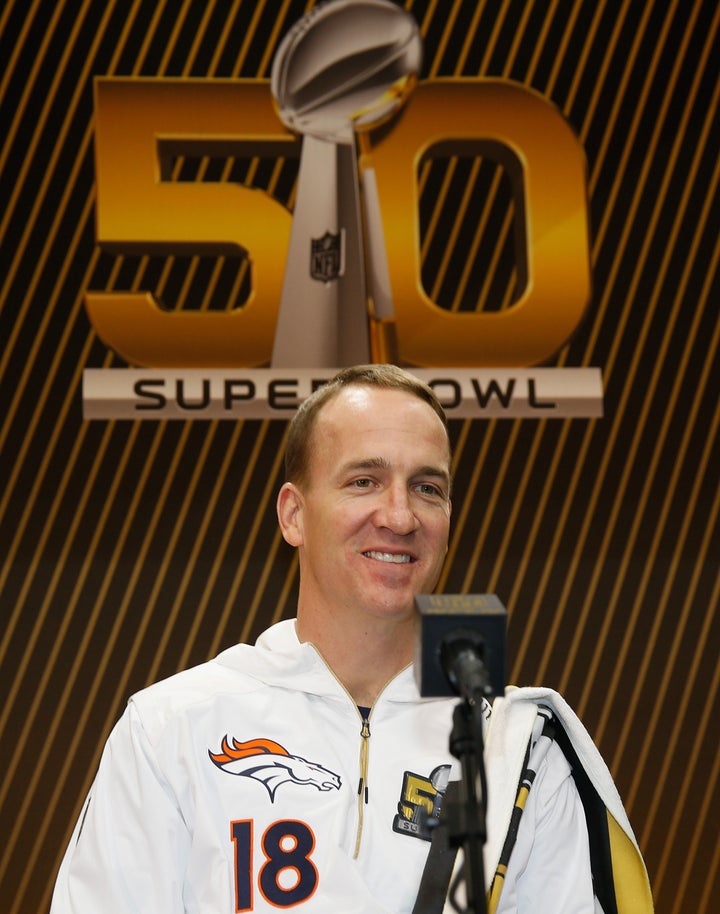 No quarterback in NFL history surpasses his regular season stats greatness -- not Dan Marino, not Joe Montana and not even his peer, the seemingly immortal Tom Brady. His 186 wins tie with Brett Favre for the most of all time and he's about to become the oldest quarterback to ever start in a Super Bowl. And yet, many quarterbacks surpass Manning's lone Super Bowl victory. So the question becomes: How badly does he need to win another?
Brady and Montana each have four, while Manning's brother Eli, inferior in just about every statistical metric, has two. But now, the 39-year-old Manning -- the league's all-time leader in both passing yardage and touchdown passes -- once again has an opportunity to win No. 2. 
The beauty of the Broncos is that unlike two seasons ago, when Seattle trounced them 43-8 in the big game, this team possesses the premier defense in all of football. It ranks first in total defense and passing defense, leads in sacks and is third in rush defense. Two years ago, it ranked 22nd in points and was 19th in yards allowed.
Manning, who was serving as Brock Osweiler's backup less than a month ago  -- yes that Brock Osweiler -- has had arguably the worst season of his Hall of Fame career. And the playoffs are indicative of it. 
He could barely surpass the 200-yard mark against a soft Pittsburgh defense in the divisional round, unable to find the end zone at all. Then, against the defending Super Bowl champion Patriots, he had one of the great all-time halves in playoff history, only to go silent in the second half, a game that was preserved by his stellar defense.
Manning, as a result, has for the first time ever been labeled as a game manager. This is not the No. 18 we grew accustomed to seeing during his first three years in Denver -- he's never been worse.
His teams have made the playoffs 15 times but lost in the first round nine times. So even amidst his dominant regular season successes, Manning has endured a slew of atrocious playoff games, which has not plagued stars like Brady and Montana.
In fact, Manning's teams have failed to score more than 18 points in 11 of his 13 career playoff losses, including both of his Super Bowl defeats, per Bleacher Report. Furthermore, his fourth quarter and overtime performance in the postseason has been noticeably worse than quarters one, two and three. According to Pro Football Focus, Manning's completion percentage dips over 6 percent and, maybe more importantly, his passer rating decreases over 12 percent.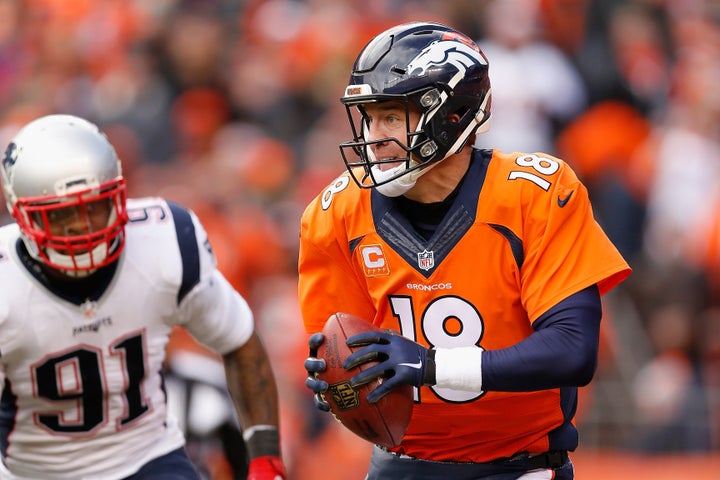 One of the main problems when evaluating Manning's postseason troubles is his sheer brilliance in the regular season. An average football fan could feasibly argue that his record five MVPs have only amplified his playoff disappointments. Pro football legends like Dan Marino and Jim Kelly can certainly relate. Neither owns a ring and despite terrific numbers -- especially in the case of Marino -- both are in large part defined by their postseason failures.
When it comes down to it, whether or not Peyton Manning and the Broncos beat surefire league MVP Cam Newton's one-loss Carolina squad is anyone's guess -- they are a significant underdog for what it's worth -- but consider that only 11 quarterbacks in NFL history have ever won multiple Super Bowls.
As a reference point, Manning's boss and the architect of the Broncos, John Elway, lost his first three only to win his final two. Like Manning, it's not that he wasn't a first ballot Hall of Famer before the rings, but they undeniably altered the way he was looked at. Suddenly, Elway was a winner.
If he can find a way to capture his second, Manning, regardless of how he plays Sunday, will drastically enhance the way we view his career, ala Elway. It will even his Super Bowl record to .500 and finally put to rest the useless argument that he isn't an ultra clutch performer. And a second Super Bowl win for Manning would further cement what is a nearly unparalleled legacy in the pantheon of all-time greats. 
PHOTO GALLERY
Super Bowl 2016 Commercials
REAL LIFE. REAL NEWS. REAL VOICES.
Help us tell more of the stories that matter from voices that too often remain unheard.